Best PM Tools in 2023 (Project Management Software)
Finding a project management software that meets a long list of requirements can be challenging due to the numerous options available. With varying strengths and weaknesses, not all software will have all the desired features, and some may have unnecessary additional ones. It is crucial to prioritize essential features, compare and test different options, and weigh the cost-benefit before deciding. Effective project management ensures that projects are completed on time and meet their goals. PM software tools make it easy to plan, delegate tasks and maintain team organization.
Top 10 Best PM Software on the Market in 2023
Choosing the right one can be challenging with an abundance of project management options available, with varying costs, plans, and features. To simplify the decision-making process, we comprehensively evaluated top providers and determined the best project management software for small businesses in 2023.
Project management software typically comprises functionalities for assigning and monitoring tasks, fostering team collaboration and communication, managing schedules and deadlines, and monitoring and reporting progress. Additional prevalent features include allocating resources, tracking budgets and costs, and managing documents and files. Project management software integrates with tools like time-tracking and project accounting.
1. AceProject
AceProject – Project Management Software is a web-based project management software built to manage projects from start to finish. It provides an extensive solution for teams and enterprises to regulate critical workflows and eliminate uncertainties. With the adaptability to suit any project, this online collaboration and time-tracking software can be effortlessly implemented as a software-as-a-service.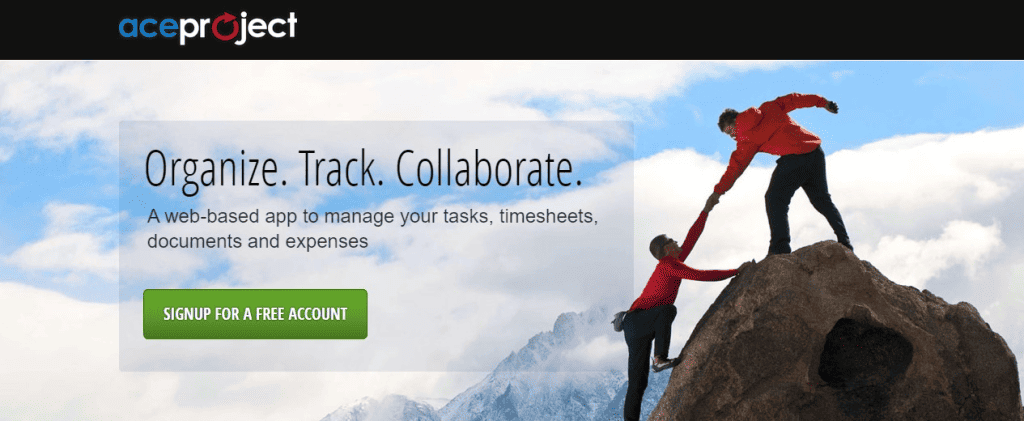 Features: AceProject delivers a range of features to manage projects from end to end. The project tracking features are: Gantt charts, advanced reports, project templates, and task recurrences. The time tracking features are: time approval, time clock, and time reports. The document management features are: document sharing, versioning, and locking. The expense tracking features are: expense approval expense reports.
Pricing: AceProject proposes a variety of flexible plans to fit different requirements and budgets. Beginning with a free Basic plan incorporating 3 users, unlimited tasks, 3 projects, and 1 GB of online storage, users can choose from various paid plans, including the Standard, Advanced, Silver, and Gold, with prices starting at $24 per month. Each package caters to a specific number of users and projects. Upgrading or downgrading to a different plan is feasible at any time.
---
2. monday.com
monday.com is a cloud-based solution that empowers businesses to develop custom work management tools and applications. Originally launched in 2014 as a work collaboration tool, it has since evolved into many workflows, such as customer relationship management (CRM), project management software development, human resources, marketing, and more. With monday.com, you can leverage the company's pre-existing templates or create your own from scratch to fit your needs.
Designed with an intuitive and visually appealing interface, monday.com is an excellent choice for small and medium-sized businesses. Its user-friendly layout and self-explanatory labels for different elements make it easy to use and navigate. Wondering if this all-in-one solution is the right fit for your small business? Check out this article to learn more.
For a monthly subscription, monday.com offers three pricing plans: Basic, Standard, and Pro, which cost $10, $12, and $20 per user, respectively. It's important to note that each plan requires at least three users. monday.com has recently unveiled a free plan that offers fundamental features for a maximum of two individuals. Additionally, users can take advantage of a 14-day free trial of the Pro plan without providing credit card information.
---
3. Wrike
Wrike is an online project management software well-suited for teams handling small- to medium-sized projects. It provides more than day-to-day task tracking and includes Gantt charts, dashboards, and built-in reporting tools. With more advanced features, a steeper learning curve exists to set up projects and navigate the pages. However, the pages, controls, and menus are visible, and the interface is functional.
Wrike is utilized not only by project teams but also by marketing teams, creative teams, product development teams, and professional services teams. It streamlines project planning, improves visibility, centralizes communication among team members, and simplifies workflow. Although Wrike provides a time log view and time tracking features, they are only available on paid Business and Enterprise plans.
The PM tool offers a free plan with limited core features for up to 5 users. Paid plans, such as the Professional plan with up to 15 users in sets of 5, start at $9.80 per user per month annually. Wrike's paid plans are more expensive than some competitors considering the features included.
---
4. Teamwork Projects
Teamwork Projects is a straightforward yet powerful tool for teams seeking a user-friendly platform with advanced capabilities. It emphasizes simplicity by reducing the complexity of collaboration. Users can quickly and easily see what everyone is working on, who they are working with, and what comes next without navigating through lists and charts.
Teamwork Projects lets users plan tasks, subtasks, and milestones with a Gantt chart or in-list view. Choose from task list templates to start quickly. It has a built-in messaging function lets people track task progress or share content with notebooks. Use a board view to visualize task flow, track time, organize everything with tags, bill clients with invoicing tools, and get high-level or detailed reports.
It offers a free plan with basic PM functionality for up to 5 users. Paid plans start at $9 per user per month annually, with a minimum of 5 users. It includes most features and integrates with many popular apps.
---
5. Asana
Asana is a powerful project management software designed to help teams stay on top of their work and accomplish their goals more efficiently. With customizable views catering to every team member's needs, Asana is the ideal solution for marketers looking to streamline their workflows and collaborate seamlessly. The software's free version offers unlimited storage, past project records, and messaging capabilities on the platform. If you need an advanced reporting and exporting platform to boost Asana's capabilities, consider Bridge24 for Asana.
The Premium and Business plans offer advanced features for those with more demanding needs, including timelines, workload management, and project portfolios. Asana's intuitive design and easy-to-use interface make it a popular choice for small and enterprise-level companies. Overall, Asana is an indispensable tool for marketers looking to maximize their productivity and achieve success.
The Premium plan for Asana begins at $10.99 per user per month for annual billing or $13.49 per user per month for monthly payments. As for the Business plan, it costs $24.99 per user per month or $30.49 when billed monthly. There is a custom-priced Enterprise tier available for larger organizations with more demanding requirements and IT departments. A free but limited version of Asana is also available for individuals and teams without a software budget.
---
6. Trello
Trello is an excellent choice if you are new to managing projects or starting a business. It is a simple application that utilizes the kanban system with visual boards, columns, and cards. The click-and-drag interface of Trello is akin to an online whiteboard with virtual Post-it notes that can be moved around, making it highly adaptable for managing individual projects and ongoing workflows. If you need an advanced reporting and exporting platform to boost Trello's capabilities, consider Bridge24 for Trello.
Freelancers and small teams can swiftly get started with Trello. Although it appears basic, it can competently handle task details, file attachments, due dates, checklists, and hyperlinks. Additionally, the free plan permits the use of 1 Power-Up. A Trello Power-Up can be integrated with another application, allowing you to import the other app's features into your board.
The free plan comprises limitless boards, lists, cards, and users, but only 1 Power-Up, 10MB file attachment, and basic automation. Paid plans, like the Business Class, with more features, start at $9.99 per user per month when paid annually. However, it has restricted reporting and exporting capabilities.
---
7. Basecamp
Basecamp is a well-suited solution for any business looking to enhance task organization and communication. It is one of the pioneers in the online productivity platform, having launched in 1999, and has since garnered over 3 million users on its platform. With a continued focus on simplicity, everything included in the software, including its current version 3, has been designed to facilitate ease of use for the customer. If you need an advanced reporting and exporting platform to boost Basecamp's capabilities, consider Bridge24 for Basecamp.
Using Basecamp, users can access to-do lists, schedules, document management, charts, reports, notifications, and various communication and collaboration tools in one application. The message board facilitates company-wide communication, Campfire enables real-time group chat, Pings support direct messaging, and Check-in questions provide regular reporting. With everything centralized in one workspace, work is more visible, and people are more accountable, making it easy to search, track, and clarify information.
Basecamp's free Personal plan allows up to 3 projects, 20 users, and 1 GB of storage space. The Business plan, which costs $99 per month, includes all features and supports unlimited users. Web, desktop, and mobile versions are available. Since it has fixed pricing, larger teams can get more value than smaller teams.
---
8. Zoho Projects
Zoho Projects is an online project management software part of the Zoho suite of applications. It offers numerous features at a very affordable price, giving users greater value for their money. These features include task management, task automation, time tracking, charts and reporting, issue tracking, and social task management. Users can create tasks, assign them, and track their progress until completion. Zoho Projects also features milestones, dependencies, a Kanban board view, and a Calendar view.
It caters to both simple and complex projects, providing Gantt charts, resource utilization, and integration with Analytics. It can also be integrated with dozens of other Zoho and third-party apps. Additionally, it comes with built-in issue tracking and workflow features, as well as automation and customizable features.
The pricing is based on the number of users, so users only pay for what they need and can easily scale as required. Higher plans come with additional features. A 10-day trial period is available, and a free plan is offered, although it is limited to up to 5 users.
---
9. Microsoft Project
It is no surprise that Microsoft Project is on this list, particularly if you require PM software for big projects. This software has been around for decades and was the de facto standard for planning projects in many companies. In its current version, it resembles other Office applications, but it remains a favorite among seasoned project managers due to the depth of its features, albeit with limited tutorials.
Microsoft Project includes task management, portfolio management, and resource management tools. It has built-in templates, project planning, multiple timelines, a roadmap view, and ready-made reports. You can use it to evaluate project proposals, model different portfolio scenarios, and share reports. It also features tools for resource requests, heat maps, and resource analytics for monitoring purposes.
---
10. Liquid Planner
Liquid Planner is a top-tier project management tool suitable for teams and businesses requiring extensive integrated features. In addition to the usual project management functionalities, it features intelligent scheduling to handle frequent project updates and changes. Therefore, when schedule changes, resources are affected, and the tool provides resource management features that accurately depict the current workload and identify the risks of missing deadlines.
Liquid Planner fosters cross-project visibility with its dashboards and card view. Users can instantly glean insights about project progress, risks, and budgets. It also facilitates collaboration with at-mentions and hashtags incorporated in tasks and projects for proper context. Other features include integrated time and budget tracking and advanced analytics for creating reports.
It does not offer any free plan, and its paid plans start at $45 per user per month on an annual contract. With more integrated features, it may take longer to learn. Therefore, the tool offers onboarding packages with its paid plans. It is particularly ideal for large organizations that manage multiple projects.
It provides cloud-based solutions starting at $7 per user per month on an annual contract and on-premise solutions starting at $620 for a desktop application. Microsoft-centric organizations receive more value as integration with other non-MS applications is limited.
---
What is Project Management Software?
Project management software is a digital tool or platform businesses or individuals utilize to organize, plan, and manage projects. This software aids in allocating and tracking project resources, scheduling timelines and tasks, assigning responsibilities, tracking progress, implementing knowledge and ideas, and collaborating with team members for successful project completion. In addition to streamlining project-related tasks, project management software provides document storage, search, and organizational features that aid in overall organization and workflow optimization.
Methodology
The above"best of" list was carefully curated from over 50 project management software commonly used by small businesses. In determining the inclusions, we took into consideration several factors, such as:
Cost and Fees. Keeping a tight budget in mind, we selected project management software options priced at under $8 per month per user to suit the needs of small businesses.
Ease of use. The software options included in this list are designed to be user-friendly and easy for anyone on your team to learn with minimal tech training. They offer features like pre-built templates to simplify the learning process. To use with minimal tech training. The software options on this list provide tools to keep the learning curve manageable, such as pre-built templates.
Features and Functionality: In choosing the project management software for this list, we evaluated their ability to provide standard project management features (such as Kanban and Gantt charts), and the capability to tailor the experience to meet specific business needs requirements, including through integrations or automation tools. charts) and customize the project management experience to your company's needs via integrations or automation tools.
Customer reviews. There is nothing more telling when assessing a purchase choice than what other customers who have used it think. We chose project management software options with a minimum of 3.5-star ratings across their customer bases.
Customer support. Implementing new software into company processes can raise questions, so we prioritized solutions with adequate customer support to resolve these challenges efficiently.
How To Choose Project Management Software for Your Team
When selecting a project management system, it's essential to determine your budget first. Many project management software solutions charge per user, so consider how many individuals will use the software and calculate the cost per person based on your monthly or yearly budget.
After determining your budget, create a list of essential features for your team to complete projects. Consider the technical expertise of your team when making this list. If your team requires drag-and-drop builders, pre-made templates, and a wide range of integrations, choose software with those features. However, if your team is tech-savvy, you may opt for software that provides an API for custom app building.
Consider the specific needs of your project and company when creating a list of unique features you may require. For instance, do you require integration with tools like Trello or Asana? Or do you need project management software that can assist with invoicing clients or facilitate collaboration with external teams on documents? Based on these requirements, choose a software that offers the necessary features.
Finally, list the best project management software options that meet your established criteria by researching "best project management software". Evaluate these options by testing their free versions or using free trials. Invite a representative group of your employees to try the software and provide feedback on their preferred options and reasoning. This will help you determine the best fit for your team.
Recommended article: A Guide for Buying a Project Management Software
The Benefits of Project Management Software?
Maximize your productivity by focusing on the right work with project management software. It helps to eliminate duplicate work and saves valuable time by streamlining the process of finding necessary materials.
Reduce busy work and align tasks with the company's overarching goals using project management software. Employees' motivation levels and productivity increase by providing employees with a clear understanding of how their contributions impact the company's success.
Connect all of your business's tools using project management software. Its dynamic platform allows you to connect all your tools in one place, from Slack communications to Dropbox files and Google Drive attachments.
Use project management software to record all your projects and related tasks. This tool lets you store and manage information easily, providing stakeholders and teams quick access to the needed data.
Improve cross-functional collaboration with project management software. This team collaboration tool brings together work, goals, and people across projects, teams, and departments, leading to a thriving and interconnected organization.
Keep all your work safely stored with project management software. By storing everything on the cloud, you can stay organized and reduce the risk of losing any data or work, while also maintaining your privacy.
Most Requested Features in Project Management Software
While project management software typically includes basic features essential for project success, certain options offer additional or unique features that may be more suitable for specific teams or businesses. Conducting research is crucial to identify the features that can make your project more successful based on factors such as team approach, business type, or project type.
Common tools found in project management software include features for planning, scheduling, task assignment, and progress tracking through views like Kanban or Gantt charts. However, each software may also offer a unique set of features that sets it apart and makes it a better fit for some teams. These features include social and collaboration tools, design tools, advanced analytics, databases, unique integrations, invoicing tools, time or habit tracking, customizable automation tools, publishing capabilities, and knowledge bases.
Recommended article: 100 Features of Project Management Software
Conclusion
Project Management Software has revolutionized how teams and organizations deliver successful projects and shape the modern workplace. It has made it easier to collaborate with team members regardless of location and work at their most productive time. This list serves as a starting point, as numerous options are available. Look for more alternatives that provide a free trial to understand better whether the tool is the right fit.