Asana – Backup & Export your Attachments & Files in Bulk
Bridge24 is happy to give Asana users access to one of our most requested features: the File Download Manager. Now, users can enjoy downloading any files or attachments on the app, even in bulk. Whether you want to download documents or images within your tasks, an individual task, a specific search set of ongoing or completed tasks, any project you're working on, or even across multiple projects, this new feature easily gets the job done. They have optimized the feature to ensure easy tracking of the transfer status of your files while also providing an index and log of every file you've downloaded. Additionally, their Asana File Download Manager is robust enough to handle everything from one or two attachments to full backs of large-size files.
---
File Download Manager Usage
1) Active Search results
By simply creating a search in the Grid or using the Quick Links, you can quickly see your Active results. You may then filter the search results (tasks) only to include those with attachments you wish to download. If you want to view the Attachments field, use the Show/Hide column. To access the file Download Manager, select Export, then go to Attachments, which you can find under the file Export button.
2) Access the Download Manager
3) Set zip folder settings
Here, you'll find several options under the Options section:
Zip folder hierarchy: Allows organization of the contents of a Zip file in folders by Task, Project, or Project and Task, as well as flat (None).
Generate new zip every (MB): This enables you to determine the size of the Zip files you download. Once a specific size is reached, it automatically creates another one – the max is 500MB.
Ignore files larger than (MB): If your files are larger than what you've set, they'll be moved to the Failed Transfers section. Here, you can manually download the files. For instance, if you set a limit of 500MB for your Zip files, a 1GB file won't fit.
Enable zip compression: This allows you to compress your Zip files before downloading them.
4) Start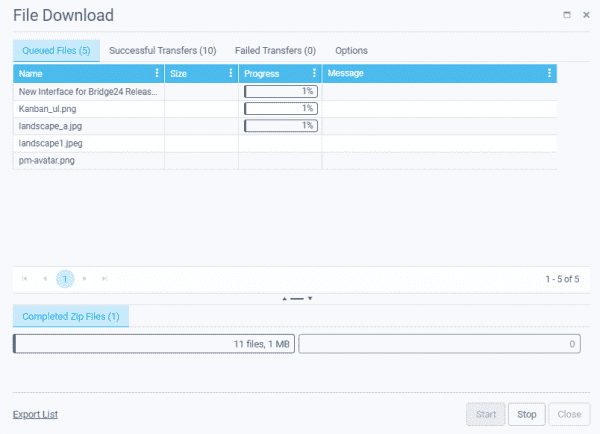 5) Queued/Successful transfer/Failed transfers
You can easily check the status of every action taken after downloading files. If a file fails to transfer, a message will indicate so. You can then take the necessary action.
Other options and usage
Add columns
You can also add more columns to the display (this way, you can view all the fields you want in the available log file for download.)
Punctual download from grid/edit panel
You can access the Download Manager directly from the Grid, right within the Attachments field (when working on individual tasks.)
Download index list
If you want to quickly download an XLS file that includes the list of files in the Queue, you can find it at the bottom left of the Download Manager.
Download log file
Once the download is complete, you can also download the file transfer log file from the Summary popup you get.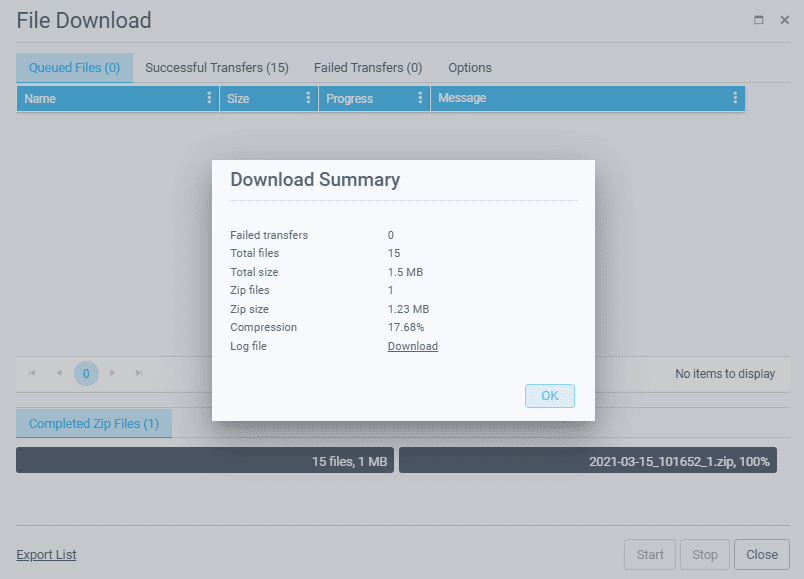 This log file includes all information and indexed data of the downloaded Zip file in XLS format.