Charts by Custom Fields for Asana and Trello
As the year ends, most people relying on project management tools like Trello and Asana will need to start preparing year-end reports based on data available on the tools. However, creating accurate and data-driven business reports is only one part of the job. Creating detailed reports that are easy to read and understand is another part.
Suggested articles:
Asana: Easily Create Interactive Charts and Graphs
Trello: Easily Create Interactive Charts and Graphs
One way to present information in an easy-to-understand and visual way is through charts. Bridge24 enables you to create dynamic charts that are easy to interpret from your existing data on Trello and Asana, using the custom fields data from both project management tools at the click of a button.
Use Custom Fields to Create Dynamic Charts
Trello and Asana users can use the custom fields feature to add fields to their specific workflow, enabling more context and functionality. There are numerous ways to use custom fields, including showing the status of a sign-off procedure, categorizing a product, displaying more detailed information, indicating Yes/no' data for required action, and more.
Now, once you've created these fields and entered the data required, you need a way to draw useful information from your Trello board and Asana board. How do you do this effectively to see business trends, create summary reports, or even analyze project outcomes?
Bridge24 Offers a Simple Solution
You need a tool that dynamically connects to Trello and Asana so you can extract more value from your data through powerful reports and charts. Bridge24 is the solution. It allows dynamic connectivity to your Trello and Asana data, making it easier to quickly view, filter, sort, group, and export multiple tasks across all projects. This provides new perspectives into your operational and decision-making processes.
Bridge24 rolled out the custom fields feature for grouping in reports a few months ago. You can now use this feature to generate charts for your end-of-year business reports using the custom field data from Trello and Asana in one click.
Here's an example of a chart from an existing Asana account using the custom fields feature to create a text field named "Website" with various tasks associated with the specific websites or blog names being monitored. Users can use Bridge24 to quickly group tasks across all the Asana projects based on the unique custom field values.
After this, users can now click on any segment – it will dynamically bring up the specific task list, hide or show the website segment by simply clicking the item in the legend, and easily export the project workflow chart as a PDF file.
Chart Stacking
Another powerful feature available in Bridge24 for Trello and Asana users is chart stacking. This feature allows the display of two variables in the same chart, providing a greater perspective and more context of the data available on both tools. For instance, if a Trello user wants to know the number of cards for every project approval stage in a workflow, they can use any custom field with chart stacking to set priority settings for each card – low, medium, high, or urgent.
Combining all this information in a single chart is now possible, making it easier to create detailed reports that are easy to read and understand.
Users can easily modify the chart by selecting different chart variables, types, or other unique settings based on the kind of reports they want to create and the information they want to see.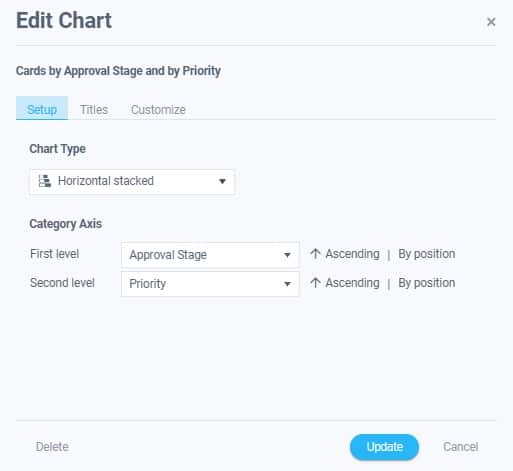 Conclusion
Bridge24 easily meets all your reporting needs for Trello and Asana. Whether you want to create charts by project, user, board, custom field value, or another variable, Bridge24 simplifies and improves your business reporting process. To learn more about Bridge24, check out these links: Facebook, Twitter, or YouTube. Try Bridge24 today for free. Also, checkout santexq.com for more details.