Export Trello Cards to Excel with Bridge24

Project management platforms are allowing businesses, both established and startups alike, to gain an edge over their competitors. Cloud-based tools such as Trello are offering their users key benefits, allowing them to streamline their operations and boost their productivity. Companies that utilize these tools are able to grow and flourish in the ever-changing business environment, with its disruptive innovations.
Trello is an excellent tool for work management and collaboration. Millions of people use it to track and manage their projects, improve their workflow, and reach key milestones. Although it's a great platform, it has its shortcomings. It lacks some critical functions that are necessary for the success of a project.
Communication is Vital
One of the primary causes of project failure is poor communication. Reporting is an essential process that depends on flawless communication. Although Trello is an amazing visualizing platform, it falls short in communication. To build reports, users have to result to add-ons and power-ups. Moreover, their export tools don't have a wide range of features.
Trello users who are on the free plan are constricted to exporting in JavaScript Object Notation (JSON) format. Yet, the JSON format is only partially readable by a human, as it's meant to be read by machines. Users who want to re-create a Trello board can't manage to import JSON export files. For Business Class users, the only export option at their disposal is in CSV.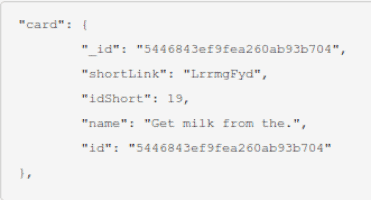 The Need to Export Data
For project management tools to deliver excellent results, their systems need to be fed a lot of project data. Users should also be equipped with an option to easily retrieve that data and use it to improve their business operations. That data may prove useful in making presentations, developing reports, and creating backups.
Bridge24 – Easy Exporting Solution
Bridge24 for Trello is a cloud-based software that complements Trello. With this application, users can connect dynamically to their project management platform and achieve instant two-way sync. They can also visualize and modify data from any of the tools, and the changes get reflected on the other tool in real-time. Bridge24 does not store duplicate user information, and the import/export and migration processes are straightforward.
Subscribers of Bridge24 enjoy a more comprehensive business solution since they get access to improved exporting and reporting features. For instance, instead of acquiring multiple platforms and going through countless processes when dealing with exported JSON files so they can view them on a spreadsheet, they use Bridge24 to complete such tasks effortlessly. It allows users to obtain the precise set of data in a format that is easy to read and with acceptable print quality.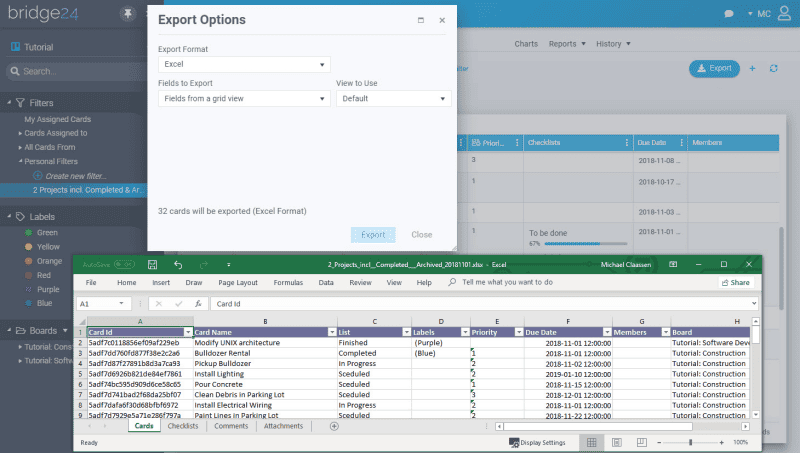 Export Options
Bridge24 for Trello has a combination of features that give the user a seamless experience. The tool makes exporting seamless across multiple boards and allows users to scan through projects within a particular period. With it, you can sift to a particular card, list, or board, organize them, and then export them. Bridge24 also enables users to sort by custom field, users, project, or other parameters. The filter can be saved for future reuse.
This application enables users to export the precise data they need for a presentation or reporting. They can export for the user or customer who uses a spreadsheet tool such as Microsoft Excel. In the file export, the user can also add custom fields, remarks, to-do lists, and even attachment details and URL links that are present in Trello cards. Users can make one XLSX file or add extra sheets on Excel. This allows the information to be meticulously organized and easy to visualize. Users can also opt to export in CSV format.
Go Beyond Task Management
Bridge24 for Trello improves the capabilities of Trello by providing extra functionalities such as powerful views. With this software, users don't have to be constricted to a Kanban board view, they can now visualize their information in various forms such as the Calendar View or Power Grid. They can export files from any view type with just a couple of clicks. Users can also benefit from options such as interactive charts and improved reports, which they can use to visualize, edit, or scrutinize their project data.
To check out the newest additions and updates, you can explore Bridge24's online platforms; Twitter, Facebook, and YouTube. You can also take advantage of the free Chrome extension to export on a single Trello board.