Project Management for Small Business: The Complete Guide
You may think small business projects are more straightforward to manage than enterprise ones. Since a company is small, it is easier to run everything.
I wish it were like this. But it's the opposite.
A large company has a dedicated project manager responsible for a specific task. However, in a small company, only you manage everything at once. I think you know the feeling of trying to cope with a non-stop flow of product tasks and answering side requests.
The result? Disrupted deadlines, exceeded budget, and professional burnout.
Sure thing, it is a question of the right project management approach. Good to know you are in the right place. This article will cover everything about project management: benefits, implementation guidelines, relevant tools review, and possible mistakes.
Project management is a scope of methods, processes, knowledge, and skills you use to direct a team to achieve a project goal within a set deadline and budget. It includes planning, task tracking, communication with a team, and dealing with project documentation.


Do I really need project management if only a few people are on my team?
Yes, you do. Here, I'll provide stories of Jake, Kate, and Polly (let's call them this way) to explain how project management can be helpful in your business 👇
There is no room for distraction when you organize a project flow from the beginning and control it till the finish. So you have more chances to meet your goals on budget and deadlines.
For instance: While planning a support department project, Jake discovered that the tool his team chose was over the budget. Managers thought Zendesk would cost them $88/2 agents/mo (that fit the $100 budget). But they didn't consider a third manager Jake planned to hire in a month. Thus, a company would have to pay Zendesk $147/mo.
It helped Jake to select a more affordable alternative to Zendesk.
Increase a project success opportunity
If you devote enough time to draft a detailed project schedule before its start, monitor milestones, and make quick adjustments, your team has more chances to achieve objectives.
For instance: As an editor, Kate regularly does not fulfill the weekly plan in blog publications. After a conversation with a team lead, they found the reason — side proofreading tasks from developers. To avoid the issue, Kate asked developers to send her proofread requests in advance.
When the project is finished, you can analyze its documentation and team reports to find out what went right or wrong. It is an excellent source of knowledge for future projects' success.
For instance, Polly's team missed the deadline for an open webinar on YouTube. Since they delayed the launch, they lost a piece of their audience and potential customers. When Polly went through the reports, she noticed that her team spent extra days on the presentation due to the designer's day off.
It enabled her to add spare time to each step of the subsequent project development.

How to manage a project
Some experts prefer to divide the project management lifecycle into five or more phases. But within a small business project, the more straightforward this process, the better it is.
Basically, there are two main steps: planning and execution.

Part 1: Project planning
Define your project goals
| | |
| --- | --- |
| Good project goal example | Bad project goal example |
| Choose a tool to manage email accounts that fits a $200/mo budget. | Define the top 3 tools to manage email accounts. |
| Conduct 50 interviews with potential customers that meet ICP (Ideal Customer Profile). | Get potential customers' feedback. |
| Conduct international research on 10 competitors' customer support. | Set up VPN settings. |
| Get 300 qualified leads. | Set up an email collection form on the main page. |
To start, you need to have a clear vision of your project success aka goal. The more specific it is, the better. Thus, experienced project managers use the Objective Key Results framework for this goal.
The right column is more about tasks. A good goal title includes numbers or deadlines.
Quick tasks are about immediate results. They are great motivators. But long tasks lead to professional burning out. They are difficult to control and make adjustments when needed.
That's why project managers divide a project timeline into short stages — milestones.
To define them, use this exercise: For X to happen, what needs to happen first? I repeated it several times to create a plan for the following content hub.
Objective: Create a live chat content hub
Good project milestones example
Bad project milestones example
🌟 Keywords research:

– Keywords cleaning
– Keyword clustering
– Analyzing existing content to update
– Defining content hub new articles
– Defining new landing pages to create

🌟 Build an internal linking scheme within a hub

🌟 Create tasks on articles for writers

🌟 Publish articles:

– Editing
– Checking if they meet SEO requirements

🌟 Track the results

🌟 Make improvements
🌟 Defining hub articles

🌟 Publishing them

🌟 Results analysis
The more checkpoints your plan has, the better it is. Besides, to keep track of your content performance and make sure it is evergreen, you might want to dig into knowledge work systems – trust me, there are miscellaneous and your project will only thrive with them.
Visualize your project milestones in a list
Every task should have its order number and deadline. In the previous example, we have six milestones.
Project managers use Trello, Asana, Monday.com, etc., tools to turn them into a to-do list. Visually, it can look like a list with task titles and deadlines.

Or it can be a table with team members, priority, and status columns.
The calendar is also a project view option.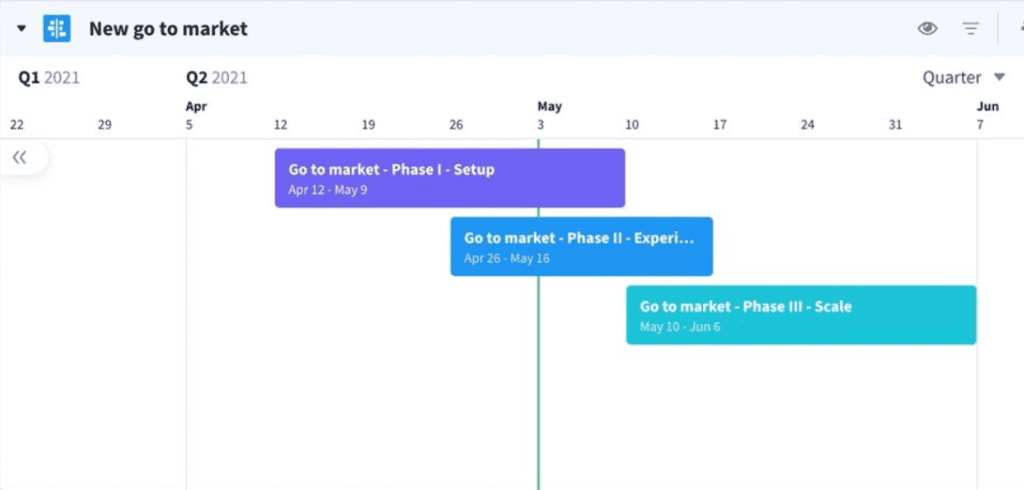 After that, add a detailed description to each of the created tasks: How should its result look like? Who is responsible for that? What are the starting and the due date? Does it have any subtasks?

Pro tip: Plan extra time for unpredictable situations like a developer's sick day. It should be about 10-15% of the planned timeline.
Time to reach out!

Part 2: Project Execution

It is about organizing project workflow in sprints, quarters, days, etc. Most small companies use agile sprints (weekly) planning as a basic model.
What I mean is that each week you should:
Update your project tasks' progress. Write tasks resume at the end of the current week.
Define a list of tasks to do next week. Mark how much time each of them will take.
Regarding a daily to-do list, it is better to highlight the most important things you have to perform. Don't forget to follow up on pulls you made on team members as business communication plays a key role in project execution.

Project management software you need to start with

There are so many options on the market screaming that they are the best solution for your project management. Unfortunately, it can take you months to discover that you have to pay extra money to get the features needed.
Good for you, I reviewed the best project management software for a small business.

Wrike
Wrike is a work management platform built to bring various teams together. You know how it usually gets: some processes might just slip through the cracks when a team is small. However, Wrike allows you to align all the aspects and departments of your crew so that you can achieve a better result.


Thanks to Wrike's tool set, you can boost your team's productivity with such functionalities as unified spaces, meeting notes sharing in a Zoom-like way, templates, subtasks, and Gantt charts, to name a few.
Pricing: from $0/user/month to $24.80/user/month.
Free trial: 14-day trial

Trello
This tool has two advantages for small companies: an easy-to-master interface you can change as you wish and a free plan. So you can create project boards with task cards, add files, teammates, tags, deadlines, etc. without spending a dollar.

Trello project management board you can copy and use now. Image source

Pricing: from $0 to $17.50 per user/month.
Free trial: 14 days.

Basecamp
Small companies chose this solution thanks to its straightforward interface and pricing. Sure thing features like invoicing and budgeting are paid. But there are enough free tools to use Basecamp as a project management solution when you are on a budget.



Basecamp's dashboard. Image source.

Among other functionalities, small businesses enjoy its scheduler, message board, to-do lists, documents, etc.
Pricing: from $15/user/month to $349/user/month.
Free trial: 30 days.

To summarize, expert tips to start managing your project
Nobody is perfect, so be ready to make mistakes when planning your projects. To help you avoid the most common ones, I collected some advice from project management experts:
Communicate. I think that success depends on communication and focusing on the goal. Good contact with the team identifies deviations on time. Good communication with customers can quickly identify changes in scope.
Think about risks. Make sure you're transparent with your project team. Communicate roadblocks, challenges, and risks clearly and in advance for everyone to see. Know and accept: no one cares for or is as committed to your project as much as you are/must be.
Delegate. Learn what you can delegate. Learn who you can trust to. Lead by example. Work harder than anyone else. Treat everyone you touch with respect and kindness.