The Pros and Cons of Using Bridge24 Software
Effective project management and collaboration tools are essential for any organization striving to maintain efficiency, productivity, and team cohesion. Platforms like Asana, Trello, and Basecamp have emerged as popular choices, offering robust capabilities to manage tasks, set deadlines, assign roles, and foster team communication. However, as useful as these tools are, their native reporting and exporting features often fall short, necessitating additional professional tools that can effectively access, organize, and extract valuable data.
This is where software like Bridge24 comes in. Tailored to enhance the reporting and exporting capabilities of Asana, Trello, and Basecamp, Bridge24 provides a suite of features designed to optimize the way you handle your project data. If you're considering this tool for your reporting and exporting needs, you'll want to learn more about its pros, cons, features, use cases, and more so you can decide if it suits your needs.
Bridge24 – Professional Reporting and Exporting Tool
Bridge24 is a powerful tool that elevates the reporting and exporting capabilities of project management and collaboration tools such as Asana, Trello, and Basecamp. This advanced software offers a unique blend of features that allows users to access, organize, and extract valuable data seamlessly. Bridge24 provides a user-friendly interface with various views, filters, advanced reports, and interactive charts, enabling companies to comprehensively understand their project data.
Thousands of businesses, including reputable companies like Deloitte, AirBnB, Shell, and the Project Management Institute, trust Bridge24 for its advanced capabilities and reliable performance. By leveraging Bridge24, these organizations have been able to harness their data more effectively, leading to improved decision-making, streamlined operations, and, ultimately, increased productivity.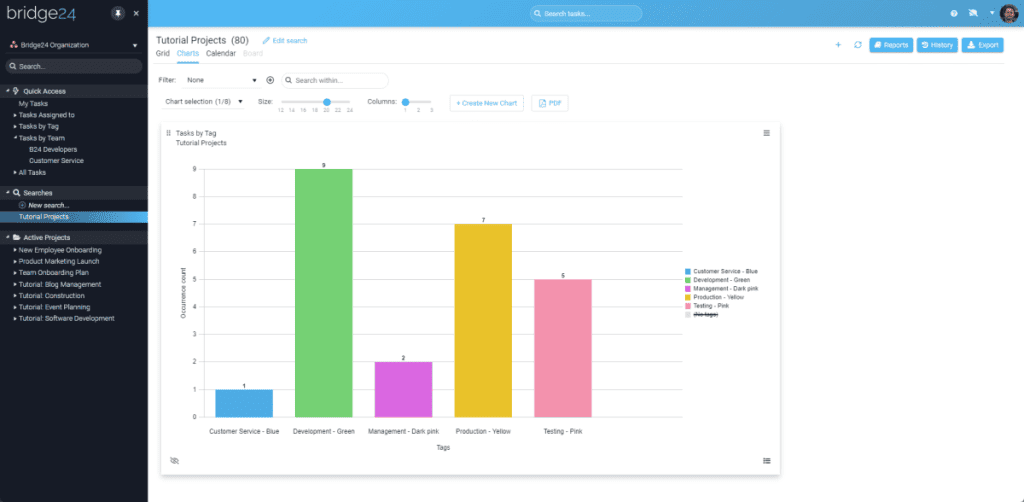 The Cons or Disadvantages of Bridge24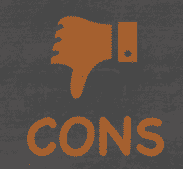 Despite its powerful capabilities, using Bridge24 comes with its own set of challenges:
There's a learning curve for new users: Like any sophisticated software, Bridge24 comes with a learning curve. New users may find it challenging to navigate the interface and utilize its features to their full potential.
Limited support documentation: While Bridge24 offers a robust set of features, its support documentation is limited. Users have to use the software to understand how it works instead of reading the documentation or watching videos.
Limited native mobile application: As of now, Bridge24 lacks a dedicated mobile application. This restricts access and usability for those who prefer managing tasks on the go.
Occasional performance issues: Some users have reported occasional performance issues, such as slower loading times when dealing with large data sets. For example, the Asana API is slow, and it may take time to load a lot of tasks and projects.
Confusion with connecting multiple tools: If users connect more than one project management tool, such as Asana and Trello, to Bridge24, it can lead to confusion. This can complicate the interface and make data management more challenging.
The Pros or Advantages of Bridge24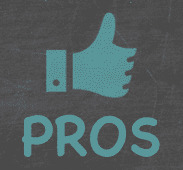 Despite the above challenges, the benefits of using Bridge24 are substantial:
Global overview of all your projects: Bridge24 provides a comprehensive view of all your projects, allowing you to make informed decisions based on a detailed understanding of your tasks and their statuses.
Dynamically connect: Bridge24 allows you to dynamically connect and interact with your data, facilitating the creation of powerful reports and charts.
Get a new perspective on your tasks: Switch between Power Grid, Calendar, and Kanban board modes to view and interact with your tasks from different perspectives.
Export the information you want: With Bridge24, you can easily filter and export tasks in the most convenient formats like CSV and Excel, including custom fields, comments, and task history.
High Level of Customization: The software offers a high level of customization, enabling users to tailor their workspace to their specific needs and preferences.
Data-oriented and powerful filters: Bridge24 comes equipped with powerful, data-oriented filters that make it easier to sift through and manage large volumes of data.
Seamless integrations: Bridge24 integrates flawlessly with Asana, Trello, and Basecamp, ensuring a smooth and uninterrupted workflow.
Bridge24 Key Features
Bridge24 comes loaded with a range of advanced features designed to improve data management:
Advanced reports: Generate in-depth reports with two-level grouping and sort your tasks by any field. Users can also include totals and export reports to Excel or PDF.
Grid view: Display tasks in a flexible grid, with options to resize columns, show/hide fields, and arrange field order.
Calendar View: Display tasks in a dynamic calendar view, with drag-and-drop functionality for easy task date modification.
Filter tasks: Users can create multiple filters using various criteria, including by project or assignee.
History view: This feature displays the history of a task, including previous values and action's date stamp.
Bridge24 Use Cases
With a track record of over seven years in the industry, Bridge24 has demonstrated its value to over 25,000 business users worldwide. Trusted and recommended by 98% of its users and spanning over 50 countries, Bridge24 boasts a diverse range of use cases:
Advanced reporting: Companies requiring detailed reports from Asana, Trello, or Basecamp utilize Bridge24's advanced reporting features for comprehensive data analysis.
Enhanced collaboration: Teams collaborating on Asana, Trello, or Basecamp leverage Bridge24 to streamline workflow and improve team communication.
Data export: For organizations that need to export their task data for additional processing or reporting, Bridge24 provides easy and flexible exporting options.
Task management: Users looking for dynamic task management tools use Bridge24's Grid, Calendar, and Kanban views to efficiently organize and manage tasks.
Bridge24 Pricing and Costs
Bridge24 offers flexible pricing plans to suit different business needs:
Monthly: Priced at $25, the monthly plan includes five users, with additional users costing $5.00 each per month.
Annual: The annual plan costs $240, allowing for a 20% savings compared to the monthly plan. It includes five users, with additional users costing $48.00 each per year.
Both plans come with a 7-day free trial, allowing users to test the service before committing to a purchase.
Conclusion
Bridge24 serves as a robust and powerful tool for enhancing the reporting and exporting capabilities of popular project management platforms like Asana, Trello, and Basecamp. Despite some disadvantages, its impressive features make it a worthwhile investment for teams looking to optimize their data management and decision-making processes. You can find their social network profiles here: Twitter | Facebook | Youtube