Use Trello Custom Fields to Optimize Your Workflow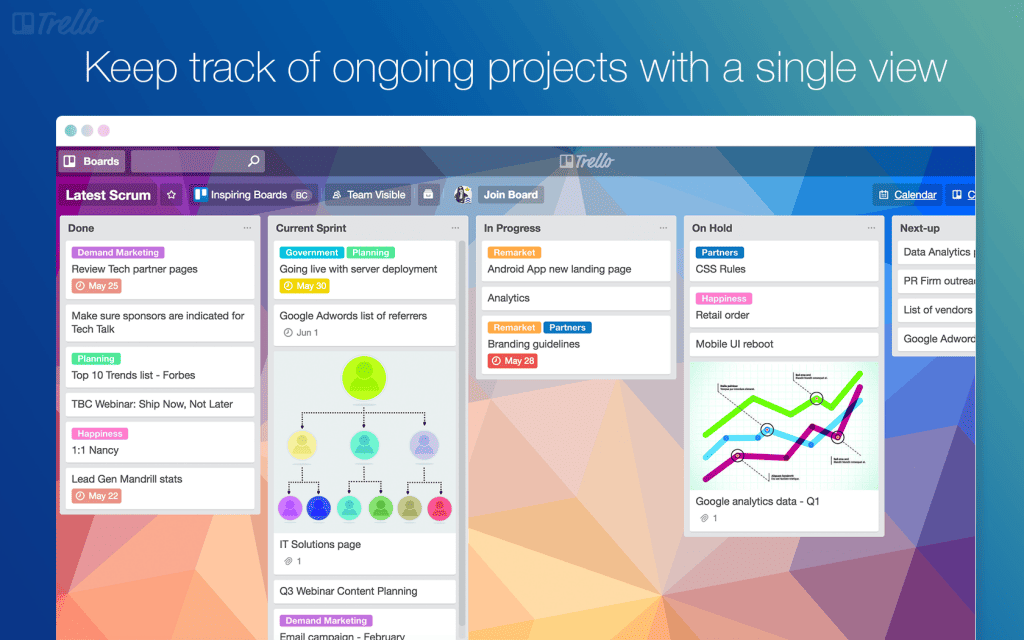 Trello's simplicity as a visual project management software makes it a valuable tool for millions of users who use it to boost productivity and manage daily tasks and projects. Individuals, teams, and entire organizations can use it to organize, prioritize, and visualize tasks utilizing a series of online boards, lists, and cards that transform ideas into completed projects. Trello is flexible, easy to navigate, and allows users to manage work using the free version. If you are looking for a professional tool for reporting and exporting on your custom fields, we recommend using Bridge24 for Trello.
As an organizational and task management tool, Trello has maintained its primary function since the beginning. Using Power-Ups and integrations, users can enjoy various features and functionality. Trello Power-Ups help incorporate features of other applications inside Trello. Integrations, on the other hand, enable Trello to function seamlessly with other software.
Trello, for instance, integrates with Gmail using an add-on, allowing users to attach cards without signing out from their inbox. Additionally, you can add Trello's Custom Fields Power-Up, a user-defined data field for different functionalities. While Custom Fields Power-Up is a simple tool, it has robust functionality that enables users to include custom data fields in their cards.
How Custom Fields Optimize Workflow and Its Other Benefits
Using Trello Custom Fields, users can adjust their tasks and be more specific and efficient in obtaining information. Attaching the right data fields and types helps increase efficiency in output management and tracking project performance in different phases and locations.
The custom definition of data types enables you to input error-free details, resulting in increased productivity. In Trello, custom fields include numbers, checkboxes, text, dropdown lists, or dates.
Custom Fields Power-Ups also promptly deliver complete and contextual details, and users can view the information on the front of the cards. Additionally, you can include and edit Custom Fields Power-Ups from the back of the cards with ease.
Custom Fields Sample Use Cases
Just like Trello, custom fields can be used in various ways.
Date Fields – for editorial teams to schedule publication due dates and deadlines
Text fields and emojis – to describe workers performance in the HR department
Number fields – for accountants to monitor expenses and budget to cut costs
Dropdown lists – for sales teams to track purchases or opportunities, and manage leads
Text, number, dates, and dropdown lists – for project teams to monitor work from ideation to completion
How to Create a Custom Field
Before you can utilize Custom Fields, you need to enable it. On the right side of the page on the board menu, choose Power-Ups. From the Power-Ups directory, select Custom Fields, and then click on the Enable button.
Once you have enabled Custom Fields Power-Ups, you can create your first custom field without any difficulties. To include a new field, click the Custom Fields on the back of a card. Then select the type of custom field you want. It can be a checkbox, date, text, number, or a dropdown list. If you are creating a dropdown list, for example, make sure to add the choices for that list. Then give your custom field a name of about 25 characters maximum.
How to Use Custom Fields
By using Custom Fields in Trello, users can enjoy optimal workflow management, extra add-ons for unique tasks, and close monitoring of projects. What's more appealing is that team members can edit field names and input values in the custom fields.
Custom Fields Tips and Other Info
The extra details custom fields provide can significantly help you to tackle unique project requirements. But you must be keen not to overuse them because many fields lead to confusion, resulting in little to no benefits and low productivity.
It is essential to utilize custom fields correctly. For example, instead of using Text fields to input numbers and dates, add dates directly in the Date fields. Also, use Dropdown lists and Checkboxes appropriately, to minimize input.
The core function of custom fields is to improve work efficiency. Therefore, let your work requirement define the types and usage of custom fields.
You should also assess data received from custom fields to find out if team members are adding values, or whether the data gathered improves workflow tracking. Considering you can access custom fields on mobile, it's advisable to get reviews in that area also. Furthermore, you can filter and reorder how custom fields appear at the back of cards.
Enhance Reporting and Exporting Features in Trello
There are limitations as to how you can use Trello and Custom Fields to optimize your work. For instance, you can only use 50 fields on one board, while transferring custom fields is strictly in JSON format if you are using the free version. While you can export fields in CVS under the Business Class premium plan, you need to spend $12.50 per user every month.
To access unlimited custom fields, opt for a seamless tool like Bridge24 for Trello. With this tool, users can enjoy improved reporting and exporting functions like grouping reports based on custom fields. You can group reports twice, and the second grouping can be a custom field.
In addition to its powerful views, interactive charts & graphs, and advanced reporting, Bridge24 for Trello has easy-to-use exporting tools that enable users to export cards, custom fields, and even comments in Excel and CSV formats. Users can also export URL links, attachment information, or use the free Chrome extension. You can try Bridge24 for free.