The Perfect Basecamp Gantt Chart Integration
Bridge24 has recently released the Basecamp Gantt Chart view for Basecamp users to visualize the progress of their projects, to-dos, and cards in a more organized and structured manner. By viewing all to-dos across all projects in such a timeline view, users can track the progress of their projects more efficiently. The dynamic filtering option also allows users to tailor the Gantt chart view to their needs, ensuring they only see the corresponding project, to-dos, and cards they want.
Gantt Chart Options For Basecamp
View to-dos and cards across projects in a dynamic Gantt Chart / Timeline view.
Use any date fields as start and end dates.
Dynamically update your to-do and card dates by dragging and dropping the progress bars.
Export your Gantt Chart view to PDF format.
Collapsable grouping by Project and List.
Display to-dos without dates to easily schedule them in time.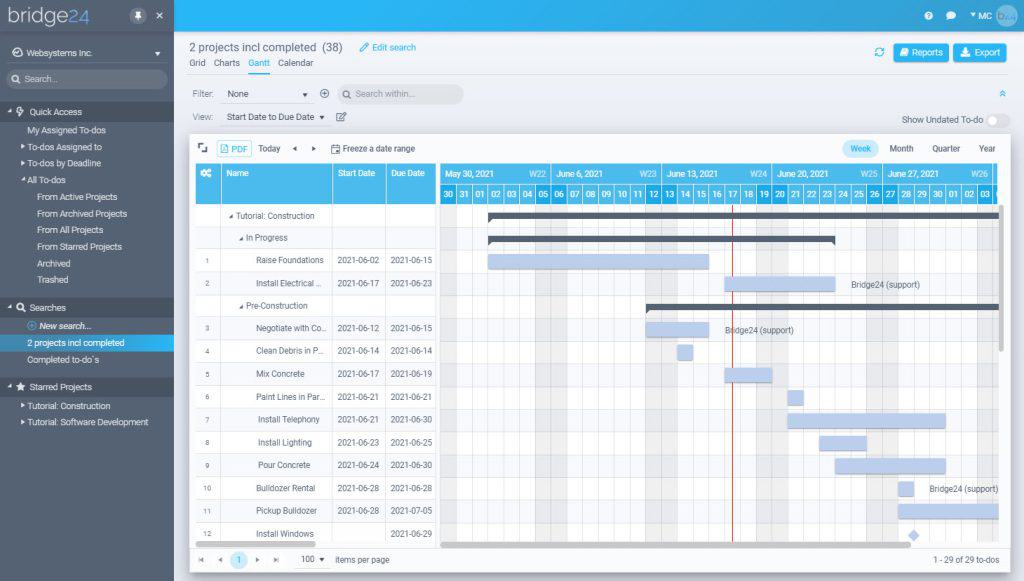 Use Any Date Fields in the Gantt Chart
A Gantt chart is typically used in project planning, allowing users to visualize the progress of a project by adding and adjusting tasks over time. The chart is generally based on each task's start and due dates. However, with Bridge24, it's possible to use other dates, such as "Last update," "Completed at," or "Created at," depending on the needs of the user.
Users can select the desired start and end dates from the Setup tab on the Edit Gantt View dialogue to set up the Gantt chart view. This feature allows users to customize the chart to fit their needs and preferences, ensuring they have the most valuable and relevant information.
Timescale Options
To change the timescale of the Gantt chart view, you can select the desired option from the top right corner of the chart. The available timescale options include week, month, quarter, and year views. This allows users to customize the level of detail they see on the chart, making it easier to focus on specific periods or get a broader overview of the project's timeline. By adjusting the timescale to fit their needs, users can more effectively track progress, identify potential issues, and stay on top of project timelines and deadlines.
Conclusion
The Gantt chart feature in Basecamp provides users with an organized and easy-to-understand visual representation of their project's progress, allowing them to quickly and efficiently track tasks and timelines. The ability to customize the Gantt chart view based on various dates and timescales and filter information dynamically makes it a highly flexible and valuable tool for Basecamp users.
Additionally, the integration of the Gantt chart feature in Basecamp has been well-received by users, who appreciate having a more complete and intuitive view of their projects. Overall, Bridge24's Gantt chart integration for Basecamp is a significant step forward, providing users with the tools they need to manage their projects more effectively and efficiently.