The Pros and Cons of Using ActiveCollab Software
In a world where businesses are increasingly interconnected and face relentless competition, staying ahead of the curve is crucial. This demands continuous improvement, innovation, and adaptation. Success hinges on the ability to manage resources effectively, control work processes, prioritize tasks, and foster collaboration among team members and clients. A robust project management tool can be the difference between thriving and merely surviving in this challenging environment. ActiveCollab, a popular software solution, has emerged as a powerful option for organizations seeking to streamline operations and enhance collaboration.
This article will explore the advantages and disadvantages of using ActiveCollab, its features, use cases, and pricing options to help you determine its suitability for your organization's unique collaborative project management requirements.
If you are looking for a more cost-effective solution other than in ActiveCollab pricing plans, look into AceProject. The project management software does not charge per user, which is more budget-friendly.
ActiveCollab – Collaborative Project Management Software
ActiveCollab is a comprehensive project management software designed to bring teams together, streamline work processes, and boost productivity. The tool enables users to establish customized workflows that cater to their team's specific needs and client preferences. With ActiveCollab, deadlines are always in sight, ensuring that everyone on the team is aware of their responsibilities and can focus on what truly matters. By minimizing distractions and maximizing efficiency, ActiveCollab empowers organizations to make real work happen and, ultimately, achieve success.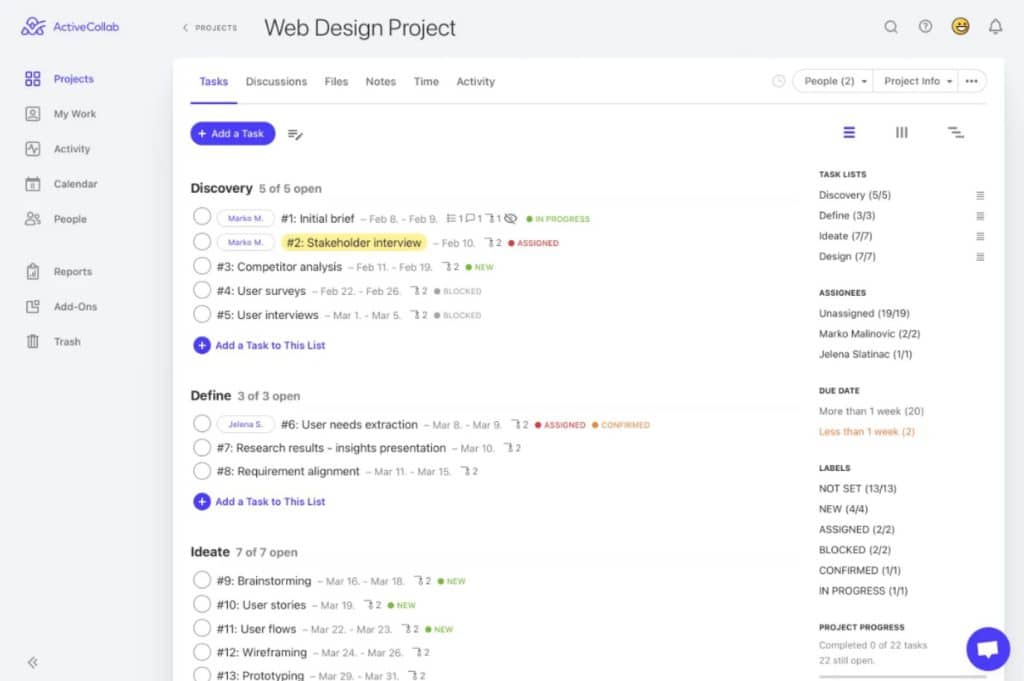 Since its inception as an open-source project, ActiveCollab has evolved into a highly-regarded commercial product, serving more than 50,000 teams worldwide. For over a decade, the software has been a trusted solution for creative professionals looking to overcome challenges and optimize their project management processes. With its user-friendly interface, customizable features, and focus on collaboration, ActiveCollab continues to be a valuable tool for organizations seeking to enhance their performance and drive meaningful results.
ActiveCollab Key Features
ActiveCollab offers a comprehensive suite of features designed to address various aspects of project management:
Work management: Streamline your processes, organize your team, and gain full control over deadlines to ensure work efficiency.
Team collaboration: Facilitate seamless, real-time collaboration among team members, whether working together or asynchronously.
Time management: Effectively manage billable hours and ensure accurate time tracking for all projects.
Resource management: Balance workloads to prevent team member burnout and optimize resource allocation.
Client management: Involve clients from the start and maintain strong relationships with ease.
Business profitability: Monitor costs, adhere to budgets, and enhance your organization's profitability.
Apps & integrations: Integrate your favorite apps with ActiveCollab for a seamless, unified experience.
Multiple task views: Choose from Column, List, or Timeline views to manage projects, including Kanban boards and Gantt charts, ensuring maximum flexibility and visibility.
ActiveCollab Use Cases
ActiveCollab is a powerful project management software trusted by some of the world's leading brands, such as Dell, Nike, Casio, FujiFilm, Crocs, DHL, Pepsico, Berkeley, Apple, and Pfizer. With its wide selection of practical features, ActiveCollab caters to a wide range of industries and team structures, ensuring optimal performance and seamless collaboration.
Small businesses: ActiveCollab provides small businesses with an efficient project management tool to streamline work processes and promote growth.
Creative teams: As a comprehensive solution for creative agencies, ActiveCollab fosters collaboration and organization in fast-paced environments.
Development: Development teams can efficiently manage their projects using ActiveCollab's tailored features for coding, testing, and deployment.
Marketing: Marketing agencies can leverage ActiveCollab to plan campaigns, track results, and collaborate with clients effectively.
Startup: Startup teams can utilize ActiveCollab to manage rapid growth, allocate resources, and maintain a clear vision of their goals.
Designers: Design agencies can use ActiveCollab to manage projects, share concepts, and receive feedback from clients in real time.
SEO: SEO agencies can benefit from ActiveCollab's project management capabilities to organize campaigns, track keyword performance, and optimize content strategies.
The Cons or Disadvantages of ActiveCollab
Just like any other software, ActiveCollab has its own drawbacks. Understanding what you're getting will help you decide if the software offers the capabilities you need for your team.
Learning curve for new project management tool users: While ActiveCollab is designed to be user-friendly, new users with limited experience in project management tools may face a learning curve when adopting the software. It may take time to familiarize themselves with the various features and functionalities, resulting in a slower initial adoption process.
Limited add-ons and 3rd party integrations: ActiveCollab offers some integration options. However, it may not cover all the third-party tools and applications users may want to include in their workflow. This limitation may require users to switch between platforms or find alternative ways to integrate their preferred applications.
Lack of flexibility in customizing the interface: While ActiveCollab offers multiple task views and some customization options, it lacks advanced interface customization features that some users may desire. This may make it difficult for users to tailor the platform to their unique needs and preferences, potentially affecting their overall experience.
Reporting feature could be improved: ActiveCollab's reporting capabilities are sufficient for essential project management. However, some users may find the available reporting options limiting. A more comprehensive and customizable reporting feature would allow users to generate detailed reports, making it easier to analyze project performance and make informed decisions.
Restricted invoicing and billing capabilities: ActiveCollab's invoicing and billing features are relatively basic compared to some other project management tools. Users looking for more advanced invoicing options may find ActiveCollab's capabilities insufficient for their specific needs.
The Pros or Advantages of ActiveCollab
What makes any project management software a worthy investment is its benefits to your collaborative processes. Most users are happy with the functionalities that ActiveCollab offers. Here are some of its most important pros:
Intuitive and easy-to-navigate platform: ActiveCollab boasts a user-friendly interface, making it easy for users of all experience levels to navigate and utilize the software. The platform's intuitive design ensures teams can quickly adapt to the software, saving valuable time and reducing the learning curve.
Highly customizable for specific needs and workflows: One of the key strengths of ActiveCollab is its customization capabilities, allowing users to tailor the software to their unique needs and preferences. This includes the ability to create custom workflows, project templates, and task views, ensuring that teams can efficiently manage projects according to their specific requirements.
Real-time collaboration and commenting on tasks: ActiveCollab fosters effective communication and collaboration by enabling real-time discussions and task comments. This feature ensures team members can easily share ideas, provide feedback, and track progress, resulting in improved efficiency and more successful project outcomes.
Continues where you left off with other tools: ActiveCollab's seamless integration capabilities allow users to pick up where they left off with other tools, ensuring a smooth transition and uninterrupted workflow. This feature simplifies the process of adopting ActiveCollab, minimizing disruptions and maximizing productivity.
Incorporates project management, time tracking, and invoicing: ActiveCollab combines project management, time tracking, and invoicing features, providing users with a comprehensive solution for managing their projects from start to finish. This all-in-one functionality saves users time and effort, enabling them to focus on delivering high-quality results.
Transparent product roadmap: ActiveCollab is committed to continuous improvement, regularly sharing its product roadmap with users. This transparency allows users to stay informed about upcoming features and enhancements, ensuring that they can make the most of the software and plan for future developments.
ActiveCollab Pricing and Costs
ActiveCollab offers a variety of pricing options to cater to different team sizes and needs, along with a free 14-day trial for its paid plans. The pricing options are as follows:
Free: A limited plan offering 3 members, 1 GB of storage, and unlimited projects, tasks, and discussions.
Plus: Priced at $9.5 for 3 members/per month, this plan is designed for smaller teams seeking a platform for collaboration and project management.
Pro: Suitable for teams and companies requiring a comprehensive workflow overview, this plan costs $8 per member/per month.
Pro+Get Paid: Ideal for teams that need time tracking, organization, and invoicing features, this plan is priced at $11.75 per member/per month.
We did a great article on ActiveCollab Pricing Plans.
Conclusion
While ActiveCollab has some drawbacks, its overall strengths make it a valuable solution for many organizations looking for a versatile collaboration tool. Carefully evaluating the pros and cons of ActiveCollab and its features, use cases, and pricing will help you compare what it offers against other tools. Take advantage of the free trial to experience the software's capabilities and evaluate its suitability for your organization's needs without any commitment.