The Pros and Cons of Using ClickUp Software

As businesses continue to digitize their operations, project management tools have become a core part of streamlining their workflow. These tools are vital in helping businesses optimize processes, improve collaboration between team members, and improve operations and decision-making overall. By breaking down complex processes into achievable tasks, project management tools simplify the execution of even the most daunting projects. This ensures more clarity across business operations.
All-in-one project management tools like ClickUp offer a wide range of features and benefits that can help businesses enjoy these and more benefits. However, like any other software, it has its advantages and disadvantages. In this article, we will explore some of the use cases where ClickUp has proven useful and the pros and cons of using the software to help you decide whether it's the right tool for your business.
If you feel Clickup's pricing is too high for your budget, consider looking at AceProject. By charging per project instead of per user, this software offers the potential for significant cost savings.
ClickUp All-In-One Project Management Software
ClickUp is a productivity software founded in 2017 that aims to simplify the way people work by providing a unified platform for all their work-related tasks. The creators believe that productivity, in general, is a broken and complex process for many businesses due to the overwhelming number of tools and ecosystems available for use. ClickUp's goal is to have all work live in one platform, therefore making people more productive and giving them more time to dedicate to other things.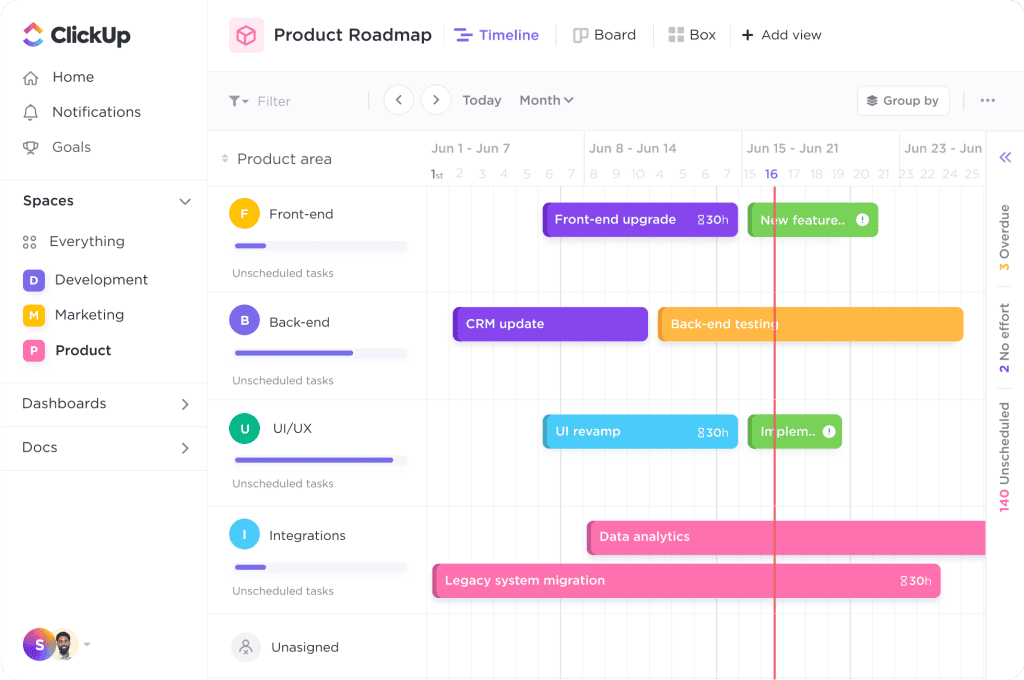 With over 800,000+ teams using their product, the software is the go-to solution for businesses that want to handle all their work in one place, including tasks, documents, chats, goals, and more. With ClickUp, you can create and assign tasks, set due dates, and track progress all in one place. Its robust features and intuitive interface make it a great choice for teams of any size or industry. No more switching between different tools or trying to remember where you left off.
ClickUp Use Cases
ClickUp is a versatile project management tool that promises the next evolution of team productivity and collaboration. It can be used in various industries and professions, and its features can be customized to fit the needs of businesses and individuals alike. Whether you're a software developer, marketer, educator, event manager, or just someone looking to stay organized, ClickUp has something to offer.
With its infinite possibilities and innovative features, the software can be used for a wide range of applications. Here's how the 800,000+ teams around the world utilize it:
Software development: ClickUp is ideal for software development teams as it has built-in tools for bug tracking, project management, and time tracking. It helps development teams to organize their projects, assign tasks to team members, and track their progress. Additionally, ClickUp integrates with popular development tools such as GitHub, GitLab, and Bitbucket.
Marketing: ClickUp is an excellent tool for marketing teams to manage their campaigns, track their progress, and collaborate with team members. It provides features for task management, time tracking, and reporting, allowing marketers to stay on top of their campaigns and make data-driven decisions.
Education: ClickUp can be used as a learning management system in educational institutions. It provides features for creating assignments, tracking student progress, and collaboration. It also integrates with popular education tools such as Google Classroom and Canvas.
Event management: ClickUp can be used to manage events of all sizes. Its task management, time tracking, and communication features make it easy to track all aspects of an event. ClickUp integrates with popular event management tools such as Eventbrite and Cvent.
Remote work: With features like task management, time tracking, and collaboration tools, teams can stay organized and connected no matter where they are working from. ClickUp allows for customizable workflows, so remote teams can tailor their project management process to fit their specific needs.
Personal use: ClickUp can also be used for personal projects and tasks. Its task management, time tracking, and goal-setting features make it an excellent tool for managing personal to-do lists and projects.
The Cons or Disadvantages of ClickUp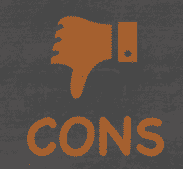 While ClickUp is a powerful project management tool, it's not without its drawbacks. Here are some of the cons you should consider before deciding to use it for your business:
Steep learning curve: ClickUp has many features and customizable options, which can make it overwhelming for new users. It may take some time to get used to the platform and figure out how to navigate through it.
Limited integrations: While ClickUp does have a few integrations available, it's not as extensive as other project management tools. This can be frustrating if you want to connect ClickUp with other tools you're already using.
No phone support: ClickUp only provides support through email and chat, which can be a problem if you need immediate assistance. There's no phone support available, so you may have to wait a while to get a response if you have a pressing issue.
Complex pricing structure: ClickUp's pricing structure is complex, with different features available at different levels. Determining which plan is right for your business can be difficult, and you may end up paying for features you don't need. Read our ClickUp Pricing article for details.
Not ideal for large teams: While ClickUp can handle larger teams, it may not be the best option for businesses with hundreds of employees. The platform can become cluttered and hard to navigate with too many users.
Limited mobile app functionality: ClickUp has a mobile app that allows users to access their tasks and projects on the go. However, the mobile app has limited functionality compared to the desktop version, and some features may not be available on mobile devices.
Limited free plan: ClickUp offers a free plan that provides basic task management and collaboration features. However, the free plan has limited capabilities and is only ideal for personal use.
The Pros or Advantages of ClickUp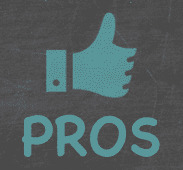 Despite these drawbacks, ClickUp provides a comprehensive solution for managing tasks, projects, and teams. Here are the pros or advantages of this project management tool:
Customizable workflows: ClickUp provides a highly customizable interface that allows you to create and customize workflows to suit your team's needs. You can create your own customizable dashboards, labels, and statuses to manage tasks and projects more efficiently. This feature ensures that your team's processes are optimized to improve productivity and reduce the chances of errors or miscommunication.
Intuitive and user-friendly interface: ClickUp has a simple and intuitive interface that makes it easy for users to navigate and use the platform. It provides a clean, organized dashboard that displays all your tasks and projects in one place, making it easy to track progress and manage tasks effectively.
Robust collaboration tools: ClickUp offers a wide range of collaboration tools, including comments, mentions, and checklists, to ensure that team members can communicate and collaborate effectively. You can assign tasks to specific team members, set deadlines, and track progress to ensure that everyone is on the same page.
Time tracking: ClickUp provides a built-in time tracking feature that allows you to track the time spent on each task and project. This feature is useful for tracking billable hours, monitoring team productivity, and analyzing project performance.
Comprehensive reporting: ClickUp provides a range of reporting features that enable you to generate detailed reports on your team's performance, project progress, and time tracking. You can customize reports to show the metrics that matter most to your team and export them in various formats, including CSV, Excel, and PDF.
Integrations: ClickUp integrates with a wide range of third-party tools, including Slack, Trello, Google Drive, and Zapier. This feature makes collaborating with external teams and syncing data across different platforms easy.
Conclusion
All in all, ClickUp is a powerful project management tool with many useful features. While it may not be the best fit for everyone, it's definitely worth exploring if you're looking for a comprehensive solution to help you stay on top of your tasks and collaborate more effectively with your team. Whether you're a freelancer, small business owner, or part of a large organization, ClickUp has something to offer. Try out the free plan to learn how it works.