ClickUp Pricing Plans & Costs Guide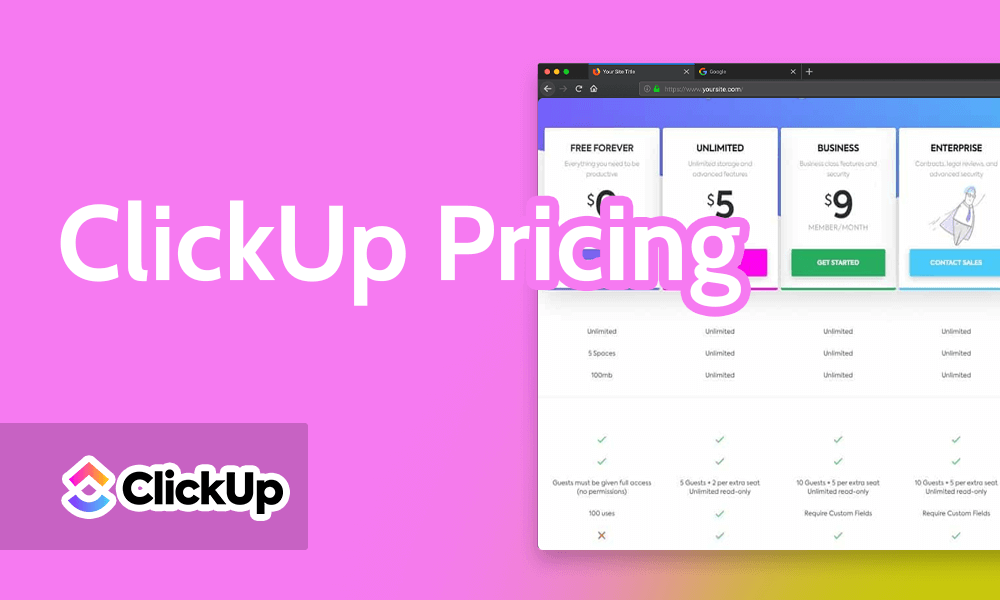 ClickUp is a project management tool designed to help teams streamline their workflows and increase productivity. It is free for individuals who have basic tasks and project management needs. However, for small to large enterprises with complex workflows and requirements, ClickUp offers paid plans for more advanced functionalities. In this article, we'll take a closer look at the different ClickUp pricing plans and what features they offer.
If you find the cost of ClickUp higher than expected, consider exploring AceProject as an alternative option. This tool is not based on the number of users, which means it can help you save a lot of money in the long run.
How Much Does ClickUp Cost?
In general, ClickUp's pricing is competitive compared to other project management tools on the market. Its flexible pricing structure allows users to customize their plans based on their needs and budgets. The five pricing plans offered by ClickUp include the following:
ClickUp Free Forever – for personal use of individuals who want to manage their projects without spending money
ClickUp Unlimited ($5 per user, per month) – best for small teams that require more functionality to manage their workflows
ClickUp Business ($12 per user, per month) – suitable for medium-sized organizations that require additional collaboration and customization features
ClickUp Business Plus ($19 per user, per month) – ideal for multiple teams and organizations needing more advanced features and capabilities
ClickUp Enterprise (Contact ClickUp) – perfect for very large businesses that require a more comprehensive solution with enterprise-level features and support
ClickUp Free Forever Plan
The Free Forever plan is ClickUp's entry-level pricing scheme that offers unlimited tasks and projects, task management, calendars, and time tracking. One of the most significant limitations of the Free Forever plan is the limited storage space because users only get 100MB of storage for attachments.
INCLUDED IN FREE FOREVER:
Custom Views – See everything using a list, board, calendar, Gantt chart, table, embed, and whiteboard view.
Sprint Management – Set sprint dates, points, and priorities, manage workload and track your sprints in one glimpse.
Email in ClickUp – Through the ClickApp function, Workspace owners or admins can enable this feature, including one free email account with 100 uses only.
Collaboration – Record in-app videos, proof images, enable collaborative editing, and assign comments for improved teamwork.
Integrations – Offers 50+ native integrations, including Zapier, Make (formerly called Integromat), and native time-tracking applications.
Security – Uses two-factor authentication with phone verification.
Support – 24/7 help through their ClickUp Help Center.
ClickUp Unlimited Plan ($5 per user per month)
The Unlimited plan is best for small teams needing more advanced features and storage space. The cost for this plan is $5 per user per month when billed annually or $9 per user per month when billed monthly. Also, it offers unlimited storage space excellent for teams working with large files or projects requiring a generous amount of storage. The Team feature allows only one team per plan.
EVERYTHING IN FREE FOREVER, AND:
All of these Unlimited – Unlimited tasks, spaces, storage, dashboards, Gantt charts, and custom fields
Resource Management using Team and Form Views – Team or box views allow you to see the activities your team is working on, while form views let you summarize and graph responses from user feedback and reports.
Email in ClickUp – Includes one free email account with unlimited use ($2/month per additional account)
Collaboration – Invite guests to your workspace, delegate reminders, and use cloud storage for easy collaboration.
Agile Reporting – Includes high-level activity pulse overviews, milestones to glimpse critical tasks, goal setting, and time-tracking widgets to realize wins.
Integrations – Seamlessly integrate your Google Drive, Dropbox, Box, and OneDrive.
Live Chat Support – Provides live chat support for all your implementation issues and concerns.
ClickUp Business Plan ($12 per user per month)
The Business plan is the most popular ClickUp plan. It is suitable for larger teams and offers more advanced features and integrations. This scheme costs $12 per user per month when billed annually or $19 per user per month when billed monthly. It also includes advanced automation, time tracking, and dashboard features, ideal for teams having repetitive tasks and significant data or metrics.
EVERYTHING IN UNLIMITED, AND:
Timeline and Mind Map Views – View your tasks using timelines and create free-form diagrams or mind maps to see the structure and flow of tasks.
Unlimited Teams – Use teams to break down your organization into groups of people to whom you can assign tasks.
Email in ClickUp – Includes two free email accounts with unlimited use ($2/month per additional account)
Advanced Reporting – Includes granular time, sprint points, time in status, work in progress limits, and goal folders.
Workload Management – Identify which resources are being overused and underused to enhance the management of resources and gauge your team's capacity.
Security – Uses Google SSO for users in the workspace.
ClickUp Business Plus Plan ($19 per user per month)
The Business Plus Plan is ideal for organizations with multiple teams requiring greater customization options, advanced reporting, and monitoring progress. This plan has a price of $19 per user per month billed annually or $29 per user per month billed monthly. Other key features of the Business Plus plans are team sharing, priority support, and enhanced user management.
EVERYTHING IN BUSINESS, AND:
Team Sharing – Share private folders, lists, tasks, checklists, dashboards, goals, or docs with teams depending on the permissions set per team.
Custom Capacity in Workload – Customize the workload capacity per day based on the timeline view to see the effort totals and manage task assignments in the workload view.
Custom Role Creation and Permissions – Workspace owners can create and customize one custom role and set advanced permissions based on the traditional guest, member, and admin user roles.
Technical Support – Provides priority support and allows access to the Admin Training Webinar.
ClickUp Enterprise Plan (Contact ClickUp)
The Enterprise plan is ClickUp's top-tier pricing plan and is perfect for large enterprises with complex project management needs. This scheme includes custom branding and session management. It is for large enterprises that must ensure their data is secure and compliant with industry standards. The pricing for this plan is scalable and depends on the organization's needs.
EVERYTHING IN BUSINESS PLUS, AND:
Team Sharing for Spaces – Share spaces with teams depending on the permissions set per team.
Enterprise API – Allows advanced integrations such as the Tableau Web Connector for creating more in-depth dashboards.
Advanced Security and Compliance – Includes Microsoft Azure, custom SAML, and Okta SSO, plus Okta support for custom roles, HIPAA, MSA, GDPR, and SOC 2 compliance.
Unlimited Custom Roles – Customize unlimited roles and set permissions for greater control.
Dedicated Customer Success Manager – Provides a dedicated success manager, contact Clickup for more information.
Live Onboarding Training – Attend live, online workshop training provided by ClickUp experts.
Access to Managed Services – You can purchase ClickUp's Enterprise Support separately.
Conclusion
ClickUp offers straightforward pricing plans to cater to the needs of different businesses and organizations. Whether ClickUp's pricing is reasonable depends on your requirements and the features you need for your team's workflow. It is best to evaluate the features included in each plan and compare the costs with other similar project management tools before making a decision. To help make your decision, read our ClickUp Pros and Cons article for better insight.
Source: ClickUp Pricing Official Website