The Pros and Cons of Using FreshBooks Software
Every business, regardless of size or industry, requires a dependable system for tracking revenue, expenses, and cash flow in order to maintain financial health and promote growth. This is where invoicing and accounting software comes into play, automating repetitive tasks, reducing human error, and providing business owners with crucial insights into their financial standing. By simplifying and centralizing these processes, businesses can allocate more time and resources to other critical aspects, such as marketing, customer relations, and product development.
As a result, having robust invoicing and accounting software can be a game changer for businesses, and FreshBooks is one such option that is widely used by millions worldwide. While FreshBooks offers a range of appealing features, it is crucial to examine both the advantages and drawbacks in order to make an informed decision when considering adopting this software.
If you are looking for a comprehensive project management tool to complement FreshBooks, check out AceProject. This tool is economical because the pricing is not based on the number of users.
FreshBooks – Invoice and Accounting Software
FreshBooks is a renowned accounting software solution designed specifically for business owners, accountants, and their clients to manage their financial processes more efficiently. Catering to a wide range of industries and businesses of varying sizes, FreshBooks has been embraced by more than 30 million users across 160+ countries. Its comprehensive suite of features simplifies and streamlines critical financial tasks, including invoicing, expense tracking, payments, and financial reporting. The intuitive interface and user-friendly design make FreshBooks an ideal choice for both budding entrepreneurs and established professionals seeking an all-in-one accounting solution.
What sets FreshBooks apart is the substantial time and cost savings it offers to its users. By automating and centralizing financial management tasks, businesses can save up to 553 hours annually, allowing them to focus on core operations and growth strategies. Additionally, FreshBooks has the potential to save users up to $7,000 in billable hours each year, demonstrating its immense value to businesses worldwide. With its extensive global reach and proven results, FreshBooks has undoubtedly earned its place as a trusted accounting software solution for modern businesses.
The Cons or Disadvantages of FreshBooks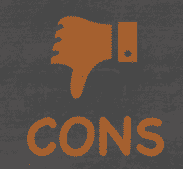 Despite its capabilities, FreshBooks does have some drawbacks that prospective users should consider before adopting it as their preferred accounting software. Here are some of the most notable:
Limited inventory management features: FreshBooks does not offer comprehensive inventory management capabilities, which might be an issue for businesses requiring advanced inventory tracking and control. This limitation could lead to the need for additional software solutions or workarounds to fill the gap.
Working with larger projects can get complicated: While FreshBooks is generally user-friendly, managing and organizing financial data for more extensive and complex projects can become challenging. The software may struggle to keep up with the demands of large-scale projects, necessitating additional organization and manual intervention.
Steep learning curve for first-time users: Although FreshBooks boasts an intuitive interface, new users might face a steep learning curve, especially if they lack prior experience with accounting software. This could result in a longer adjustment period before users become proficient and fully comfortable using the platform.
Slow performance with large volumes of information: When handling vast amounts of financial data, FreshBooks may experience slowdowns, affecting overall efficiency and user experience. This performance issue could be frustrating for businesses requiring quick and seamless access to their financial information.
Demanding reporting feature: FreshBooks' reporting feature, while robust, can be highly demanding and resource-intensive. Generating complex financial reports might take longer than expected, and users may need to invest additional time mastering the reporting functionality to reap its full benefits.
The Pros or Advantages of FreshBooks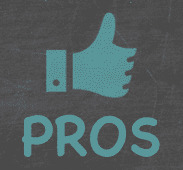 FreshBooks offers a range of advantages that make it an appealing choice for businesses seeking efficient and reliable accounting software. In this section, we will explore some of the most notable pros of using FreshBooks.
Intuitive, user-friendly interface: FreshBooks features a well-designed and easy-to-navigate interface, enabling users to access and manage their financial information with ease. This intuitive design caters to both accounting professionals and business owners with minimal accounting experience.
Seamless integration with other business tools: FreshBooks offers excellent compatibility with various third-party applications, such as Stripe, PayPal, and Gusto. This seamless integration allows businesses to streamline their financial workflows, making it easier to manage transactions and payroll.
Superb mobile app functionality: FreshBooks' mobile app offers a highly functional and user-friendly experience, enabling users to manage their finances on the go. This mobility ensures that businesses can keep track of their financial data anytime, anywhere.
Robust invoicing and time-tracking features: FreshBooks excels in its invoicing and time-tracking capabilities, allowing users to create professional invoices, track billable hours, and manage payments with ease. These features enable businesses to stay organized and maintain accurate financial records.
Acceptable cost: FreshBooks offers a range of pricing options catering to businesses of different sizes and budgets. This flexibility ensures that businesses can choose a plan that best suits their needs without breaking the bank.
Robust auto email section: FreshBooks provides an impressive automated email functionality, allowing users to send recurring invoices, payment reminders, and late payment notices. This automation saves time and ensures timely communication with clients.
Customizable templates for branding: FreshBooks offers a variety of customizable invoice templates, enabling businesses to maintain consistent brand identity across their financial documents. This customization allows for a professional appearance and reinforces brand recognition.
FreshBooks Key Features
FreshBooks offers many easy-to-use features designed to streamline financial management for businesses. In this section, we will briefly highlight some of the key features that make FreshBooks a popular choice among professionals:
Invoicing: FreshBooks simplifies the invoicing process with customizable templates, allowing businesses to create professional invoices with ease.
Accounting: The software offers robust accounting features, providing a clear picture of a business's financial health through organized records and real-time data.
Payments: FreshBooks simplifies payment processing with seamless integrations with popular payment gateways, enabling quick and secure transactions.
Expenses: The platform allows users to track and categorize expenses efficiently, ensuring accurate financial records and facilitating tax compliance.
Time tracking: FreshBooks offers an intuitive time-tracking feature, helping businesses monitor billable hours and manage time-sensitive projects.
Projects: The software enables efficient project management with collaborative tools that keep teams and clients connected, fostering better communication and organization.
Reporting: FreshBooks' reporting features deliver valuable insights into business performance through various financial reports, such as profit and loss statements, balance sheets, and tax summaries.
Mobile: The mobile app allows users to access and manage their financial data on the go, ensuring continuous monitoring and control.
Integrations: FreshBooks seamlessly integrates with over 100 great apps, streamlining workflows, enhancing collaboration, and providing a better understanding of business operations.
FreshBooks Use Cases
FreshBooks is a versatile accounting software designed to cater to various business types and sizes, with over 30 million people using it to manage their financial processes. Here are some key use cases of FreshBooks for different professionals and industries:
Freelancers: FreshBooks helps freelancers maintain organized financial records, manage client billing efficiently, and focus on their passion projects.
Self-employed professionals: The software enables self-employed individuals to save time on financial management, allowing them to concentrate on growing their businesses and nurturing client relationships.
Businesses with contractors: FreshBooks facilitates collaboration and organization between businesses and their contractors, ensuring clear communication and a better understanding of their financial standing.
Businesses with employees: The platform empowers employees to contribute to their company's growth by providing them with the necessary tools to manage financial data and foster lasting client relationships.
Actual users of FreshBooks span various industries, such as:
Accountants: FreshBooks simplifies accounting tasks and financial management for accounting professionals.
Construction: The software helps construction businesses track project expenses, manage invoices, and monitor cash flow.
Consultants: FreshBooks streamlines invoicing and expense management for consultants, enabling them to focus on providing expert advice to their clients.
IT & Technology: The platform assists IT and technology firms in managing their financial data efficiently, allowing them to concentrate on developing innovative solutions.
Legal: FreshBooks supports legal professionals in tracking billable hours, managing client billing, and maintaining organized financial records.
Marketing agencies: The software helps marketing agencies manage their finances effectively, ensuring smooth project execution and client satisfaction.
Professional services: FreshBooks caters to various professional service providers, offering streamlined financial management and invoicing solutions.
FreshBooks Pricing and Costs
FreshBooks offers a range of pricing options to accommodate businesses of different sizes and budgets, ensuring that users can select a plan that best suits their needs.
Lite: This plan is suitable for professionals with basic needs, costing $6.80 per month and allowing up to 5 billable clients.
Plus (Most Popular): Targeted at business owners seeking more automation and insights, the Plus plan costs $12.00 per month and accommodates up to 50 billable clients.
Premium: Designed for growing businesses aiming to empower their employees, the Premium plan is priced at $22.00 per month and offers unlimited billable clients.
Select: The Select plan caters to businesses with more complex needs, providing custom pricing, unlimited billable clients, and specialized features tailored to their requirements.
We did a great article on FreshBooks Pricing and Plans.
Conclusion
FreshBooks is a worthy investment for businesses seeking a comprehensive and user-friendly accounting software solution. Our insights into FreshBooks' pros, cons, key features, use cases, and pricing options aim to equip you with valuable information to make an informed decision, ensuring that you select a software solution that truly aligns with your business needs and contributes to your financial success.