The Pros and Cons of Using WaveApps Software
As businesses grow and evolve, so do their financial needs, which include accurate tracking of income and expenses, invoicing, payroll management, and tax compliance. The ability to make well-informed financial decisions is crucial for the long-term health and sustainability of any business. However, for small businesses and entrepreneurs, it can be challenging to maintain financial control while juggling the many other responsibilities required to keep the business afloat. This is where financial software comes into play, offering streamlined solutions to help businesses manage their financial operations more effectively.
Wave, a cloud-based financial software platform, offers a suite of tools designed to make financial management easier for small businesses and entrepreneurs. By leveraging its capabilities, businesses can save time, improve accuracy, and gain valuable insights into their financial performance. In this article, we will discuss the pros and cons of using WaveApps software, as well as its features, uses cases, and pricing, helping you make an informed decision about whether it's the right fit for your business needs.
WaveApps – Financial Software for Small Businesses
Wave is a comprehensive financial software solution specifically designed to cater to the needs of small businesses and entrepreneurs. The platform aims to streamline various financial processes such as invoicing, accounting, and payroll, enabling business owners to manage their finances with ease and confidence. Wave's user-friendly interface, customizable features, and affordability make it an attractive choice for those who're seeking an all-in-one money management solution. By offering a range of valuable tools, Wave empowers small business owners to focus on growing their businesses rather than being bogged down by complex financial management tasks.
The core philosophy behind Wave is to support and champion small businesses, recognizing their integral role in the growth and development of local communities. By providing a dynamic platform, Wave encourages more aspiring entrepreneurs to pursue their dreams and bring their innovative ideas to life. As a result, small business owners can fearlessly navigate the often challenging financial landscape, ensuring their ventures remain financially healthy and sustainable. Their goal is to instill a sense of financial control critical for long-term success.
The Cons or Disadvantages of WaveApps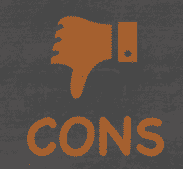 When evaluating financial software options for your small business, it's essential to consider the benefits and limitations. In this section, we will discuss some of the cons of using Wave in greater detail:
Lacks some accounting features like project management: Wave does not include project management features, which can be essential for businesses that need to track expenses, progress, and profitability for individual projects.
No time tracking: Wave does not offer built-in time tracking functionality, making it challenging to monitor employee hours and bill clients accurately. This can be limiting for businesses that rely on hourly billing or need to allocate costs based on the time spent on specific tasks or projects.
Multiple invoices submitted can be tricky to update and reconcile: Users have reported difficulties updating and reconciling multiple invoices within Wave. This can lead to inaccuracies and inefficiencies, potentially affecting your business's financial health and decision-making processes.
The import data feature needs improvement: While Waveallows for importing data from other platforms or software, this feature could be more seamless. Challenges in migrating their data can be time-consuming and frustrating, particularly when transitioning from another accounting system.
Customer support options are limited to automated chat: Wave primarily relies on automated chat for customer support, which may not be sufficient for users seeking personalized assistance or those facing complex issues.
The Pros or Advantages of WaveApps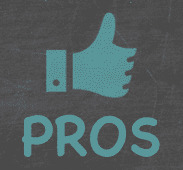 While considering its limitations is crucial, it's equally important to recognize its many benefits. Here, we will discuss the pros that make Wave such a powerful financial software for your business needs:
A user-friendly dashboard built for you, not your accountant: Wave features an intuitive dashboard that simplifies financial management for non-accountants. With easy-to-understand visuals and navigation, users can quickly access essential information without being overwhelmed by complex accounting jargon.
You get a complete picture of your business's health: Wave provides a comprehensive overview of your business's financial health, allowing you to make informed decisions based on real-time data. This includes access to financial reports, cash flow analysis, and expense tracking.
In-house team of bookkeeping, accounting, and payroll coaches: Wave offers expert support through their in-house team of professionals. This team can provide guidance, answer questions, and help you navigate the platform's features with ease.
Customizable invoices that reflect your unique brand: Wave enables users to create professional, branded invoices that can be easily customized to reflect your business's unique identity. This personalization helps promote your brand and increase the chances of timely payments.
Easy to set up and send automated reminders: Wave allows users to create and schedule automated payment reminders, reducing the time spent chasing overdue invoices and improving cash flow.
Get unlimited income and expense tracking: Wave offers unlimited income and expense tracking, ensuring that you can monitor all financial transactions without any restrictions or additional costs.
The flexibility of receiving payments: Wave supports multiple payment options, including bank deposits, credit cards, and Apple Pay. This flexibility makes it easier for clients to pay their invoices, increasing the likelihood of prompt payments.
Seamless employee portal access to paystubs and tax forms: Wave provides employees with a user-friendly portal where they can access their paystubs and tax forms, simplifying the payroll process and reducing the administrative burden on your business.
WaveApps Key Features
The platform offers a suite of key features that make managing finances more accessible and efficient, including:
Invoicing: Wave helps you create professional invoices and automates the process of reminding clients about unpaid invoices. This ensures better income management and faster payments, all for free.
Payments: Offering convenient payment options, Wave allows customers to pay with just one click using a credit card, bank transfer, or Apple Pay. This increases the likelihood of prompt payments and improves cash flow.
Accounting: Wave simplifies tracking income and expenses, providing clear insights into your cash flow. The platform helps you stay organized and well-prepared for tax season.
Payroll: Designed for small business owners, Wave's easy-to-use Payroll tool streamlines the process of paying your staff and yourself, even if you don't have prior payroll experience.
Advisors: Wave provides access to a team of bookkeeping, accounting, and payroll experts who can offer one-on-one coaching or handle the work for you, ensuring you receive personalized support when needed.
WaveApps Use Cases
Wave meets the needs of over 2,000,000 small business owners across North America. Built with small businesses in mind, the software offers versatile features and tools to help entrepreneurs take control of their finances. Key use cases include:
Self-employed entrepreneurs: Wave is an invaluable tool for self-employed entrepreneurs, enabling them to efficiently manage their finances and confidently pay their staff and themselves.
Freelancers: Wave simplifies the process of creating and sending professional invoices for freelancers, ensuring they can efficiently manage their finances and get paid promptly.
Contractors: Contractors can easily track their business expenses using Wave's free accounting tools, helping them maintain financial control and focus on their core work.
Consultants: Wave streamlines billing for consultants by allowing them to set up recurring invoices and payments for retainer clients, ensuring consistent income and a better understanding of their financial performance.
WaveApps Pricing and Costs
Businesses can use Wave's bookkeeping, payment, and banking tools separately or as a combination of tools to maximize control of their business financial needs. Their pricing options include the following:
Invoicing: $0 – 100% free
Accounting: $0 – 100% free
Payments: Credit Cards (2.9% + $0.60 USD per transaction), AMEX (3.4% + $0.60 USD per transaction), Bank payments (1% per transaction, $1 USD minimum fee)
Payroll: Tax service states ($40 USD monthly fee + additional fees per employee/contractor), Self-service states ($20 USD monthly fee + additional fees per
Advisors: Bookkeeping support ($149 USD monthly fee), Accounting & payroll coaching ($379 USD one-time fee, with other packages available)
We did a great article about WaveApps Pricing and Plans.
Conclusion
When considering Wave for your business, you should weigh the pros and cons against your specific needs and requirements. While Wave may not be the perfect solution for every small business, its benefits often outweigh its limitations, making it a strong contender for those seeking to simplify their financial management and focus on business growth.