The Pros and Cons of Using GanttPRO Software
In today's fast-paced business environment, organizations must streamline their workflows and team collaboration to save time on management and project planning. That's why investing in online project management software has become essential for businesses of all sizes, especially when it comes to managing complex projects efficiently and effectively. Tools like GanttPRO provide a range of features to help teams plan, manage, and track projects, create detailed project plans, assign tasks and deadlines to team members, track progress in real-time, and communicate project updates with stakeholders.
GanttPRO can help businesses save time and resources by automating routine tasks, reducing errors, and improving team collaboration. However, like any software, GanttPRO also has its limitations and drawbacks. Understanding its features, use cases, and pros and cons can help your business determine whether it's the right fit for your project management needs.
If you find GanttPRO's pricing to be beyond current budgets, explore AceProject as an alternative. AceProject's pricing is not on a per-user basis, providing savings in the long run.
GanttPRO – Online Project Management Solution
GanttPRO is a robust online project management tool that utilizes Gantt charts to simplify project planning and tracking. It offers a range of features designed to engage team members, keep clients informed, and ensure seamless collaboration throughout the project lifecycle. With GanttPRO, businesses can create workspaces for their teams, assign roles, and track project progress in real-time. Team members can easily access task lists, add comments and attachments, and receive notifications for upcoming deadlines.
Additionally, GanttPRO's intuitive interface makes it easy to create detailed project plans, set milestones, and manage project resources. This software offers a high level of transparency across the entire workflow that helps build trust and promote collaboration while reducing the risk of miscommunications or misunderstandings.
GanttPRO Key Features
GanttPRO offers a range of powerful features to help businesses easily manage their projects. These include:
Workload management: This feature allows users to visualize team members' workloads and ensure they're not overburdened. It helps to balance resources and improve team productivity.
Board view: The board view provides a Kanban-style interface that makes it easy to visualize the project's progress and status. Users can quickly move tasks between different stages and update the status of tasks.
Collaboration tools: GanttPRO offers a range of collaboration tools, including comments, attachments, and mentions, to help teams communicate and work together seamlessly.
Notifications: Users can set up notifications for upcoming deadlines, task assignments, and other important events. This feature helps to keep everyone on the same page and ensures the timely completion of tasks.
Task relations: This feature enables users to define dependencies between assigned tasks and create task hierarchies. It helps ensure tasks are always completed on time and in the correct order while preventing delays.
Export features: GanttPRO allows users to export their project data to various formats, including PDF, PNG, and Excel. This feature makes it easy to share project data with stakeholders who may not have access to the platform.
Time logs for teams: GanttPRO provides time tracking features that allow teams to track their work hours and improve their time management skills.
Reporting features: Users can generate various reports to track project progress, monitor resource usage, and analyze team performance. This feature helps to identify areas for improvement and optimize project workflows.
GanttPRO Use Cases
GanttPRO is a versatile project management tool that can be used across various industries and project types. With over 800,000 project managers using GanttPRO, including industry-leading brands and companies like Intel, Sony, Salesforce, Booking.com, Vodafone, Invision, and NASA, it is clear that GanttPRO is a trusted and reliable solution for managing projects of all sizes and complexities. Here are some of the use cases where GanttPRO can be particularly beneficial:
Construction: Construction projects involve complex planning, resource management, and tight deadlines. GanttPRO's workload management and collaboration tools make it easy to track project progress and ensure that tasks are completed on time and within budget.
IT management: IT projects often involve multiple stakeholders and complex workflows. GanttPRO's task relations and board view features make it easy to visualize project progress, identify bottlenecks, and optimize resource allocation.
Software development: Software development projects require careful planning, resource management, and frequent communication. GanttPRO's time tracking and reporting features make it easy to monitor team performance and identify areas for improvement.
The Cons or Disadvantages of GanttPRO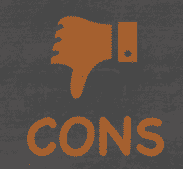 Like any software, GanttPRO has some cons or disadvantages that potential users should be aware of. Here are some of them:
Lack of options for brand customization: GanttPRO's branding options are limited, which means that businesses may not be able to fully customize the platform to align with their branding guidelines.
Updates can take a bit longer than expected: Some users have reported that GanttPRO's updates can take longer than expected, which can cause inconvenience and delays.
No downloadable desktop version: GanttPRO is entirely web-based, meaning users cannot download a desktop version of the software.
Can be costly for smaller firms or organizations: GanttPRO's pricing may be too high for smaller firms or organizations, especially if they only require some of the features offered by the platform.
Steep learning curve for new users: GanttPRO's rich feature set can make it difficult for new users to learn how to use the platform effectively.
Doesn't offer its users a free plan: While the paid plans are quite affordable, GanttPRO does not offer a free plan, which may be a disadvantage for businesses with limited budgets.
Doesn't offer many useful integrations: While GanttPRO does offer some integrations with Slack, Jira, Google Drive, and Zapier, it doesn't provide as many as some other project management tools in the market.
Lacks critical billing and invoicing integration: GanttPRO doesn't offer integration with billing and invoicing software, which may be a disadvantage for businesses that require these features.
The Pros or Advantages of GanttPRO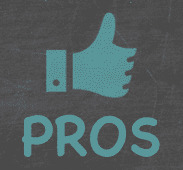 Despite the above drawbacks, GanttPRO offers many benefits that make it an excellent tool to invest in for your project and team management needs. Here are some of the most important:
User-friendly interface that's easy to use: This makes it easy for project managers and users to get started with the tool. The interface is intuitive, and all the features are easy to access, so users can quickly create, manage, and deliver on projects.
Responsive Gantt charts: Project managers can see real-time changes and make adjustments as needed. This feature is particularly useful for managing complex projects with multiple dependencies.
Ready-made professional templates that save you time: These are designed to help users save time. These templates include everything from simple task lists to more complex project plans, and they can be customized to meet the specific needs of each project.
Effective and quick technical chat support: This means that users and managers can get help whenever they need it. The support team is highly knowledgeable and can help with everything from troubleshooting technical issues to providing advice on using the tool more effectively.
Excellent team integration tools: These allow effective collaboration among team members. These tools include features like task assignments, comments, and notifications, which help team members stay up-to-date on project progress.
Offers good work breakdown structure: This helps project managers organize and prioritize tasks effectively. This feature is particularly useful for managing complex projects with multiple tasks and dependencies.
Easy to create dependencies between tasks: This helps project managers oversee projects more efficiently and ensure that one task cannot be started until another is completed.
Provides detailed data-driven reports for resource management: These reports help project managers to manage resources more effectively. The reports provide insights into resource allocation, task completion rates, and project timelines, which can help make smart data-driven decisions.
Offers real-time data synchronization features: These ensure that project managers always have up-to-date information. This feature is particularly useful for managing remote teams or projects with multiple stakeholders.
Offer reliable big-picture visualization for projects: The tool provides a range of visualizations, including Gantt charts, timelines, and calendars, which make it easy to see the progress made for each project at a glance.
GanttPRO Pricing and Costs
GanttPRO offers a 14-day free, fully-featured trial period on all their paid plans.
Basic Plan – $7.99 per user per month. For smaller teams looking for clear task visualization and basic project management features.
PRO Plan – $12.99 per user per month. For teams who want to streamline teamwork and automate project planning.
Business Plan – $19.99 per user per month. For teams and companies that need to run comprehensive project portfolios and optimize resource workload.
Enterprise Plan – Customized pricing. For departments and organizations who look for advanced security, control, and support options.
We did a great article on GanttPRO Pricing Plans.
Conclusion
After understanding the features, use cases, and pros and cons of using GanttPRO software, it is clear that it can be an essential tool for businesses looking to streamline their project management processes. While it does have some cons, its advantages make it a worthwhile investment for many organizations. Overall, if you are looking for a robust project management tool that can help you improve efficiency, collaboration, and project outcomes, GanttPRO is definitely worth considering.