The Pros and Cons of Using Mavenlink Kantata Software

Large teams in corporate and enterprise settings constantly face the challenge of managing complex projects while maintaining optimal efficiency and productivity. To overcome these obstacles, automation and resource management software have become indispensable tools for streamlining workflows, enhancing collaboration, and improving overall operational performance. One such solution, Mavenlink, is a powerful project management software that has gained significant traction among businesses seeking to harness the power of professional services and improve their client relationships.
By leveraging the Kantata Cloud for Professional Services™, Mavenlink offers a comprehensive suite of features tailored to meet the needs of large teams. However, like any other software, Mavenlink has its own pros and cons. This article will delve into the features, use cases, benefits, and drawbacks of using Mavenlink, helping organizations decide whether this robust software fits their specific needs.
If Mavenlink's cost exceeds your expectations, you may want to look into AceProject as an alternative. AceProject is not dependent on the number of users, which could potentially result in significant cost savings in the long term.
Mavenlink – Professional Services Automation & Resource Management Software
Mavenlink, powered by Kantata, is a state-of-the-art Professional Services Automation (PSA) and Resource Management software that offers businesses an unparalleled platform and product choice, catering to organizations of all sizes and specialties. By providing users with unmatched clarity, control, and confidence, Kantata enables businesses to efficiently manage their operations while supporting clients, teams, and profit margins.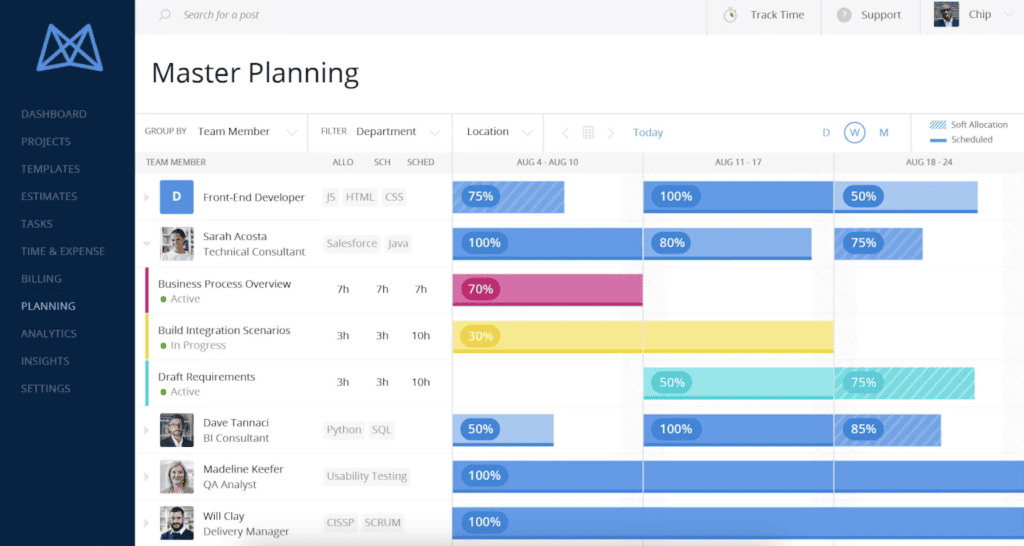 Adopting a future-forward approach, Mavenlink ensures that your business remains agile and adaptable to changing market dynamics. With its inherent flexibility and built-in features, the software allows for easy automation and seamless evolution, meeting your organization's unique needs at every stage.
Mavenlink Key Features
Mavenlink, powered by the Kantata Cloud™, offers a comprehensive suite of features designed to address the diverse needs of businesses, regardless of their preferred infrastructure. With an unmatched platform and product choice, Mavenlink ensures you have the right solution tailored to your specific requirements. Key features of Mavenlink include:
Resource management: Mavenlink enables you to allocate the right resources to the right projects, ensuring maximum efficiency and optimal results.
Financial management: Boost your profitability, strengthen your margins, and gain real-time financial oversight with Mavenlink's comprehensive financial management tools.
Project management: Keep your projects on track and deliver tangible benefits with Mavenlink's robust project management features.
Team collaboration: Enhance teamwork by connecting people, resources, and conversations across projects, leading to improved outcomes and increased productivity.
Business intelligence: Mavenlink's powerful business intelligence capabilities allow you to consolidate all your data and insights, enabling smarter decision-making and driving business growth.
Integrations & workflows: Empower your teams by integrating existing systems with Mavenlink, extending your technology investments, and streamlining your workflows for maximum efficiency.
With its extensive feature set, Mavenlink provides businesses with the tools and resources needed to position themselves for success in today's competitive market.
Mavenlink Use Cases
Trusted by industry-leading agencies and professional services teams, such as RSM, Huge, Genpact, Salesforce, Sage, Esri, Qualtrics, and Hitachi, Mavenlink's use cases span across multiple sectors and services. These include:
Creative services: Mavenlink helps creative agencies streamline their project workflows, manage resources effectively, and improve collaboration between team members, ultimately leading to higher-quality deliverables and better client satisfaction.
Consulting services: For consulting firms, Mavenlink provides robust project and financial management tools, enabling them to efficiently manage client engagements, track project progress, and ensure optimal resource allocation to meet client needs and deadlines.
IT services: IT services teams can leverage Mavenlink's powerful resource management, team collaboration, and project management features to execute complex technology projects, manage IT resources, and ensure seamless communication between team members.
Software services: Mavenlink is ideal for software development companies, offering tools to manage software projects, allocate resources, and collaborate effectively across distributed teams, ensuring the timely delivery of high-quality software products.
Customer experience services: Companies providing customer experience services can utilize Mavenlink to manage their teams, projects, and resources, enabling them to deliver exceptional customer experiences while maintaining optimal operational efficiency.
Health services: Mavenlink's platform supports health services organizations by providing project and resource management tools, facilitating better coordination among teams, improving patient outcomes, and ensuring compliance with industry regulations and standards.
The Cons or Disadvantages of Mavenlin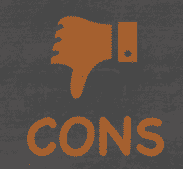 While Mavenlink is a powerful project management solution with numerous advantages, it's essential to consider its potential drawbacks before committing to the platform. Here are some of them:
Limited options to personalize the project setup: Some users may find the customization options for project setup to be limited, which can hinder the platform's ability to fully adapt to unique business processes and requirements.
The Team Builder tool has room for improvement: Mavenlink's Team Builder tool, designed to help allocate resources effectively, might not be as efficient or user-friendly as desired, requiring further refinement to enhance its functionality.
The mobile interface could be more intuitive: The mobile version of Mavenlink might not be as user-friendly or feature-rich as its desktop counterpart, potentially limiting its effectiveness for users who rely heavily on mobile devices.
Hefty upfront and annual maintenance costs: Mavenlink's pricing structure can be expensive, particularly for smaller businesses, with high upfront costs and ongoing annual maintenance fees that may be prohibitive for some organizations.
The platform's complexity and learning curve can be high: With its extensive list of features, Mavenlink can be complex for new users, requiring a steep learning curve and possibly additional training, which might be time-consuming and costly.
Can be slow when handling big data sets: Mavenlink's performance may suffer when dealing with large data sets, resulting in slower load times and reduced efficiency, particularly for businesses that handle vast amounts of data.
The Pros or Advantages of Mavenlink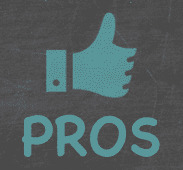 Mavenlink offers numerous advantages for organizations looking to improve their project management, collaboration, and overall operational efficiency. Here are some of the key pros:
Intuitive and user-friendly layout: Mavenlink's interface is designed to be easily navigable, allowing users to quickly access the platform's features and tools, improving overall user experience.
Ability to customize reports and metrics: The software allows users to tailor reports and metrics according to their specific needs, providing valuable, personalized insights to drive better decision-making.
Transparent project visibility: Mavenlink offers real-time project visibility, enabling users to monitor progress, identify potential bottlenecks, and ensure the timely delivery of projects.
Improved project planning features: Mavenlink's robust project planning tools help organizations create accurate project timelines, allocate resources effectively, and better manage project dependencies.
Extensive project management tools: With a comprehensive suite of project management features, Mavenlink streamlines project workflows, improves team collaboration, and enhances overall productivity.
Accurate data insights: Mavenlink's powerful analytics and reporting capabilities deliver accurate, data-driven insights, empowering businesses to make informed decisions and drive continuous improvement.
Team collaboration features are streamlined: The platform facilitates seamless communication and collaboration among team members, ensuring everyone stays aligned and knowledge is shared effectively throughout the project lifecycle.
GDPR compliance and security: Mavenlink is committed to maintaining high standards of data protection and privacy, complying with GDPR regulations, and ensuring the security of user data.
Mavenlink Pricing and Costs
Mavenlink's pricing structure is designed to cater to each organization's unique needs. By providing a few details about your business, you can receive a customized quote that showcases the power of the Kantata Cloud for Professional Services™ and its potential impact on your organization. This tailored approach ensures that you receive a pricing plan that aligns with your specific requirements, enabling you to harness the full potential of Mavenlink's robust project management and resource management features while maximizing your return on investment.
Recommended article: Mavenlink Kantata Pricing.
Conclusion
By exploring the pros and cons of Mavenlink, its use cases, features, and pricing criteria, businesses can decide whether this software is the right fit for their specific needs. Ultimately, Mavenlink has the potential to transform the way organizations manage their projects, resources, and teams, fostering growth and success in today's rapidly evolving business landscape.