The Pros and Cons of Using Notion Software
You're not alone if you're tired of switching between multiple tools and apps to get projects done or find it hard to keep track of tasks, deadlines, and communication channels between teams. Many professionals struggle with the same issues. In today's fast-paced and ever-evolving work environment, staying organized and efficient and streamlining operations is key to achieving short-term and long-term goals. That's why it's so crucial for businesses to invest in innovative tools to help them manage tasks, projects, communication, and team collaboration. 
If you think the Notion pricing system is currently above your budget, consider AceProject as an option. This tool is not based on the number of users, which can give you a lot of savings.
That's where an all-in-one workspace software like Notion becomes essential in today's modern-day work culture that revolves around digital collaboration and remote work. In this blog post, we'll explore the pros and cons of Notion so you can make an informed decision before implementing it into your work routine. Keep reading to discover whether Notion fits you and how it can benefit you and your team.
Notion All-In-One Workspace Software
Notion was founded in 2013 to create a connected workspace where better and faster work happens. This all-in-one collaboration tool eliminates the need for multiple tools and increases efficiency across projects and workflows. Whether you need a task list, a design repository, or a product roadmap, Notion is adaptable and can be as simple or powerful as required. This makes it easy to personalize your workspace to suit your needs. It's used by startups and established enterprises worldwide and is ideal for consolidating their tools and cutting costs.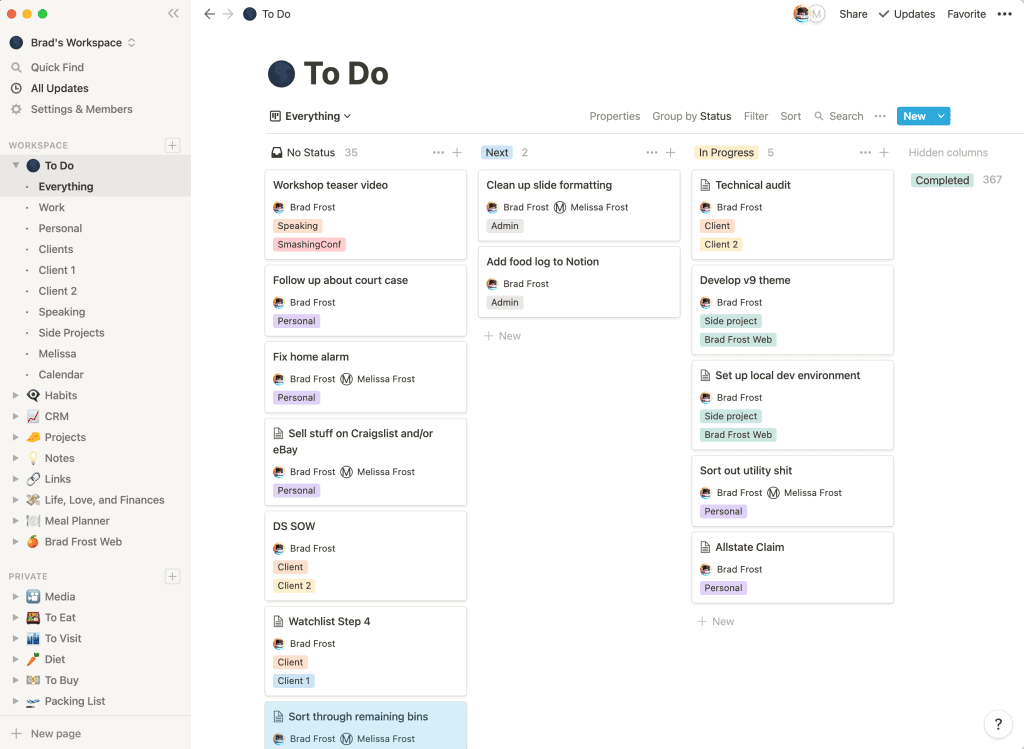 With Notion, you can:
Write to-do and task lists
Create roadmaps
Create a database
Build Kanban boards
Build project plans
Create and store documents
With its wide range of collaborative features, such as task visualizers, customizable info for organization, drag-and-drop building capabilities, team networking tools, and others, managing your docs, wikis, and projects becomes much easier. Its flexibility makes it popular for many professionals, teams, and even large organizations and individuals looking to customize their workspace to fit their workflow and preferences.
Notion Use Cases
With over 1 million community members and 150+ community groups, there's no doubt that Notion software is a versatile tool you can count on to streamline your workspace. Whatever industry or business sector you're in, this tool combines all your workflow needs into one easy-to-manage platform to get more done with less effort. Here's how teams can use Notion: 
Enterprise: For large organizations, Notion can be a powerful tool for collaboration, project management, and knowledge sharing. With features like customizable databases, templates, and integrations with tools like Slack and GitHub, Notion can help teams streamline their workflows and stay on top of important tasks and projects.
Small business: Notion is also a great option for small businesses, providing a cost-effective alternative to more expensive project management and collaboration tools. With Notion, small businesses can centralize their information and streamline their workflows, making it easier to stay organized and productive.
Personal use: Notion's flexibility and customizable approach also make it a great choice for personal use. Whether you're managing your to-do list, tracking your habits, or organizing your notes and ideas, Notion can help you stay on top of your life and work.
Remote work: In the era of remote work, Notion's all-in-one workspace can be especially valuable. With features like real-time collaboration, task management, and document sharing, Notion can help remote teams stay connected and productive no matter where they are.
Startups: For startups, Notion can be an ideal tool for managing projects, tracking progress, and sharing information with team members and investors. With Notion's customizable templates and flexible databases, startups can quickly set up a workspace that meets their unique needs and workflows.
Education: Notion is also a popular choice for educators and students. With features like note-taking, task management, and document sharing, Notion can help students stay organized and on top of their schoolwork. Educators can also use Notion to manage lesson plans, track student progress, and collaborate with other teachers and staff.
Nonprofits: Notion's all-in-one workspace can be a valuable tool for nonprofits, providing a flexible and customizable approach to managing projects, tracking progress, and sharing information with team members and stakeholders. With Notion, nonprofits can streamline their workflows and focus on their mission.
Engineering: For engineering teams, Notion can be a powerful tool for project management, task tracking, and collaboration. Notion can help engineering teams stay organized and streamline their workflows with features like customizable databases and templates.
Product design: Notion's customizable approach is a great tool for product design teams. With features like real-time collaboration, customizable templates, and integrations with other design tools, Notion can help product design teams stay organized and focused on their projects.
Managers: Notion can be a powerful tool for managers, providing a customizable and flexible approach to managing information, tasks, and projects. With features like customizable databases, real-time collaboration, and task tracking, Notion can help managers stay organized and on top of their responsibilities.
The Cons or Disadvantages of Notion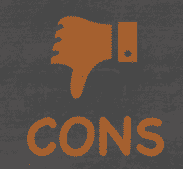 While Notion is a powerful tool that offers numerous benefits to its users, it has some drawbacks you should know before deciding whether to use it. Here are some of the cons or disadvantages of Notion:
Overwhelming to use: One of the main drawbacks of Notion is that it can be overwhelming to use. So many different types of blocks and templates are available that it can be hard to know where to start. This can make it challenging to use Notion efficiently, especially if you are new to the platform.
No goal tracking: If you are working on a large project, Notion may not be the best tool for goal tracking. While creating goals and tracking progress is possible, the platform does not have built-in features designed explicitly for this purpose. This means you may need to use other tools alongside Notion to track goals for large projects effectively.
No built-in reporting tool: Another downside of Notion is that it doesn't have a built-in reporting tool. This can make generating reports and analyzing data within the platform difficult. While there are workarounds that can be used, they can be time-consuming and may not be as effective as a dedicated reporting tool.
Lack of communication features: If you are working on a team project, Notion doesn't have all the communication features you may need. While you can leave comments on pages and use @mentions to notify team members of updates, there is no built-in way to talk to the team.
Limited mobile app and integrations: Notion's mobile app is less robust than its desktop version. Some features may not be available on the mobile app, which can limit its functionality for users who rely heavily on mobile devices. Notion has fewer integrations than other productivity tools. This can disadvantage users who need to connect Notion to other apps and services. 
The Pros or Advantages of Notion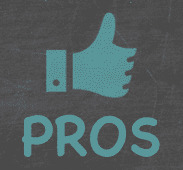 Notion software is a powerful tool that offers many benefits to its users. Here are some of the pros of using Notion:
Cost efficient: Notion is a cost-efficient tool that provides much value for its price. It offers a free version that comes with basic features that are perfect for individual use. The premium version of Notion is inexpensive, making it accessible for teams of all sizes. The premium version has more advanced features like team collaboration, version history, and advanced permissions.
User-friendly for teams: Notion is a user-friendly tool perfect for teams. The platform is designed to be intuitive and easy to use, making it accessible to people of all skill levels. Notion allows team members to collaborate on projects, share notes, and assign tasks to one another. The tool also has a user-friendly interface that makes navigation a breeze.
Time-saving: Notion is a tool that can help teams be more productive. It allows team members to collaborate on projects in real-time, reducing the need for lengthy email chains or meetings. Notion also has features such as templates and databases that can help teams save time on repetitive tasks.
Portable multi-platform support: Notion is a portable tool accessible from anywhere. The platform has a web version, making it accessible from any device with an internet connection. It also has a mobile app that makes it easy to access notes and tasks.
Extensive tutorials and documentation: Notion has extensive tutorials and documentation to help teams get started with the tool. The platform has a knowledge base covering everything from the tool's basics to advanced features. Notion also has a community forum where users can ask questions and get help from others.
Free templates for different use cases: Notion has a library of free templates to help teams get started with the platform. The templates cover different use cases, such as project management, note-taking, and task management. The templates can be customized to fit the needs of individual teams.
Notion Pricing and Costs
Notion's pricing plans are a standout feature that provides various options for users with different needs and budgets. Here are the available pricing schemes:
Notion Free: Designed for individuals or small groups that require basic project and task management tools with limited collaboration and integration features.
Notion Plus ($8 per user, per month): Best suited for small teams that need to plan and organize their work effectively.
Notion Business ($15 per user, per month): Suitable for companies that require additional project management tools and customization features.
Notion Enterprise (Contact Notion): Perfect for large organizations that require advanced management solutions and support.
Read our Pricing Guide for Notion or read the official Notion Pricing Page.
Conclusion
Notion's ability to combine different types of content into a single workspace makes it an ideal tool for project management, note-taking, and collaborative work. So, if you value flexibility, productivity, organization, and customizability in your workspace software, Notion may be your perfect choice. Their website offers many guides and tutorials to help you understand how to make the best out of the all-in-one workspace software. Trying their free trial can also give you more insights into the software experience.