The Pros and Cons of Using TeamGantt Software

Businesses need a project management tool that can help them plan and execute projects efficiently with their teams. This is because effective project management requires clear communication, collaboration, and tracking of progress. When teams are using different tools for planning, task management, and tracking workflow across different teams, it can lead to confusion and inefficiencies. By using one tool, such as TeamGantt, businesses can break down projects into smaller tasks to streamline their project management processes, improve collaboration and communication, and increase productivity.
For instance, with the Gantt chart feature, users can visualize their project's timeline and track each task's progress. This helps teams to identify potential roadblocks and adjust their plans accordingly, giving them confidence that they are on track to meet their deadlines. However, as with any software, there are pros and cons to using TeamGantt. In this article, we will explore the advantages and disadvantages of using TeamGantt as a project management tool and its features and use cases, so you can decide whether it fits your team.
If you are on a budget and find the cost of TeamGantt to be high, consider AceProject as a substitute. The price of this business tool is not on a per-user basis, giving a lot of cost savings.
TeamGantt – Free Online Gantt Chart Maker
TeamGantt is a project management software that aims to provide an intuitive and collaborative tool for teams to plan and execute their projects effectively. Unlike other project management tools that may focus on either task management or project tracking, TeamGantt combines both elements into one platform. With its Gantt chart feature, users can visualize the progress of their project and keep track of deadlines. Additionally, TeamGantt's collaborative tools allow team members to work together and communicate seamlessly, increasing efficiency and productivity.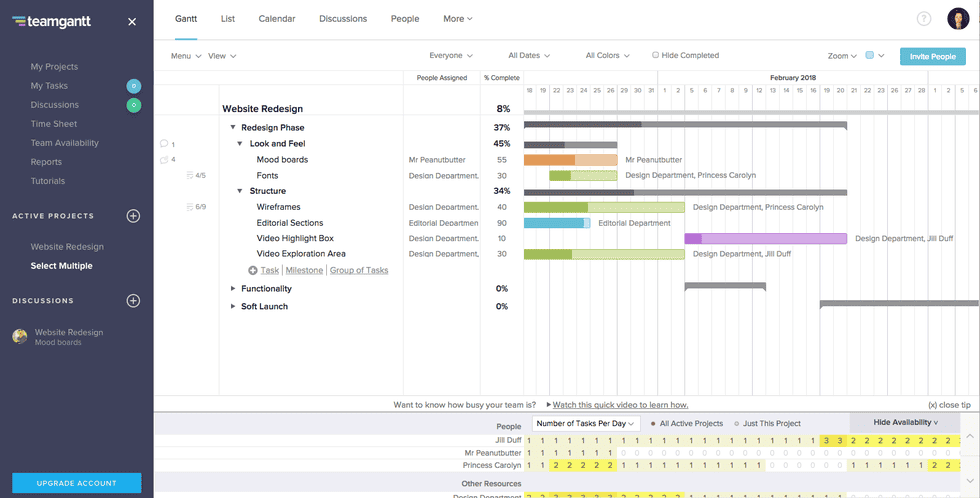 TeamGantt Key Features
TeamGantt offers unique features which make work easier so you and your team can save time, hit deadlines, and deliver projects within budget. These include:
Drag & drop simplicity: Users can easily create, edit, and update tasks by simply dragging and dropping them within the Gantt chart.
See all your projects in one screen: TeamGantt provides an overview of all your projects in one screen, making it easy to switch between projects and track progress.
See workloads & team availability: The software allows users to see each team member's workload and availability, making it easier to plan and assign tasks.
Easy collaboration & organization: Team members can communicate and collaborate on tasks within the platform, and the software also provides tools for organizing and categorizing tasks.
Portfolio views and reports: TeamGantt provides portfolio views and reports to help users keep track of multiple projects and view progress across their organization.
Calendar and list views: Users can view tasks in both calendar and list views, providing flexibility in how they prefer to visualize their projects.
View planned timeline vs. actual timeline: TeamGantt allows users to compare the planned timeline of their project against the actual timeline, providing insight into potential delays or roadblocks.
Dedicated mobile app: TeamGantt offers a dedicated mobile app for iOS and Android, allowing users to manage their projects on the go.
TeamGantt Use Cases
TeamGantt has been in business since 2009 and has over 1 million users worldwide, including some of the top companies such as Amazon, Uber, Google, Netflix, Nike, and Intuit. Some of the use cases for TeamGantt include:
Digital agencies: The software helps creative teams to run and collaborate on projects more smoothly, from brainstorming to execution.
Marketing: TeamGantt can assist marketing teams when it comes to planning, managing, and tracking product launches and marketing campaigns, making sure that they stay on schedule and meet deadlines.
Construction: The platform can help construction teams to be more organized and ensure transparent communication when sharing project details with teams. This ensures that projects are delivered on time and within budget.
Manufacturing: TeamGantt can streamline and scale manufacturing operations, from scheduling and procurement to production and delivery.
The Cons or Disadvantages of TeamGantt
Although TeamGantt is a popular project management tool, it also has some disadvantages that users should be aware of. These include:
Limited reporting features: Some users have reported that the reporting features in TeamGantt are limited compared to other project management tools, making it harder to generate detailed reports and analyze project data.
Minimal team collaboration features: While TeamGantt has some collaboration features, some users have reported that they are minimal compared to other project management tools, making it harder to work together effectively as a team.
Email notifications can be cumbersome to check: Some users have reported that the email notifications in TeamGantt can be overwhelming, making it hard to keep track of important updates and notifications.
Limited integration options: While TeamGantt offers some integration options, some users feel that they are limited compared to other project management tools, making it harder to connect with other tools and systems they use.
Pricing can be high for multi-manager teams: While TeamGantt offers affordable pricing for small teams, some users have reported that the pricing can be high for multi-manager teams, making it less accessible for larger organizations.
Overall, while TeamGantt is a powerful and intuitive project management tool, it may not be the best fit for every organization or team. Users should carefully consider their needs and requirements before deciding whether to use TeamGantt or another project management tool.
The Pros or Advantages of TeamGantt
TeamGantt is a refreshing solution that brings project scheduling software that works as intended online, with simple-to-use features that help you plan and manage your projects in a simple and fun way. This is what makes it a favorite among millions of users. Some of the pros or advantages of using TeamGantt include:
Users love its combination of flexibility, power, and ease of use: TeamGantt is designed to be both powerful and easy to use, providing users with a flexible tool that can handle complex projects while remaining intuitive and user-friendly.
Easy to keep projects organized: TeamGantt makes it easy to keep track of all project-related information, from timelines and milestones to team members and resources.
Transparent assessment of progress at a glance: TeamGantt provides a clear, visual representation of project progress, making it easy to see how far along a project is and what still needs to be done.
Information availability for multiple departments: With TeamGantt, project information is easily accessible to multiple departments, making it easy to collaborate and communicate across teams.
Invaluable in managing individual and team workflow: TeamGantt provides tools for managing individual and team workflow, making it easy to assign tasks, set deadlines, and track progress.
Simple to figure out how to use it or customize: TeamGantt is easy to learn and use, with a simple, intuitive interface that can be customized to suit the needs of individual teams.
Automation is built-in for resource planning: TeamGantt includes built-in automation tools for resource planning, making it easy to allocate resources and manage capacity.
Collaboration is a breeze for both small and large teams: TeamGantt makes it easy for teams to collaborate, with features like real-time commenting and file sharing that work seamlessly for both small and large teams.
Easy to customize views to quickly access needed information: TeamGantt allows users to customize views and dashboards to quickly access the information they need, making it easy to stay on top of projects and tasks.
TeamGantt Pricing and Costs
With this software, you only pay for the users who are responsible for planning and managing projects. The rest of your team can still use the software for task management and collaboration at no cost.
Free: 1 manager (plus 2 collaborators), 1 project, 60 tasks.
Lite ($19/mo. per manager): 5 projects per manager, 150 tasks per project, 5 collaborators
Pro ($49/mo. per manager): 20 projects per manager, unlimited tasks, unlimited collaborators
Enterprise ($99/mo. per manager): Unlimited projects, unlimited tasks, unlimited collaborators)
We did a great article on TeamGantt Pricing Plans.
Conclusion
If you're considering a project management tool for your team, TeamGantt is definitely worth a try. With its drag-and-drop simplicity, multiple views, built-in automation, and easy collaboration features, it has everything you need to plan, manage, and execute projects successfully. While the software has some disadvantages, the overall benefits make it a worthwhile tool for organizations and teams to consider.
TeamGantt also offers a unique pricing model, which allows organizations to pay only for the managers who plan and manage projects, while the rest of your team can use the tool to collaborate and manage their tasks free of charge. Try the free plan or pay only for the managers to see if it's the right fit for your team.