The Pros and Cons of Using Zoho CRM Software
As a business owner, you know that maintaining strong customer relationships is the key to long-term success. Effective Customer Relationship Management (CRM) strategies not only help to manage and analyze customer interactions but also enable businesses to drive sales growth, streamline processes, and enhance customer satisfaction. CRM software solutions have become an indispensable tool for businesses across industries, with Zoho CRM emerging as a popular choice for many businesses. Offering a comprehensive suite of features and integrations, Zoho CRM promises to revolutionize the way businesses engage with their customers.
However, like any software solution, it's essential to weigh the pros and cons, features, use cases, and pricing options before making an investment in Zoho CRM to ensure it aligns with your business's unique requirements and goals.
Zoho CRM – Online Sales CRM software
For over 15 years, Zoho CRM has been a trusted partner to businesses at every stage of growth. With a customer-centric approach, they have successfully supported millions of users by continuously adapting to their needs and offering innovative solutions. Zoho CRM prides itself on being there for its customers, not only today but in the future as well, providing a stable and reliable CRM platform that evolves alongside the ever-changing business landscape. Zoho CRM's robust automation, comprehensive analytics, and personalized solutions empower customer-facing teams to excel in their roles, driving steadfast growth for businesses across various industries.
Boasting an extensive array of features and a highly customizable system, Zoho CRM caters to different roles and scales with ease, ensuring effective sales management and fostering meaningful customer relationships. As a complete CRM solution for modern enterprises, it offers the fastest deployment in the market, customizable verticals on demand, and premium support to guarantee zero downtime, making it an ideal choice for businesses seeking to enhance their CRM capabilities.
The Cons or Disadvantages of Zoho CRM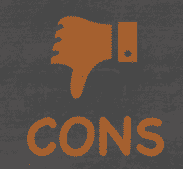 Although Zoho CRM offers a wide range of valuable features, it is crucial to consider these potential drawbacks and evaluate whether they could impact the effectiveness of the CRM solution for your specific business requirements.
Slow customer support: Some users have reported slow response times from Zoho CRM's customer support, which can be frustrating when trying to resolve critical issues or seeking assistance.
Overwhelming customization options: Although the customization options in Zoho CRM are extensive, they can be overwhelming for users who are new to the platform or have limited technical skills, making it challenging to set up and optimize the system effectively.
Reporting functionality: The reporting capabilities in Zoho CRM could be more robust and user-friendly. Users may find it difficult to create custom reports or extract the specific data they need to make informed decisions.
Interface upgrades: Zoho CRM's interface could benefit from an upgrade to provide a more modern and visually appealing user experience. An outdated interface can impact user adoption and overall satisfaction with the platform.
Email template customization: Editing and customizing email templates within Zoho CRM can be challenging, particularly for those who lack technical expertise. This can limit the ability to create personalized and targeted email campaigns.
Roadmaps and communication for updates: Users have expressed the need for better communication and roadmaps from Zoho CRM regarding updates and new features, ensuring that they can plan and prepare for changes to the platform effectively.
Updating and fetching records at scale: When dealing with large amounts of data, Zoho CRM may struggle to update and fetch records efficiently. This can cause delays and hinder the performance of the CRM system, particularly for businesses with vast customer bases or complex data sets.
The Pros or Advantages of Zoho CRM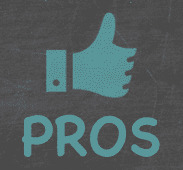 Zoho CRM offers numerous advantages that make it a reliable solution for building transformative sales processes from the ground up. Some of the most notable benefits include:
Simple and modern platform: Zoho CRM is designed to be refreshingly simple to use, providing a modern CRM solution for today's fast-paced business environment. Its intuitive interface ensures a smooth user experience and quick adoption by team members.
Dedicated support programs: Zoho CRM offers dedicated programs for migration, deployment, and training, making it easy for businesses to transition to the platform and ensure that their teams are well-prepared to utilize its full potential.
Extensive developer platform: Zoho CRM's developer platform allows for the creation of custom solutions and integrations, enabling businesses to tailor the CRM to their unique needs and requirements, as well as connect with other essential software tools.
Flexible contracts: Zoho CRM offers flexible contracts without lock-in periods, providing businesses with the freedom to choose the best CRM solution for their needs without being tied down to long-term commitments.
Transparent pricing: With Zoho CRM, there are no hidden costs, and the platform offers price protection to ensure that customers receive the best possible deals on their CRM solution.
Minimal learning curve: Zoho CRM's intuitive design and comprehensive training resources result in a minimal learning curve for users, allowing for 50% faster implementation compared to other CRM platforms.
Ease of integration and implementation: Zoho CRM is designed for seamless integration with a wide variety of applications and tools, making it easy to incorporate the CRM platform into existing business processes and systems.
Zoho CRM Key Features
Zoho CRM offers an impressive range of key features that cater to various business needs, streamlining processes and enhancing overall productivity:
Integration: Zoho CRM can be integrated with over 800+ apps, allowing you to work seamlessly with your favorite tools or explore new ones at the Zoho Marketplace.
Sales force automation: Efficiently manage your sales processes, eliminating manual tasks and boosting productivity.
Canvas design studio: Personalize your CRM interface with a user-friendly drag-and-drop design tool.
Process management: Streamline your business processes, ensuring consistency and efficiency.
Journey orchestration: Design and automate customer engagement workflows to create tailored experiences.
Omnichannel: Interact with customers across multiple channels, providing a unified experience.
Analytics: Gain valuable insights through data analysis, driving informed decision-making.
Sales enablement: Equip your sales team with the tools and resources needed to excel.
Performance management: Track and optimize individual and team performance to achieve goals.
Predictive sales: Leverage AI to identify potential opportunities and enhance sales strategies.
Customization: Tailor the CRM to your unique business requirements.
Marketing automation: Simplify and optimize your marketing efforts for maximum impact.
Team collaboration: Foster effective communication and collaboration within your team.
Remote work: Access and manage your CRM from anywhere, ensuring business continuity.
Mobile: Utilize Zoho CRM's mobile app for on-the-go access to crucial information.
High-end security: Protect your data with robust security measures.
Developer platform: Build custom solutions and integrations using Zoho CRM's developer resources.
Zoho CRM Use Cases
Zoho CRM's versatility and wide range of features have made it a leading CRM solution for over 250,000 businesses worldwide, including well-known brands like Suzuki, BOSE, Purolite, Hotstar, and Abu Dhabi Aviation. Its accolades, such as being named a Visionary in Gartner's 2022 Magic Quadrant™ for Sales Force Automation Platforms and scoring the highest in CRM Watchlist 2022, further attest to its capabilities.
Zoho CRM's flexibility allows it to cater to various industries, providing tailored solutions to address unique challenges and requirements. Here are some key use cases:
Automotive CRM: Streamline the sales process, manage leads, and maintain strong relationships with dealerships and customers.
Life sciences: Facilitate seamless collaboration between sales teams and healthcare providers, ensuring regulatory compliance and effective product promotion.
Financial services: Simplify client management, track investments, and provide personalized financial advice to clients.
Insurance: Automate policy management, monitor customer interactions, and enhance cross-selling opportunities.
Retail: Optimize inventory management, enhance customer engagement, and drive sales across multiple channels.
Real estate services: Manage properties, automate marketing efforts, and improve client communication throughout the sales cycle.
Agencies: Coordinate projects, manage clients, and streamline marketing efforts to drive business growth.
Non-profits: Foster donor relationships, track fundraising efforts, and manage events to further the organization's mission.
Startups: Consolidate customer data, automate sales processes, and scale as the business grows, ensuring a strong foundation for future success.
With its wide array of applications, Zoho CRM offers businesses from various industries a comprehensive CRM solution that can be tailored to their unique needs and challenges.
Zoho CRM Pricing and Costs
Zoho CRM offers a range of pricing plans designed to cater to businesses of different sizes and requirements, all with a free trial option that doesn't require a credit card:
Standard: Priced at $12 per user/month billed annually, this plan helps automate and optimize your sales cycle, making it suitable for smaller businesses and startups.
Professional: At $20 per user/month billed annually, the Professional plan is designed to improve customer acquisition and accelerate growth, making it a popular choice for growing businesses.
Enterprise (most popular): For $35 per user/month billed annually, the Enterprise plan offers comprehensive features to manage global customer experience operations, making it ideal for larger businesses and enterprises.
Ultimate: Priced at $45 per user/month (billed annually), the Ultimate plan focuses on scaling exponentially with dedicated business intelligence capabilities, catering to businesses looking for advanced analytics and insights.
These pricing options allow businesses to choose the plan that best suits their needs and budget, ensuring they have access to the right CRM features to drive success. We did a great article on Zoho CRM Pricing.
Conclusion
Investing in the right CRM tool is crucial for businesses to effectively manage customer relationships, drive sales growth, and streamline internal processes. A comprehensive CRM solution like Zoho CRM enables businesses to understand their customers better, automate sales and marketing efforts, and foster strong team collaboration. By carefully weighing the advantages and disadvantages of a CRM platform and considering factors such as features, customization, scalability, and pricing, businesses can make an informed decision that best aligns with their unique needs and goals. Ultimately, the right CRM tool ensures long-term success and builds a strong foundation for enduring customer relationships.