The Pros and Cons of Using Zoom Software

In an era where remote work and virtual collaboration have become integral aspects of our daily lives, the need for a single platform to facilitate connection, communication, and teamwork has never been more pressing. A unified platform allows users to streamline their workflows, reduce the complexities of multiple tools, and improve productivity and efficiency. Such a platform can foster better teamwork and drive innovation across various industries by providing a central hub for communication and collaboration.
Zoom has emerged as a popular choice for such a platform, offering a comprehensive suite of features catering to businesses, educational institutions, and individuals' needs. As an all-in-one solution for video conferencing, messaging, and collaboration, Zoom has gained widespread adoption across the globe. However, like any tool, it has its pros and cons that users should be aware of when considering its implementation. In this article, we will explore more about Zoom to help you make an informed decision about whether it's the right solution for your needs.
If you need a project management tool to use with Zoom, give AceProject a try. Its pricing is not on a per-user basis so that you can have substantial savings in the long run.
Zoom – Cloud-Based Video Conferencing Software
Zoom is a comprehensive platform designed to bring people together and facilitate collaboration all in one place. With a focus on redefining workspaces and engaging diverse audiences, Zoom aims to provide a seamless experience for its users. As a frictionless communications platform built with video at its core, Zoom has consistently pushed the boundaries of innovation, making it an intuitive, scalable, and secure option for large enterprises, small businesses, and individuals alike.
Since its inception in 2011, Zoom has been helping users express ideas, forge connections, and build a future only limited by their imagination. Zoom's global reach has led to widespread adoption by businesses in various sectors, including renowned organizations such as ServiceNow, Rakuten, The New York Times, California State Parks, AB InBev, Nasdaq, Oracle, Red Bull, Walmart, Capital One, and Texas A&M. By offering a platform that simplifies connection and collaboration, Zoom has become an indispensable tool for companies seeking to maintain productivity and foster teamwork in a rapidly changing world.
The Cons or Disadvantages of Zoom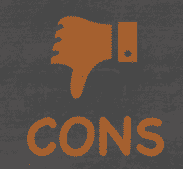 Despite its wide-ranging adaption, Zoom has some drawbacks that users should consider before adopting the platform. In this section, we will discuss the cons of using Zoom:
Privacy and security concerns: Zoom has faced criticism for its security measures and potential data privacy issues, such as "Zoombombing," where uninvited participants disrupted meetings. Although the company has taken steps to address these concerns, users should remain vigilant about protecting their information and meeting security.
Limited free plan: Zoom's free plan offers meetings with a 40-minute limit and up to 100 participants, which may not be sufficient for larger gatherings or extended discussions. Users requiring more flexibility may need to upgrade to a paid plan.
Internet dependency: As a cloud-based software, Zoom relies heavily on internet connectivity. Users may experience lag, audio, or video issues if their connection is unstable or slow, which can affect the overall meeting experience.
Learning curve: Although Zoom is relatively user-friendly, new users may still experience a learning curve when adapting to its features and interface. This can be especially true for those unfamiliar with video conferencing software or those with limited technical proficiency.
Bandwidth consumption: High-quality video and audio conferencing can consume significant bandwidth, increasing data usage and potential slowdowns for other internet activities.
The Pros or Advantages of Zoom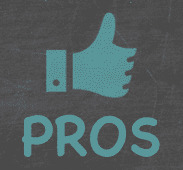 Zoom has become a popular choice for video conferencing due to its numerous advantages. In this section, we will discuss and expand upon the pros of using this great tool:
Easy to use: Zoom is known for its user-friendly interface and intuitive design, making it simple for users of all technical backgrounds to join and host meetings with minimal setup. Features such as one-click meeting access, a simple scheduling system, and the ability to easily manage participants contribute to its ease of use.
High-quality video and audio: The platform provides high-definition video and clear audio, enabling professional and effective communication during virtual meetings. Zoom's dynamic voice detection technology and noise suppression capabilities ensure a seamless audio experience, while its HD video capability supports up to 1080p resolution for crisp visuals.
Wide range of features: Zoom offers a variety of features that enhance the meeting experience and facilitate collaboration. Some notable features include screen sharing for real-time presentations, breakout rooms for focused group discussions, polling for instant feedback, virtual backgrounds for customizing the meeting environment, and recording capabilities for future reference or sharing.
Cross-platform compatibility: Zoom is available on various devices and operating systems, including Windows, macOS, Android, and iOS, making it accessible to many users. This compatibility allows users to join meetings from their preferred devices, such as desktop computers, laptops, tablets, or smartphones, ensuring a seamless experience across platforms.
Integration with other tools: The software can easily integrate with popular productivity and collaboration tools, such as Google Workspace, Microsoft Office 365, and Slack, streamlining workflows and allowing users to work more efficiently. These integrations enable users to schedule meetings directly from their calendar applications, share files and documents within the meeting platform, and receive notifications and updates within their preferred communication channels.
Scalability: Zoom offers pricing plans and features suitable for individual users, small businesses, and large enterprises, making it a versatile solution that can grow with the needs of its users. As organizations expand or adapt their communication needs, they can easily upgrade their plan or add additional features, such as webinars, expanded participant limits, or dedicated phone support.
Global reach: Zoom's global infrastructure ensures low-latency connections and reliable performance for users worldwide, facilitating international collaboration and communication. With data centers located across multiple continents and a distributed architecture, Zoom can maintain high-quality audio and video connections even when connecting users from distant locations, promoting effective global communication.
Zoom Key Features
Zoom's comprehensive suite of features allows users to connect and collaborate effectively. Key features include:
Unified communication and collaboration platform: Combining meetings, team chat, whiteboard, phone, and more in one offering.
Virtual meetings: Host and join meetings from any device, with options for video, audio, and screen sharing.
Team chat: Collaborate and communicate with team members through direct messaging and group chats.
VoIP phone system: Make calls and receive calls directly through the Zoom platform without the need for additional hardware.
Online whiteboard: Collaborate in real-time with an interactive whiteboard that supports drawing, typing, and importing images.
Conversation intelligence: Analyze meeting transcripts and gain insights into participant engagement and sentiment.
Email and calendar: Integrate with popular email and calendar applications to streamline scheduling and organization.
Virtual working spaces: Create immersive virtual environments for remote teams and events.
Zoom Use Cases
Zoom's versatility and robust feature set make it applicable across various industries and geographies. It has proven effective in consolidating communications and fostering collaboration in various settings, from the boardroom to the classroom and beyond. Use cases include:
Education: Facilitating remote learning, virtual classrooms, and teacher-parent conferences.
Financial services: Hosting secure client meetings, team collaboration, and virtual events.
Government: Enabling remote work for public servants and facilitating cross-agency communication.
Healthcare: Supporting telemedicine, remote consultations, and medical training.
Manufacturing: Collaborating on product design and facilitating remote training and support.
Retail: Engaging with customers through virtual events and offering remote customer support.
Zoom Pricing and Costs
Zoom offers a range of pricing plans to suit the needs of different users:
Basic: Free plan with meetings of up to 40 minutes per meeting and 100 attendees per meeting.
Pro: Priced at $149.90/year/user, offering meetings up to 30 hours per meeting and 100 attendees per meeting.
Business: Best value at $199.90/year/user, featuring meetings up to 30 hours per meeting and 300 attendees per meeting.
Business Plus: Contact Zoom for pricing information and additional features, with meetings up to 30 hours per meeting and 300 attendees per meeting.
Recommended article: Zoom Pricing Plans
Conclusion
Zoom is no doubt the leading cloud-based video conferencing software, offering a wide range of features and use cases that cater to various industries and user needs. While some disadvantages exist, such as privacy and security concerns, the numerous advantages make it a popular choice for remote communication and collaboration. By understanding Zoom's pros, cons, features, use cases, and pricing plans, users can decide whether it's the ideal tool for their video conferencing and collaboration needs.