TimeCamp Pricing Plans & Costs Guide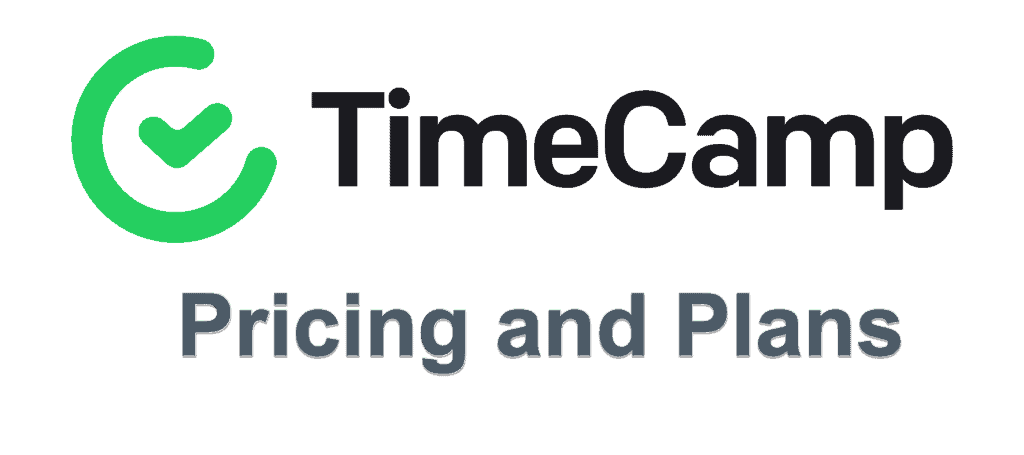 TimeCamp is an online time-tracking software designed for businesses and individuals. It enables users to manage their productivity and track time spent on tasks, create timesheets, and generate reports. Its features let users optimize time management with manual and automatic time tracking. It also has task categorization and delegation, billing and invoicing, employee monitoring, project management, and integration with other productivity tools.
For a fully featured project management tool, try AceProject. It also has built-in time tracking but does not charge per user, which could result in significant cost savings.
How Much Does TimeCamp Cost?
The TimeCamp pricing plans provide different levels of features and support for businesses of various sizes and needs. You can start with a 14-day free trial of the paid plans or request a product demo. See the functionalities and evaluate the software before making a subscription. The four TimeCamp pricing plans include the following:
TimeCamp Free – for individuals or small groups that need basic time-tracking features without spending money
TimeCamp Basic ($6.99 per user, per month) – best for small teams that require more productivity, integrations, and budgeting
TimeCamp Pro ($9.99 per user, per month) – ideal for large teams and organizations needing custom user roles, invoicing, and client billing
TimeCamp Enterprise (Contact TimeCamp) – perfect for very large businesses that require more customization, personalized support, and a high level of data protection and security
TimeCamp Free Plan
The TimeCamp Free plan offers essential time-tracking features for individuals and small groups. It is ideal for those starting to collaborate on projects and track their time spent on different tasks. The 'forever free' plan includes desktop and mobile apps for time tracking on-the-go, and better transparency and control.
INCLUDED IN FREE:
Time Tracking – Allows businesses to add an unlimited number of users, time entries, tags, notes, and goals.
Unlimited Projects and Tasks – Easily create unlimited projects and tasks to track the time spent on each one.
Idle Time Tracking – Keep track of everything, including the time spent away from computers, during breaks, meetings, and other non-work activities.
TimeCamp Basic Plan ($6.99 per user per month)
The TimeCamp Basic plan offers more advanced features such as automatic time and productivity tracking, unlimited integrations, and budgeting. This costs $6.99 per user per month when billed annually or $7.99 per user per month when billed monthly.
EVERYTHING IN FREE, PLUS:
Time Rounding – Users can set their preferred rounding time unit so the system will round off recorded time to the nearest unit. This feature helps users get accurate time spent on tasks and avoids discrepancies in recorded hours.
Custom Report – Create custom reports that users can tailor to specific needs. Select desired parameters, like period, task, project, or team member to generate a detailed report with all the required information.
Hide Time From Users – Allows team leaders or managers to hide the time logs of individual members from other team members. This feature ensures that only authorized personnel gets access to sensitive data.
Team Productivity Tracking – Allows managers to monitor the productivity of their team members with the help of business reports and charts. This feature helps managers identify bottlenecks in the workflow and take corrective actions to improve productivity.
XLS reports export – Export reports in XLS format compatible with MS Excel or other spreadsheet software. Easily share reports with team members or clients outside TimeCamp.
Unlimited Integrations – Integrate with third-party apps such as Trello, Asana, and Jira to automate tasks and streamline workflows.
Billable Time and Budgeting – Tracks billable hours and expenses for each project to bill clients accurately and help manage budgets effectively. Set budget limits for each project and monitor expenses to ensure the project stays within budget.
TimeCamp Pro Plan ($9.99 per user per month)
The TimeCamp Pro plan is for large teams with diverse job responsibilities. It offers more advanced capabilities, such as client billing, invoicing, security compliance, and custom user roles. This costs $9.99 per user per month billed annually or $10.99 per user per month billed monthly.
EVERYTHING IN BASIC, PLUS:
Custom User Roles – Admins can create different levels of access and permissions for all team members. They can also define access to specific features and functions to keep data secure.
Billing Rates – Set billing rates for employees or contractors to track budgets, expenses, and profit margins for each project. Customize billing rates to reflect different project requirements or hourly rates and calculate billing and invoicing easily.
Invoicing – Generate invoices based on tracked time, expenses, and billing rates. Save time by providing an accurate record of billable hours and expenses. Manage billing by customizing invoices and sending them directly from the platform.
Screenshots – Provides captured images of computer screens at specified intervals. Users can monitor employee activity, keep track of work progress, and ensure that employees are working on the right tasks. Customize screenshots to reflect different monitoring needs to make it easy to maintain productivity.
SSO Login – Supports Single Sign-On login with users' existing SSO provider to simplify login procedures. SSO ensures login credentials remain secure and accessible.
2-Factor Authentication – Supports 2FA, providing an extra layer of security for login procedures. 2FA is essential for businesses that store sensitive data and want to ensure the highest level of data protection.
TimeCamp Enterprise Plan (Contact TimeCamp)
The TimeCamp Enterprise plan offers even more advanced features, such as personalized training, private cloud implementation, and self-hosted server support. This plan is for very large enterprises with highly scalable functions and advanced security settings. TimeCamp provides a custom price depending on the organization's complex requirements.
EVERYTHING IN PRO, PLUS:
Personalized Training – Develops a customized training plan for users that meets th organization's unique needs. Also shares best practices for using the tool effectively.
Private Cloud Implementation – Users can host the software on a dedicated server accessible only to their organization. This ensures peace of mind for businesses that handle sensitive data and want to secure all connections.
Self-hosted Server – Gives users the option to self-manage the software on their own server.
Conclusion
TimeCamp pricing plans are reasonable, providing companies and individuals with a good value for its features. The Free plan is a great way for individuals to try out the tool. The more advanced plans offer additional capabilities for larger teams and organizations.
Additionally, TimeCamp offers flexible discounts for companies with more than 50 users. It also offers 30% discount for non-profits, universities, students and schools.
To have a more balanced evaluation, you can check our TimeCamp Pros and Cons article for more information before deciding.