The Pros and Cons of using Trello Software
Because of the many advantages users have experienced when using Trello, this online project management software has become really popular. As a tool for project management, it gives its users the power to collaborate with their members and run tasks related to their projects without switching from one app to another. With just one look, users can see the tasks and who they are assigned to, as well as what has already been done to them. Moving these tasks around the platform is also easy and indicates the project's progress.
If you need a professional reporting and exporting platform to boost Trello's capabilities, consider Bridge24 for Trello.
Because Trello makes the team's work a lot easier, it utilizes boards, lists, and cards that can be manipulated to utilize and prioritize projects flexibly. Each of these tools serves a specific purpose, with the boards presenting the projects and their information, the lists having the titles, and the cards serving as the basic unit of work in Trello. To show the progress of the project and the individual tasks, users have the option to move the lists to the appropriate boards and choose to store the finished tasks in the cloud or to their profile.
If you feel Trello's pricing is too high for your budget, consider looking at AceProject. By charging per project instead of per user, this software offers the potential for significant cost savings.
Trello – Manage Your Team's Projects From Anywhere
With Trello's numerous uses, we have come up with the most important and basic in the list below.
Tracking one's time. The most common notion about time tracking pertains to charging by the hour. Trello does more than that and helps increase the members' productivity.
Planning a vacation. As Trello does wonders, it can also help make planning a vacation easy by allowing users to create lists of their daily activities.
Organize daily activities. Trello helps users keep track of their daily tasks using just one platform. Thanks to the software's very visual nature, these tasks contain lists without making checking and updating confusing.
Organizing a reading list. The software is not just limited to businesses, as it can also be used for making a personal list of reading materials. It is useful for keeping track of a growing list of books and magazines worth reading.
Running a budget. Trello can also be used for tracking personal expenses and income. Different cards can contain income and expense lists to help the user better control his finances.
Managing a project or team. This is perhaps the most popular use of Trello, which allows managers to oversee a project and create boards for specific members that contain their tasks.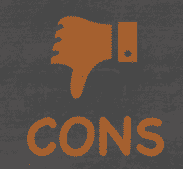 The Cons or Disadvantages of Trello
Limited advanced features: Trello lacks some advanced project management features, such as time tracking, Gantt charts, and built-in reporting tools, which can be crucial for more complex projects.
Scalability issues: Trello may not be the best choice for large organizations or teams with numerous projects, as its simplicity can become a hindrance when managing a high volume of tasks and team members.
Over-reliance on third-party integrations: To access additional functionality, users often need to rely on third-party integrations, which may lead to potential compatibility issues or added costs.
Limited customization options: While Trello's simplicity is part of its appeal, it can also be restrictive for teams that require more customization options to adapt the software to their specific needs and workflows.
Security concerns: Some users may have concerns about data privacy and security, as Trello is a cloud-based solution and sensitive information is stored on external servers. This may not be ideal for organizations with strict security protocols or for those handling sensitive data.
Steeper learning curve for non-technical users: Although Trello is designed to be user-friendly, its extensive use of boards, lists, and cards may initially be overwhelming for non-technical users or those unfamiliar with Kanban-style project management.
Limited offline functionality: As a primarily web-based tool, Trello's offline functionality is limited, which can be problematic for users who need to access and manage their projects in areas with unreliable internet connectivity.
Potential for information overload: Trello's visual nature and the ability to add extensive details to cards can sometimes lead to information overload, making it difficult for team members to identify and focus on high-priority tasks amidst the clutter quickly.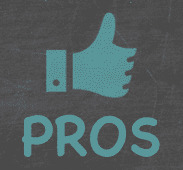 The Pros or Advantages of Trello
To be fair, here are some of the many advantages of using this software.
Trello uses real-time. Members can work on the projects without causing any disruption to the updates. Once an update is made to the system, it shows automatically without delay.
Adding members is easy. A user can add a new member by simply putting in the email address of the new user and it's done.
Responsive design. Whether one accesses Trello from a laptop computer, smartphone, or tablet, the software will show without any issue. This means that if a user accesses it from a different device than what he usually uses, say a laptop, he will still be able to use Trello.
It features the Kanban system. Many other software uses the Kanban system developed by Toyota in the 1950s. Because of this system, it is now much easier for users to create tasks for projects and break these down into even smaller tasks by using its boards.
The notification system is superb. This is one of the strongest features of Trello because every move made on the software can be seen. An email notification is sent for every update, a comment made, and a task removed, while a push notification goes to phone users.
Uncomplicated Pricing plan. This is another feature of Trello that makes it great software. Users can subscribe to its unlimited access package for only $25, which already allows an unlimited number of users and access to a wide assortment of features.
No need for notes. Not only is Trello useful, but it is also environment-friendly because it helps users get rid of writing notes. They can make these notes on the software and never have to worry again about forgetting their tasks.
User-friendly. Anybody can use Trello because it has been designed to be simple and easy. At one glance, it is very easy to see how the software can be managed that even a beginner can understand.
Trello Pricing & Costs
Trello offers a straightforward pricing structure, facilitating an easy selection of the most suitable plan for your requirements. There are four pricing plans available from Trello, which are as follows:
Trello Free – a solid option for those just starting, offering better value than some other free plans
Trello Standard ($5 per user, per month) – suitable for small businesses on a budget that requires more features than the free plan
Trello Premium ($10 per user, per month) – ideal for growing businesses, offering most of the essential project management features
Trello Enterprise ($17.50 per user, per month) – perfect for larger companies, but may be overkill for teams smaller than 100.
For more details, please read our detailed Trello Pricing page. Or read the official Trello Pricing Page.
Is Trello Secure? (Encryption, infrastructure, authentication and more)
Trello prioritizes the security of its users' data. Here are some key aspects of Trello's security measures that help ensure the safety of its platform:
Data encryption: Trello encrypts data both in transit and at rest. Data transmitted between users and Trello's servers is secured using Secure Socket Layer (SSL)/Transport Layer Security (TLS) encryption. Additionally, data at rest is encrypted using Advanced Encryption Standard (AES) with a 256-bit key length.
Infrastructure: Trello's infrastructure is hosted on Amazon Web Services (AWS), which provides a secure and robust environment. AWS is compliant with a wide range of security standards and certifications, such as SOC 1, SOC 2, SOC 3, and ISO 27001, ensuring a high level of security for Trello's data storage and processing.
Access control: Trello offers granular access controls that allow users to manage who has access to their boards, lists, and cards. Users can choose to make their boards public or private and invite specific team members to collaborate on projects. Trello uses a role-based access control system to grant different levels of permissions to users, ensuring that only authorized individuals can access and modify data.
Authentication: Trello supports strong authentication methods, such as single sign-on (SSO) and two-factor authentication (2FA). These authentication methods help protect user accounts from unauthorized access.
Conclusion
In conclusion, Trello's user-friendly interface and visual nature make it an attractive project management software for businesses and individuals alike. However, it is essential to consider its limitations in terms of advanced features and scalability for larger organizations. Trello excels in streamlining workflows, boosting collaboration, and providing a clear overview of project progress, but may fall short for teams requiring more robust or customizable solutions.
Ultimately, the decision to use Trello should be based on one's unique project management needs, considering both the software's advantages and disadvantages. As with any tool, thoroughly evaluating Trello's suitability for your specific context will ensure you make an informed choice that best serves your team's objectives.