Toggl Track Pricing Plans & Costs Guide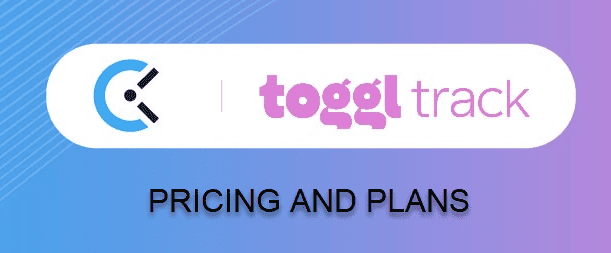 Toggl Track is a web-based time-tracking and productivity tool that helps businesses and individuals manage their time more efficiently by tracking their work hours and tasks. It offers features such as tracking billable hours, project management, and report generation. Toggl Track operates on various devices and integrates with other productivity apps. It offers a 30-day free trial of the Toggl Track Premium plan and also a product demo.
If you need a project management tool with built-in time tracking as well as project tracking and task management, consider using AceProject as a business solution. The price for this software does not depend on the number of users and will give you a lot of cost savings.
How Much Does Toggl Track Cost?
Toggl Track pricing plans cater to the needs of different types of users, from individual freelancers to large organizations. Here are its pricing plans and the features it offer:
Toggl Track Free – for freelancers and solo entrepreneurs needing a logical time tracking and reporting system with continuity and coherence
Toggl Track Starter ($9 per user, per month) – perfect for small groups to manage their administrative tasks efficiently and consistently.
Toggl Track Premium ($18 per user, per month) – suitable for growing teams that require effective tools to increase profitability and productivity
Toggl Track Enterprise (Contact Toggl) – ideal for large businesses that need robust and flexible project and time-tracking solutions
Note: Toggl offers discounts for nonprofits, students, and educational institutions. For eligibility concerns, directly contact the Toggl team.
Toggl Track Free Plan
The Toggl Track Free plan is for individuals that need basic time tracking, project management and reporting features. The free plan allows up to 5 users to track time on unlimited projects, clients, and tags. It keeps time-tracking synchronized across multiple devices on the web, mobile, browser plug-ins, and desktop apps, both in online and offline modes.
INCLUDED IN FREE:
Automated Time Tracking Triggers – Includes automatic notifications triggered by keywords linked to designated projects, available in Windows and Mac OS desktop apps.
Personal Time Tracking Reminders – Receive reminders to track time, available on browser plugins and desktop apps.
Idle Time Detection – Receive notifications when there is idle time detected, available on browser plugins and desktop apps.
Pomodoro Timer – Allows you to take breaks with nudges every 25 minutes, depending on what length of time you set, available on browser plugins and desktop apps.
CSV Imports – Allows uploading of project and client data with the use of CSV files.
Activity Tracking – Automatically capture every application or website you are using for longer than 10 seconds with the timeline feature available on the desktop apps.
Time Tracking – Track time in over 100 online tools using Toggl Track's browser extensions.
Toggl Track Starter Plan ($9 per user per month)
The Toggl Track Starter plan is for small teams needing enhanced time tracking and project management functionalities. It includes billable rates to ensure workers are properly compensated for their work. Time estimates for tasks and multiple calendars allow better time management and prioritization of work. It also provides project templates that you can customize according to your specs. It costs $9 per user per month when billed annually or $10 per user per month when billed monthly.
EVERYTHING IN FREE, PLUS:
Billable Rates – Allows you to designate billable rates for various aspects of your work, like workspaces, team members, projects, or project members to easily assess which activities are generating income.
Time Rounding for Reports – Automatically adjust your time entries to the nearest preferred interval.
Saved Reports – Store and retrieve important reports.
Time Estimates and Alerts – Includes project time estimates and alerts for effective time management.
Tasks (Sub-projects) – Control workload distribution and create accurate reports.
Pre-populated Project Templates – Quickly replicate numerous similar projects using project templates, and keep settings for billable rates, estimates, tasks, and team members.
Multiple Calendars – Includes multiple calendar connections to one Track workspace.
View Tracked Time – Use time entries in Toggl Track as calendar event sources for your external calendars, like Google Calendar or Apple Calendar.
Toggl Track Premium Plan ($18 per user per month)
The Toggl Track Premium plan is ideal for growing teams or organizations that require more advanced security, customization, and integration features. It is perfect for project managers, agency owners, and businesses that need to manage multiple projects. Users with a larger client base and those that require more sophisticated reporting needs will benefit from this plan. The Toggl Track Premium plan costs $18 per user per month when billed annually or $20 per user per month when billed monthly.
EVERYTHING IN STARTER, PLUS:
Archive Clients – Keep client information secure, and hide or restore them to view.
Fixed Fee Projects – Monitor project budgets or client retainers by adding a fixed fee or monetary budget.
Time Tracking Reminders – Prompts team members to track their time if they fall below their set hours per day or week.
Saved Reports – Arrange to receive scheduled saved reports via email.
Project Forecasts and Analysis – Provides a project dashboard to gain project completion forecasts based on time estimates and hours logged.
Centralized Control – Manage the labor costs and billable rates for team members.
Time Entry Fields – Provides mandatory time entry fields when logging time.
Security – Includes support for SAML 2.0 SSO.
Native Jira and Salesforce Integrations – Easily integrate Jira and Salesforce data into Toggl Track for streamlined time tracking.
Toggl Track Enterprise Plan (Contact Toggl)
The Toggl Track Enterprise plan is a highly scalable plan for large organizations with complex structures and workflows. This includes customization options, priority support, and expert training and assistance for unlimited users. Toggl provides a custom-pricing for this plan depending on the organization's specific requirements.
EVERYTHING IN PREMIUM, PLUS:
Multiple workspaces – Administer several workspaces within a single Organization.
Priority support – Provides top-notch support.
Expert Training and Assistance – Includes professional guidance and help from experts.
Customizable Solutions – Tailor-made options.
Volume Discounts – Provides reduced prices for big groups on a yearly scheme.
Conclusion
Toggl Track pricing plans give organizations different options depending on its budget and team size. Companies should consider the number of users, project and time tracking features, integration, and budget specifications they need before choosing any paid plan.
It is best to carefully assess your requirements and compare them with the features offered in each plan. For a more thorough evaluation of your time tracking requirements against available plans and features, check out our Toggl Track Pros and Cons before making a final decision.