Toodledo Pricing Plans & Costs Guide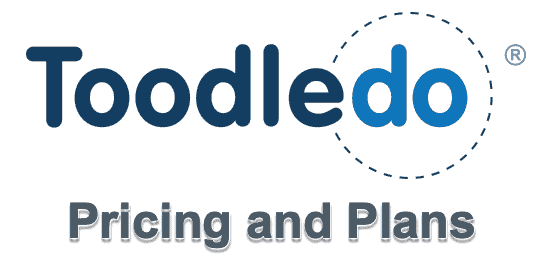 Toodledo is a web-based to-do list and task management tool that helps individuals and teams manage tasks, projects, and goals. Its features include customizable task lists, folders, tags, due dates, alarms, priorities, notes, outlines, reminders, collaboration, integration, and data export. Toodledo is available on multiple platforms, including web browsers, iOS, Android, and desktop applications.
If you need more than a to-do list for project management, consider is AceProject. It does not have a per-user fee, so it is more economical in the long term.
How Much Does Toodledo Cost?
Toodledo pricing plans are competitive and straightforward. Its range of features enhance task management and collaboration to raise the productivity levels of individuals and teams. The Toodledo pricing plans are:
Toodledo Free – for individuals and small teams who want a basic to-do list or are starting with task management to improve productivity
Toodledo Standard ($3.99 per user, per month) – best for small teams that require more functionality to manage their tasks
Toodledo Plus ($5.99 per user, per month) – suitable for organizations that need additional collaboration and customization features
Toodledo Business (Contact Toodledo) – ideal for teams and organizations needing more advanced features and capabilities
Toodledo Free Plan
The Toodledo Free plan is suitable for individuals or duos to manage tasks, set reminders, and track progress. It provides users with essential task management capabilities, including task organization, recurring tasks, synchronization across devices, basic collaboration, and integration.
INCLUDED IN FREE:
Unlimited Tasks – Create an unlimited number of tasks.
Task Notes – Add notes or additional information related to the task.
Recurring Tasks – Set tasks that repeat at specified intervals, such as weekly reports or monthly meetings.
Unlimited Device Sync – Access tasks and update them from multiple devices to keep them up-to-date and synchronized across platforms.
Advanced Search – Search for tasks by keywords, tags, due dates, or other attributes to quickly find specific tasks within their list.
Save Emails via Bookmarklet – Save emails directly to the task list. By using the bookmarklet, users can capture important emails as tasks without leaving their email client.
Simple Alarms – Set reminders for tasks to notify when a task is due, to stay on track and complete tasks on time.
Basic App Integrations – Connect with select applications to streamline workflows and enhance task management.
1 Collaborator – Invite one other person to collaborate on tasks or projects and share information within the platform.
30 Items per List – Up to 30 items (tasks, notes, etc.) per list. This limitation applies to individual lists created within the platform.
30 Items per Outline – Similar to lists, outlines can contain up to 30 items.
5 Habits – Create up to five habits or recurring tasks that users want to develop as routines and track its progress regularly.
Standard Support – Includes access to help documentation, community forums, and email support for assistance with general inquiries or issues.
1 Week History – One-week history feature that allows users to view their task history for the past seven days.
Toodledo Standard Plan ($3.99 per user per month)
The Toodledo Standard plan is a good option for work partners looking for more functionality. It includes more advanced capabilities such as subtasks, graphs, saved searches, and customizable hotlists. Other features include access to the tool's API and email integration. The price is $3.99 per user per month when billed annually or $4.99 per user per month when billed monthly.
EVERYTHING IN FREE, AND:
Subtasks – Break down larger tasks into smaller, manageable subtasks to help organize and track the progress of complex projects or tasks.
Graphs – Includes graphs that provide visual representations of task-related data and metrics.
Customizable Hotlist – Allows users to customize their Hotlist, tailoring it to the criteria they prefer for quick access to important tasks.
Saved Searches – Save specific search queries for easy access to quickly retrieve relevant tasks.
All App Integrations – Connects with a wide range of third-party applications, such as calendar apps, note-taking tools, and project management platforms.
100 Items per List – Up to 100 items (tasks, notes, etc.) per list.
100 Items per Outline – Outlines can contain up to 100 items.
20 Habits – Create up to 20 habits.
Custom Alarms – Set personalized reminders for tasks for timely notifications and important deadlines or events.
1 Year History – One-year history feature, allowing users to view their task history for the past 365 days.
Toodledo Plus Plan ($5.99 per user per month)
The Toodledo Plus plan is ideal for teams that require more advanced features and functionality. This includes advanced task scheduling, increased file storage, collaboration capabilities, seamless email integration, priority support, and enhanced task organization. With full access to lists, outlines, habits, and extended history, users can effectively manage their tasks and projects effortlessly. The price is $5.99 per user per month billed annually or $7.99 per user per month billed monthly.
EVERYTHING IN STANDARD, AND:
Scheduler – Schedule tasks at specific dates and times.
10GB File Storage – Up to 10GB of file storage.
File Uploads – Upload files directly to tasks, notes, or outlines.
Up to 5 Collaborators – Allows users to collaborate with up to five collaborators.
Add Tasks via Email – Add tasks directly via email simplifying task capture and integration with email workflows.
Full Lists – Create and manage an unlimited number of lists within the platform.
Full Habits – Create and track an unlimited number of habits.
Full History – Full access to the task history to review and analyze tasks and task activity over an extended period.
Priority Support – Receive priority support for faster response times and dedicated support channels for assistance with inquiries, technical issues, or account-related matters.
Toodledo Business Plan (Contact Toodledo)
The Toodledo Business plan is for users that require enterprise-grade features like advanced customization, task management, and collaboration. Toodledo gives a custom quote suitable to your organization's needs and specifications.
EVERYTHING IN PLUS, AND:
More than 5 Collaborators.
Conclusion
Toodledo is a flexible to-do list and task management tool that can help users improve their productivity and organization. Toodledo pricing plans are reasonable and provide a good value for the features offered. However, users need to evaluate their needs and preferences to ensure it is the right solution. Things to consider are storage space, user limitations, and customer support.
Toodledo offers an affordable solution, but other alternatives may offer more robust team collaboration. For a comprehensive view of its use cases, you can check our Toodledo Pros and Cons before making a decision.