Top 3 Best Trello Software Alternatives
Trello is a free collaboration tool that makes it easy to manage projects and organize everything through a simple system of boards, lists, and cards. Its interactive and highly-visual interface provides users with a clear overview of the project workflow at a glance. This simple-to-use tool allows users to group projects and tasks, reorder them, and move them as cards across lists that represent a workflow. The tool is perfect for all types of teams and projects that can be managed as individual boards. It can easily be integrated with other applications to improve collaboration and functionality.
Why People are Not Happy With Trello
Trello is definitely one of the most popular project management tools in the market. Companies are willing to pay for their premium and business class packages for one reason – to get access to a wider range of collaboration features and functionalities for their business. However, while the free version offers plenty of features and is fun to use, it can't meet all business requirements. It lacks some critical features such as multi-board reporting, subtasks & task dependencies, workload reports, export to Excel, expense tracking, cost tracking, import of Microsoft project files, and time tracking.
The Top 3 Alternatives
The good news is, there are alternative project management tools that you can find and use today. For those that rely on Trello to manage projects and collaborate, there is one simple and feature-rich add-on tool that can provide the missing features in Trello – Bridge24 for Trello. This is a one-click installation add-on that provides Trello users with more control and flexibility with their data. We'll also share some three alternative project management tools that can also meet your needs.
AceProject

AceProject is a free collaboration, time tracking, and project management software. It features a dashboard that provides detailed project insight and overview, an interactive Gantt chart that ensures effective resource and project management, and timesheets that come with automated approvals. AceProject also provides other features, including expense tracking, a built-in time clock, time and expense reports, and different types of tasks. It also has an API, document management with more advanced preview tools, export to Excel or CSV format of project data, and native mobile apps. AceProject is available in different packages to accommodate all types and sizes of businesses and teams. It's highly customizable too.
Asana
Asana is another popular team productivity software that makes it easy for users to track and collaborate on projects. It's free to use for teams of up to 15 users. Its premium plans offer advanced features and integrations. It works seamlessly on PCs, smartphones, and tablets. Teams can use to move forward in any type of project, from idea conception to eventual product launch, with the simplified user interface. Users can easily see the work status at any stage of the workflow, engage in conversations with team members, and collect notifications with a range of smart tools. Asana also features subtasks, project templates, custom fields, task dependencies, calendars, among others.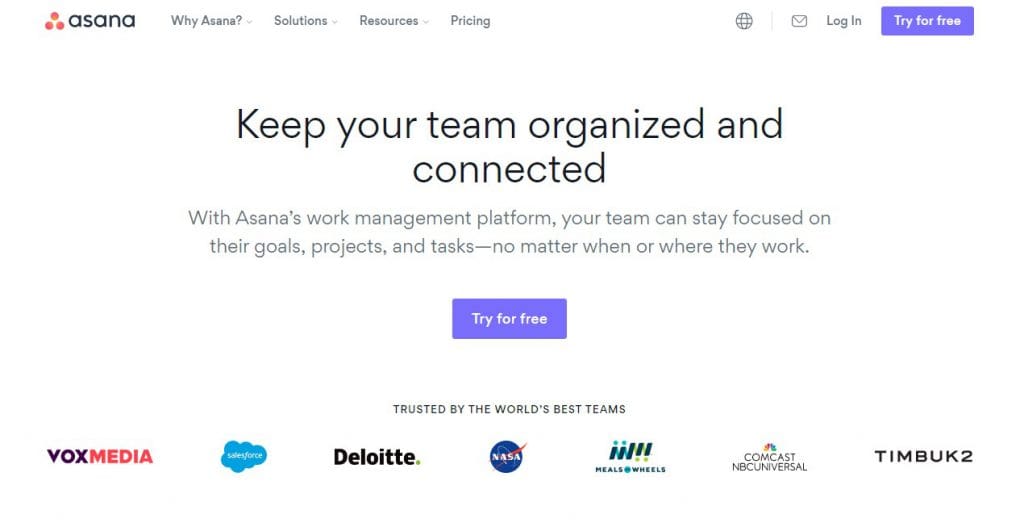 Basecamp
Basecamp is also a great project management tool built for teams and companies of all sizes. It's designed to make organizing work, teams, and projects easy for users. Its simple automation helps users get rid of email chains, long meetings, and regular status updates. Communication between users is made easy with a number of options. Basecamp helps eliminate inefficiencies and redundancy in project management and team collaboration, which results in more time that can be dedicated to other valuable tasks. The project management tool features a Home screen, to-do list, chat system, document management, scheduler, and automatic check-ins. Basecamp provides excellent customer support and works across different platforms.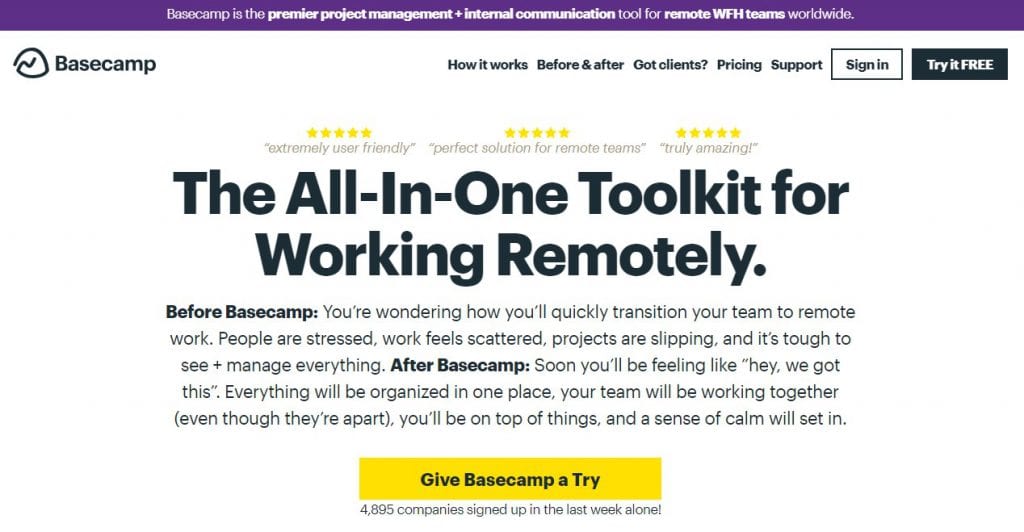 Conclusion
Trello is a market-leader as visual project management and productivity tool. Its flexibility makes it a popular tool for businesses, individuals, functional teams, and industries of all types. It makes it easy to develop and design a practical workflow that suits specific business or project requirements. It's as simple as installing an add-on. If it doesn't work, you can get started with these top 3 alternatives.