The Pros and Cons of Using MS Project Software

Microsoft Project is a widely-used software solution for project management that enables businesses to plan, track, and analyze their projects with ease. The software boasts numerous features that support project planning and execution, including templates, reporting tools, timelines, and roadmap views.
This article aims to delve into the advantages and benefits of Microsoft Project, exploring how it can help businesses meet their project goals. In addition, we will also discuss the potential drawbacks and limitations of the software in a separate section.
If you feel Microsoft Project's pricing is too high for your budget, consider looking at AceProject. By charging per project instead of per user, this software offers the potential for significant cost savings.
What is Microsoft Project?
Microsoft Project is the ultimate project management software for anyone who wants to easily achieve their project goals. Its powerful features allow you to plan, track, and manage your projects like never before. From small projects to complex initiatives, Microsoft Project has got you covered. So why settle for anything less when you can have the best? Try Microsoft Project today and take your project management to the next level!
---
The Disadvantages or Cons of MS Project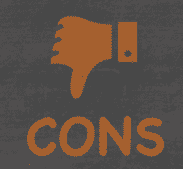 Over the years, Microsoft Project has established itself as a reliable project management software that has benefited greatly from user feedback. As a product of one of the largest technology companies worldwide, it enjoys strong support and boasts a wealth of online tutorials and resources. Despite its numerous features and widespread use, some businesses may seek alternative solutions as they explore different project management practices.
1. Too advanced for beginners
MS Project can be too advanced for beginners due to its complex interface and extensive features. The software requires a significant amount of learning and experience to use effectively, which can be overwhelming for new project managers. Moreover, the software's focus on traditional project management methods may not be suitable for those who are just starting with project management or who require a more agile approach.
2. Expensive
MS Project is considered expensive by some due to its licensing costs, which can be a significant investment for businesses. Additionally, the software requires robust hardware and may necessitate additional training costs for employees who are not familiar with the tool. Lastly, the pricing model for MS Project is subscription-based, which can add up over time and increase the overall cost of using the software.
3. Limited Integrations
Microsoft Project Online is built on SharePoint Online and has limited compatibility with non-Microsoft products. While the software can seamlessly integrate with Microsoft's task management app, Planner, it cannot connect with Project Server. As a result, users may need to utilize other communication apps from Microsoft, such as Outlook or Skype, to collaborate effectively.
4. Compatibility Issues
MS Project files in the .mpp format are proprietary, which can create compatibility issues when trying to access them on devices without the software. As a workaround, users may need to export and import files, which can add complexity and time-consuming steps. Furthermore, the latest version of MS Project requires Windows 10 to operate the desktop application, limiting its compatibility with other operating systems. While free Project Viewer options are available, they typically only allow users to view the project and not edit it.
5. The Gantt Chart is too Complex
The MS Project Gantt chart can be considered complex due to its numerous features and customization options, which can be overwhelming for some users. The chart requires a solid understanding of project management concepts, including task dependencies, milestones, and critical paths. Additionally, the software's advanced Gantt chart features may not be necessary for all projects, leading to confusion and difficulty in utilizing this aspect of the tool.
6. Recurring Tasks difficult to Use
Recurring tasks can be challenging to manage in MS Project due to the software's limited functionality in this area. The feature lacks the ability to adjust for changes in the recurrence pattern, requiring project managers to manually update tasks in the schedule. Moreover, the software does not support recurring tasks with exceptions, which can make it difficult to manage complex projects with varying task schedules.
7. Managing Access Rights is a Complex Process
Managing access rights in MS Project can be a complex process due to the software's limited security features. The software only offers basic access control options, which may not be sufficient for businesses with more extensive security requirements. Moreover, managing access rights for large project teams can be challenging, as there is no simple way to assign or revoke access rights to specific project elements.
8. Slow with Big Projects
MS Project can become slow and unresponsive when managing large projects with a high volume of tasks. The software's performance can be impacted by the complexity of the project schedule and the number of resources involved. Additionally, running complex calculations and analysis on large datasets can further slow down the software, leading to frustration for project managers and team members alike.
---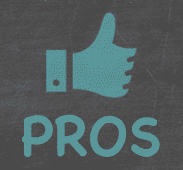 The Pros or Advantages of MS Project
Organizations seeking effective project management solutions can reap numerous benefits from Microsoft Project. These include improved project planning and organization, enhanced collaboration, real-time progress tracking, and the ability to make data-driven decisions. Moreover, MS Project offers robust reporting and analysis tools that enable businesses to make informed decisions and achieve their project goals with ease.
1. MS Project is User-Friendly
Some consider MS Project user-friendly due to its intuitive interface and ability to customize project templates. Its drag-and-drop functionality and contextual menus make it easy to use, even for those with limited project management experience. Additionally, the software offers built-in help and support features, including online resources and tutorials, which can aid users in overcoming any challenges they may encounter.
2. Compatible with other Microsoft Products
MS Project is compatible with other Microsoft products because it is part of the Microsoft Office suite of applications. As a result, it shares the same file formats and can be easily integrated with other Office applications, such as Excel and SharePoint. This makes it easier for users to collaborate and share data across different software platforms, increasing efficiency and productivity.
3. Reliability and Stability
MS Project is considered reliable and stable due to its robust development and maintenance process. Microsoft invests heavily in ensuring the software is tested, updated, and supported regularly to maintain stability and functionality. This approach ensures that users can trust the software to operate smoothly and reliably, reducing the risk of errors or system crashes that can negatively impact project management.
4. Manage Project Budgets and Costs Perfectly
MS Project offers advanced budget management features that make it an ideal tool for managing project budgets and costs. It allows project managers to track costs and expenses, including labor and material expenses, and offers real-time budget reporting to enable informed decision-making. Additionally, the software enables project managers to set up cost baselines, which can help identify potential budget overruns and take corrective action before it's too late.
5. Keeps your Projects on Time
MS Project helps keep projects on time by providing a comprehensive set of scheduling tools that allow project managers to plan, track, and manage project timelines. The software allows users to create detailed project schedules, set up dependencies and milestones, and track progress against the plan in real-time. With its advanced reporting capabilities, MS Project enables project managers to identify potential delays and take corrective action to ensure projects are delivered on time.
6. Great Flexibility
MS Project is highly flexible due to its ability to customize project templates and adapt to different project management needs. The software offers a wide range of features, from task management to budget tracking, that can be tailored to meet specific project requirements. Additionally, MS Project can integrate with other software systems, enabling users to work with multiple applications to achieve their project goals.
7. Custom Fields
MS Project is known for its custom fields feature, which enables project managers to add fields and data types that are specific to their project needs. This allows for greater flexibility in tracking and managing project data, enabling project managers to create customized reports and views. Additionally, custom fields can help project managers capture data that is critical to their specific project requirements and goals.
8. Industry-Standard Tool with a Significant Social Presence
MS Project is considered an industry-standard tool due to its comprehensive project management features, widespread use, and long-standing history as a software solution. Many organizations, including large corporations, government agencies, and non-profit organizations, utilize MS Project for their project management needs. As a result, the software has become a widely recognized and trusted tool in the industry.
---
MS Project Use Cases
Project Scheduling and Resource Management: With Microsoft Project, project managers can efficiently create project schedules, allocate resources, and monitor progress. This facilitates the identification of potential bottlenecks, allowing project managers to make informed decisions and ensure project success.
Budget Management: Microsoft Project offers advanced budget management capabilities, enabling project managers to track costs and budgets, including labor and material expenses. By having access to this information, project managers can make informed decisions about project costs, identify areas for cost reduction, and ensure the project remains within budget.
Risk Management: With Microsoft Project, project managers can identify potential project risks and plan accordingly to manage and minimize their impact. This helps to ensure project success by reducing the risk of unforeseen issues arising.
Team Collaboration: Microsoft Project provides a centralized platform for team members to collaborate, share information, and work together. This helps to improve communication and reduce the likelihood of misunderstandings and mistakes, ultimately improving project outcomes.
Status Reporting: Microsoft Project enables project managers to create detailed reports on project progress, resource utilization, and costs. This allows project managers to keep stakeholders informed of the project's progress, providing regular updates on the project's status and ensuring transparency throughout the project lifecycle.
---
Microsoft Project Pricing and Costs
Project Plan 1 ($10.00 user/month)
Project Plan 1 offers simple and visual tools that enable effortless project management. With its user-friendly features, managing projects becomes easy and efficient.
• Begin your project promptly and gain command of it in no time.
• Employ simple and effective planning and status tracking tools.
• Collaborate with team members from almost anywhere.
Project Plan 3 ($30.00 user/month)
Project Plan 3 provides robust project management and cloud-based publishing capabilities, allowing you to easily organize and track projects, resources, and teams. In addition to all the features of Project Plan 1, it also offers advanced functionality to enhance your project management experience.
• Utilize effortless and effective planning, status tracking, scheduling, and costing tools.
• Work collaboratively with team members from almost any location.
• Allocate resources seamlessly using the resource management capabilities.
• With each subscription license, you can install the Project Online desktop app on up to five devices simultaneously.
Project Plan 5 ($55.00 user/month)
Project Plan 5 is a cloud-based project and portfolio management solution that is ideal for portfolio and resource managers, as well as solution administrators. It provides a comprehensive guide for managing any project, and includes all the features of Project Plan 3 with additional advanced functionality to further optimize your project management experience.
• Demand management
• Enterprise resource management
• Portfolio analysis and optimization
Recommended article: MS Project Pricing Plans
---
Is MS Project Secure? (Security and Privacy)
Microsoft Project is now built on the secure platform of Microsoft Azure, which is a cloud computing service provided by Microsoft. Using Azure as the platform for Microsoft Project brings several benefits related to security. Azure provides a secure and reliable infrastructure that can help protect against security threats such as hacking, malware, and other cyberattacks. Azure also offers features such as identity and access management, threat detection, and encryption that help to secure data and ensure compliance with industry standards and regulations.
With Microsoft Project built on Azure, users can also benefit from the scalability and flexibility of the cloud. The software can be accessed from anywhere with an internet connection, allowing teams to collaborate and work on projects regardless of their location. Azure also enables automatic updates and maintenance, ensuring that the software is always up-to-date and secure.
---
Conclusion
All these factors combined have helped Microsoft Project establish a strong position in the project management software industry and to remain a popular choice for businesses and organizations of all sizes.
Microsoft Project has many benefits as a project management tool, including its ability to easily track and manage tasks, assign resources, and create project timelines. The software offers a user-friendly interface and is widely used across industries. However, it also has some limitations that users should be aware of. These include the high cost of licensing, the learning curve required to use the software effectively, and the lack of flexibility in certain areas such as adapting to changes in project scope.
Overall, MS Project is a great tool for managing complex projects, especially for those with large teams and intricate workflows. However, smaller projects with less complexity may not require the level of functionality provided by MS Project, making other, simpler project management tools a better choice. Ultimately, the decision to use MS Project will depend on the specific needs and requirements of each individual project, as well as the resources available to the project team.