The Pros and Cons of Using Teamwork Software
In today's highly competitive market, businesses must effectively manage their teams, projects, and client work to maintain efficiency and productivity. Integrating and streamlining operations and workflows is crucial in achieving these objectives. Utilizing project and team management software allows businesses to centralize their operations and improve communication, collaboration, and coordination among team members. This approach also enables businesses to track their progress, identify bottlenecks and areas for improvement, and deliver quality work within deadlines, resulting in satisfied clients and increased revenue. Tools like Teamwork provide an all-in-one platform with everything a founder, project manager, or account director needs to get the job done.
If you're considering using Teamwork for your project and team management needs, you'll want to consider the pros and cons of using this software, its use cases, and its features. This article provides more insights to help you decide whether it's the right tool for your team.
If you feel Teamwork's pricing is too high for your budget, consider looking at AceProject. By charging per project instead of per user, this software offers the potential for significant cost savings.
Teamwork Project and Team Management Software
Teamwork is a platform designed to help manage client work, projects, and teams all in one place. It offers advanced features such as time tracking, budgeting, and resource allocation to improve efficiency and profitability. The platform also allows for easy integration of tools for automating workflows, streamlining data management, enhancing team communications, handling tasks, and collaboration across the entire organization to the project management set-up. Teamwork is praised for its balance of functionality, price, and ease of use, with a shallow learning curve that encourages user adoption. Teamwork aims to make teams more efficient, organized, cost-effective, and happy.
Teamwork software provides various tools that help your team work together, stay organized, and achieve your goals. Here are some of the key features:
Board view: This allows you to organize your projects into different stages and keep track of the progress of each project.
Portfolio: This allows you to easily manage multiple projects at once, view your team members' workload, and assign tasks accordingly.
Project time budget: This helps estimate the time required to complete a project and ensures projects are completed on time and within budget.
Burndown reporting: This helps you to visualize your progress and track your team's performance.
Utilization Reports: This allows you to track the time your team spends on different tasks so you can optimize performance and increase productivity.
Workload Resource Management: This feature ensures that your team is not overburdened and can work efficiently.
Billing and invoicing: This feature helps you to streamline your billing process and get paid faster.
Resource scheduling: This feature ensures that your team members are utilized efficiently and that your projects are completed on time.
Budgeting: This allows you to set budgets for each project and track your expenses.
Teamwork Use Cases
More than 20,000 customers rely on Teamwork to manage their projects and team. With its versatile features and easy-to-use interface, Teamwork is the perfect tool for a variety of industries and teams. 
Marketing agency: The software is perfect for marketing agencies that need to keep track of multiple projects and client accounts. With its customizable dashboards and real-time collaboration features, your team can work seamlessly together, regardless of location.
Marketing teams: For marketing teams, the platform is the ideal solution for managing campaigns, tracking performance, and collaborating on content. Teamwork helps your team stay organized and efficient, from social media management to email marketing campaigns.
Product teams: Product teams can benefit from the integrated project management tools, which enable team members to assign tasks, track progress, and communicate with each other in real-time. Whether you're developing a new product or updating an existing one, Teamwork helps you stay on top of every detail.
Professional services: Teamwork is perfect for professional service teams, such as legal or consulting firms, who need to manage client accounts, projects, and deadlines. With its time-tracking and invoicing features, you can easily bill clients and track your team's productivity.
Product development: For product development teams, this is the ultimate tool for managing the entire product lifecycle, from ideation to launch. With its project planning and collaboration features, your team can stay on track and meet all your project goals.
Work management: Teamwork is also ideal for any team that needs to manage projects, tasks, and deadlines. With its customizable dashboards, time-tracking tools, and real-time collaboration features, you can streamline your team's workflow and increase productivity.
The Cons or Disadvantages of Teamwork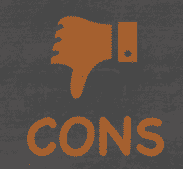 Teamwork offers the features you need if you're looking for a tool to help you run your client work or projects and even manage your team in one platform. However, you should be aware of some drawbacks to using this software before making a decision.
Limited chart graphs: One of the biggest drawbacks of Teamwork is the limited chart graph functionality. This can be frustrating for organizations that rely heavily on visual aids to communicate important data.
Expensive for small organizations: Another downside of Teamwork is that it can be expensive for small organizations. While larger companies may be able to absorb the cost, smaller businesses may find it difficult to justify the expense.
Limited functionality with Kanban automation: Teamwork also has limited functionality when it comes to Kanban automation. This can slow down workflows and make it difficult to keep track of tasks.
Slows down with lots of running tasks: Teamwork can also slow down as tasks pile up. This can make it difficult for teams to stay on top of their workload and meet deadlines. This can be solved with smart task management.
No integration with major CRM tools: While it integrates with popular tools, a major drawback of Teamwork is that it doesn't integrate with major CRM tools like ZOHO CRM and Freshsales. This can limit the effectiveness of your overall workflow and make it harder to manage your customer data.
Can be time-consuming to fully set up: Finally, setting up Teamwork for large teams can be time-consuming. The learning curve can also be a challenge.
The interface can be confusing: Finally, some users find the Teamwork interface to be confusing. This can make it difficult to navigate and can slow down workflows. With time though, this can be resolved.
The Pros or Advantages of Teamwork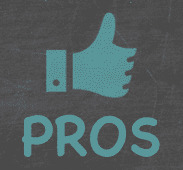 Teamwork's comprehensive platform offers a wide range of benefits to streamline your project management and boost collaboration among your team. Here are some of the pros that most users love about Teamwork:
Task and milestone progress and alerting: With Teamwork, you can easily track the progress of tasks and milestones with real-time updates and alerts. Say goodbye to manually checking in on each team member's progress and instead focus on moving the project forward.
Great team management tools: Teamwork offers a variety of team management tools to help you keep your team organized and on track. Easily assign tasks, set deadlines, and track performance all in one place.
Reliable project management and categorization: With this platform, you can categorize your projects and streamline your project management process. Teamwork offers a reliable way to categorize your projects and ensure that nothing falls through the cracks.
Accountability management: Hold your team members accountable with Teamwork's accountability management feature that helps you ensure that everyone is doing their part to move the project forward.
Team collaboration through messaging: Collaboration is key to any successful project. With Teamwork, your team can easily communicate through the messaging feature. Share updates, ask questions, and stay on the same page.
Budgeting for projects: Keep your project within budget with the platform's budgeting feature. Easily track expenses and stay on top of your team's spending to ensure your project stays within budget.
Easy planning for events and activities: Planning events and activities can be a daunting task. With Teamwork, you can easily plan events and activities with intuitive planning tools. Easily assign tasks, set deadlines, and track progress all in one place.
Flexible notifications system: Stay on top of your project with Teamwork's in-built notifications system. Teams can customize notifications to receive updates on the tasks and milestones that matter most.
Conclusion
To sum up, Teamwork can be a game-changer for teams that struggle with managing teams, projects, clients, freelancers, and overall communication and collaboration. With its many benefits, including increased productivity and streamlined project management, it's no wonder many organizations are turning to such tools to improve their workflows. However, it's important to remember that Teamwork is not a one-size-fits-all solution, and some teams may find it more challenging to use than others. See our Teamwork Pricing page for details.
Consider these pros and cons when deciding whether it's ideal for your team. Before choosing the right plan for your team, you can also try out their trial to explore everything they offer, including their features.