Todoist Pricing Plans & Costs Guide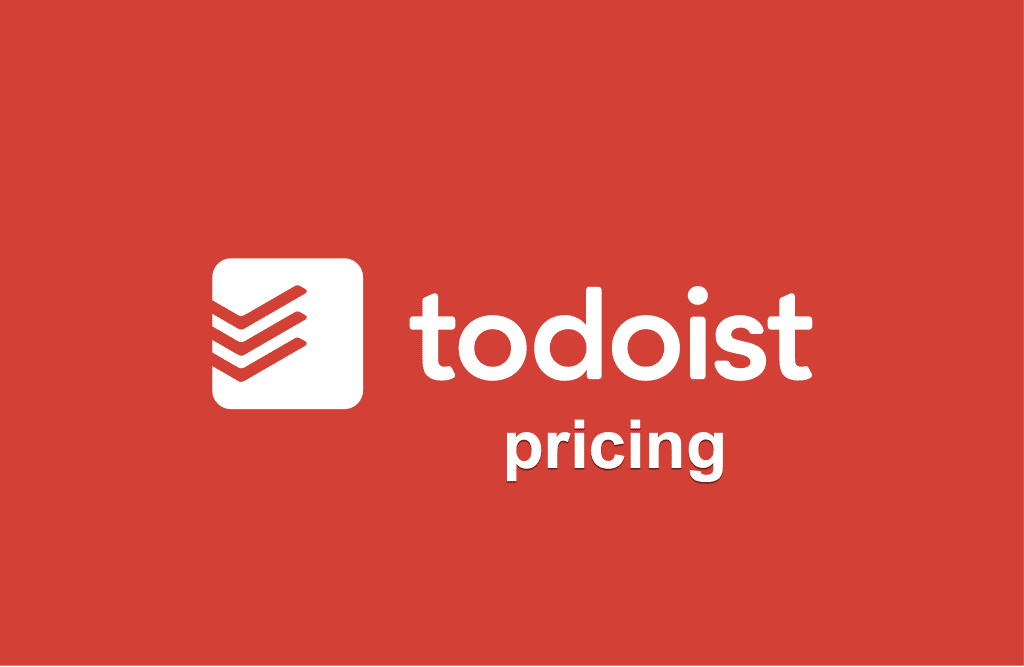 Todoist is a productivity application tool to help individuals and teams manage tasks and projects. It is available on different web, mobile, and desktop platforms. One of the primary features of Todoist is its easy-to-use interface. Creating tasks and subtasks, setting due dates and priorities, and categorizing them using projects and labels is simple. Moreover, Todoist provides easy collaboration with others by sharing tasks and projects, adding comments, and creating team workflows.
How Much Does Todoist Cost?
The Todoist pricing plans are affordable, as the application offers many advanced features to justify the cost. The pricing plans offered by Todoist include the following:
Todoist Free – for individuals and small teams who are starting with project management and task organization
Todoist Pro ($4 per user, per month) – best for larger teams that require more functionality to manage their tasks and increase productivity
Todoist Business ($6 per user, per month) – suitable for large organizations that require additional collaboration and user administration features
If you are looking for more advanced project management features, check out AceProject as an alternative. It is cost-effective because it is not priced per user.
Todoist Free Plan
The Todoist Free plan is for starters who need fundamental project management. Its features include task and project management, syncing across devices, integrations with other apps and services, and primary productivity metrics. It has some limitations in the usage and collaboration methods. However, it is still a powerful tool for organizing tasks suitable for individuals or small teams.
INCLUDED IN FREE:
Usage – Up to 5 active projects, 300 functional tasks per project, 20 active sections per project, 5 collaborators per project, 5MB file uploads, 3 filter views, and 1-week activity history.
Task organization – Manage tasks and set due dates in various projects
Completed Tasks Archive – Store tasks that are no longer active.
Sections and Subtasks – Classify your projects with sections and divide large tasks into smaller manageable subtasks.
Boards – Provides Kanban-style boards for organization and visualization of your projects.
Priority Levels – Set your priority tasks to know what to focus on next.
Sync – Access tasks on any device to sync seamlessly across devices.
Templates, Labels, and Comments – Create project templates to save time and effort, and add labels and comments to tasks for more manageable grouping.
Integrations – Integrate with various apps categorized as browsers, communication, project management, automation, email, conversation starters, planner, productivity, calendars, time tracking, voice assistants, file sharing, and content, to name a few.
Productivity Trends – Includes a productivity view that enables you to observe the number of tasks you have accomplished in a day and a week, the extent of your advancement towards your daily and weekly targets, and which projects are currently receiving your primary attention.
Help Center – Provides an online help center for technical assistance regarding integrations, software implementation, and a guide in using the features of Todoist.
Todoist Pro Plan ($4 per user per month)
The Todoist Pro plan is an advanced version of the task management application that offers additional features. These features include unlimited projects, customization themes, task reminders, and automatic backups. It is ideal for larger teams or individuals with more projects to stay organized and productive. It costs $4 per user per month when billed annually or $5 per user per month when billed monthly.
EVERYTHING IN FREE, PLUS:
Usage – Up to 300 active projects, 25 collaborators per project, 100MB file uploads, 150 filter views, and unlimited activity history.
Reminders – Set reminders for tasks and receive notifications via email or push notifications.
Themes – Customize your task views using colorful theme settings to personalize the look of your app.
Auto Backups – Automatically creates backup files of all your projects so you can restore them to their previous state anytime you need to.
Todoist Business Plan ($6 per user per month)
The Todoist Business plan is for teams and organizations needing advanced collaboration features and centralized administration tools. It includes additional features like team billing, shared team inbox, and centralized user management. With the Business plan, teams can collaborate on projects, delegate tasks, and track progress in real-time. On the other hand, administrators can manage user accounts, permissions, and billing from a centralized dashboard. It costs $6 per user per month when billed annually or $8 per user per month when billed monthly.
EVERYTHING IN PRO, PLUS:
Free Trial – Offers a 30-day free trial before commitment.
Usage – Up to 500 active projects per member, 50 collaborators per project, 100MB file uploads, and filter views per member.
Bank-Level Encryption – Provides data protection through SSL encryption of the same standard as used by banks.
Shared Team Inbox – Includes a team inbox for every Business Team so all members can access it and assign tasks from within it.
Team Billing – Manage account and billing details of the whole team, including all transactions and invoices.
24/7 Data Sync – Includes smooth synchronization across all your devices with a system uptime of 99%.
Admin and Security – Provide more significant control over user access and permissions by creating member roles and managing project access rights.
Conclusion
Todoist is a popular task management tool that offers a range of features to help individuals and teams stay organized, productive, and on track. The free plan may suffice if you are looking for a basic task management solution. However, paid plans are the best option if you need advanced features and collaboration on tasks and projects to boost productivity. Choosing the right Todoist plan depends on your specific needs and requirements.
A thorough evaluation of your particular specifications and comparing them against the features of each plan will determine the right plan for your business. If you feel you need more information to make a decision, read our Todoist Pros and Cons article and see what use cases it is effective, the advantages it provides, and its current limitations.
Source: Todoist Pricing Official Website